Why is the creator of the world's most famous TCG, Magic: The Gathering, making board games?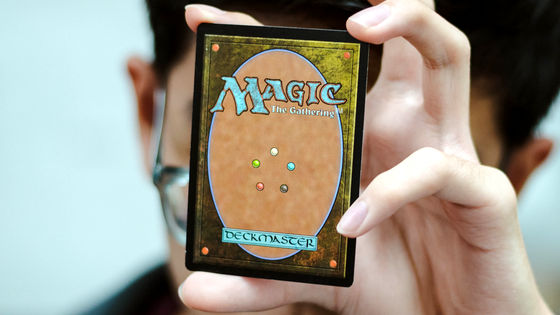 Magic: The Gathering
(MtG) is one of the most played trading card games (TCG) in the world and a
Guinness World Record
. Matt Jarvis, editor-in-chief of the board game news site Dicebreaker, explains the concept that
Richard Garfield,
who served as the main designer of such MtG, has designed a number of board games so far. .
Magic: The Gathering and Keyforge creator Richard Garfield on 35 years of making the games he wants to play | Dicebreaker
https://www.dicebreaker.com/topics/richard-garfield/feature/richard-garfield-interview-making-games
MtG was created by Garfield during his graduate years, and was the world's first trading card game released by the game company
Wizards of the Coast
in 1993. Garfield is playing MtG on the left side of the image below.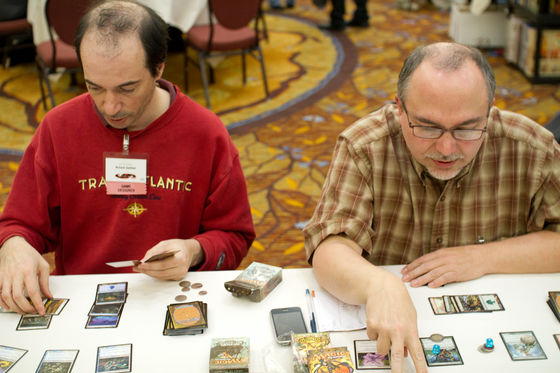 by
Chris Brooks
Mr. Garfield designs many card games not limited to MtG, but he also made board games before releasing MtG. Jarvis also described Garfield's other board games as 'creating new experiences like never before.'
The
roboty
designed by Garfield is a board game that uses a program card to give instructions to a robot and quickly drive through a maze-like course to get a flag. Mr. Garfield seems to have completed this roboty as of 1985, but it was actually commercialized that it came out in 1994 after the success of MtG.
Amazon | Roboty ROBO RALLY Board Game [Parallel Imported] | Board Game | Toy
King of Tokyo
is also a board game designed by Garfield. In this game's outrageous 'monster movie', players become big monsters, roll dice and storm large cities, do their best to destroy and battle with other monsters.
Amazon | New King of Tokyo New Edition Japanese Edition Board Game | Board Game | Toy
And Garfield specifically pursued 'draft' in designing board games. Draft is one of the
rules
used in MtG, which says 'leave one card from yourself and hand the rest to the next person.' Garfield seems to be designing games such as '
Bunny Kingdom
', '
Treasure Hunter
' and '
Carnival Monsters
' based on this draft.
Amazon | Carnival Monsters Complete Japanese Version | Board Games | Toys
Garfield is seeking investment in Kickstarter, a crowdfunding platform, and has released
Half Trith, a
quiz game that requires trivia. Garfield says of the Half Truth design concept, 'We were looking for a trivia game that would not force the players.'
And Garfield does not only play non-powered analog games, but also digital games played on smartphones and PCs. Valve, which operates Steam, a game distribution platform, has released a digital card game 'Artifact' that uses the world view of the popular strategy game
Dota 2
with Garfield as the main designer.
Steam: Artifact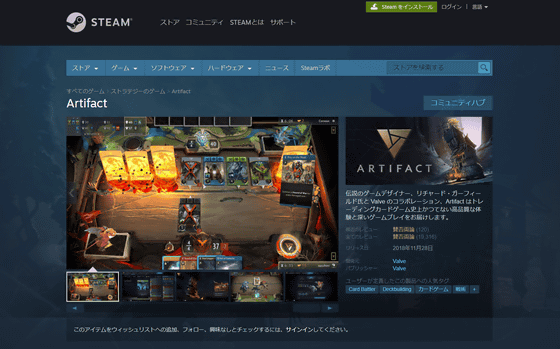 However, Garfield commented, 'In general, I prefer analog games over digital games because they require more staff and time to develop.' While acknowledging the appeal of digital games, 'I don't think analog games are being threatened by digital games. One of the reasons board games are so popular is that many Is a special experience in the face-to-screen world. '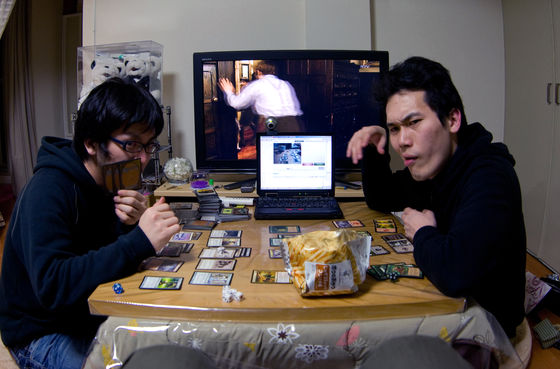 by Ryuta Ishimoto

By the way, one of the major effects of MtG, the world's first trading card game, on other games is its sales style. MtG adopts a sales method of `` purchasing separately a booster pack containing 15 random cards and collecting cards to be used for your deck '', which is close to the micro transaction (gacha) now called is. However, this sales style is pointed out that `` It is a thing that makes a player who wants to get a specific card spend a lot of money '', and at the same time, there is a problem that it is difficult to use old cards as new sets of cards are released .

Garfield says that while trading card games allow players to freely build their decks and playstyles, they mimic certain decks built around popular and valuable cards. Points out that the number of players has increased.

'I don't like to teach anyone how to play. In recent years, trading card game fans have often decided which decks are effective and strong, which may be correct. And maybe it's not right, but once you start using powerful decks, you won't even have to make sure, 'said Garfield.

Garfield released a new card game ' Keyforge ' in 2018. KeyForge is a two-player card game played on a deck made up of 36 cards created by AI, instead of purchasing booster packs to strengthen the deck.

Amazon | KeyForge: Ascension Age 2 Starter | Card Game Playing Card | Toy



Although the fun of deck building is lost in KeyForge, it is a unique card game that fights thinking about `` what you can do with a given deck '' instead of `` everyone uses a deck made by someone '' That it is. 'This is a reinvention of TCG by Garfield, who created TCG one nearly 30 years ago,' Jarvis said.

Garfield, who has been making games with new ideas like never before, says, `` The games I design and go out to the world are those that I want to play myself and do not exist in the world. '' He says that the root of his board game design is 'what I want to play now.' 'It's none other than Garfield who wants to play Garfield's game the most in the world,' Jarvis said.

in Game, Posted by log1i_yk