What are the results of verifying that Yahoo search results are familiar?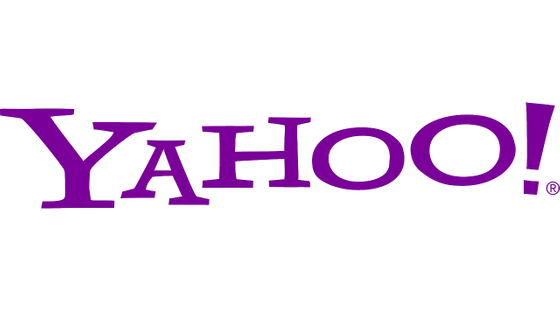 It has been pointed out that search results of search services affiliated with
Verizon Media
, such as Yahoo, which is a pioneer in search services, have been biased so that content of their own and related companies is taken up more frequently.
Yahoo !, AOL, OneSearch results biased in favor of parent company Verizon Media's websites | Ctrl blog
https://www.ctrl.blog/entry/verizon-media-search.html
Verizon Communications
, a major U.S. telecommunications operator, acquired Yahoo in 2017 and integrated it with
AOL
, a portal site previously owned by its subsidiary Verizon Media. Verizon Media has also
launched a search service called OneSearch
since January 2020,
bringing
Verizon Media's total search service to three.
The OneSearch homepage emphasizes that pure search results are obtained without any filtering or bias.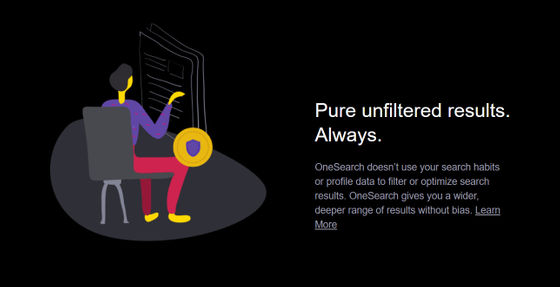 Daniel Alexandersen of the IT news site Ctrl blog described these search services as 'Verizon Media owns multiple search services, but also operates several famous sites such as Engadget , TechCrunch , HuffPost, etc. There is a significant stake between them. ' In fact, we decided to verify that search services such as Yahoo would display favorable search results on sites operated by Verizon Media.

Alexandersen's verification method focuses on the fact that Verizon Media's search services Yahoo, AOL, and OneSearch all use Microsoft's Bing search engine. Alexandersen searches for the same search word in these three 'Verizon-based search services' and the 'Bing-based search service' of Microsoft Bing / Findx / Lilo , which also uses Bing , and searches for Engadget / TechCrunch / We recorded the number of sites operated by Verizon Media, such as HuffPost, which were displayed.

The result is as follows. The graph shows from the left the number of the site operated by Verizon Media displayed on the Start page adopting Google's search engine as a reference for Verizon search serviceBing search service Means that it is ranked higher in the search results.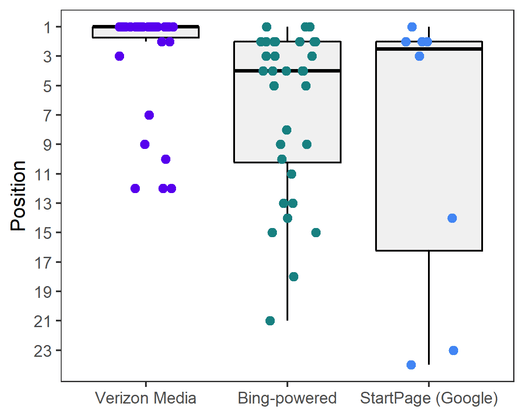 When the verification results are expressed in numbers, the site displayed by Verizon Media operated by Verizon-based search service was 2.8 on average on average, and the median was 1st, whereas the Bing-based search service was 9.4 on average. The median was fourth.

Regardless of the Startpage with a different search engine, Alexandersen said that the search results were significantly different between Verizon-based search services and Bing-based search services that should have used the same search engine, `` Standing out with this verification result Verizon Media's search service consistently consistently ranks Verizon Media-operated sites in search results. '

Alexandersen said, 'Verizon Media's search engine share has fallen from 4.1% in February 2019 to 3.63% in February 2020. I will compete in the search services market I think it's something that should be done, but searching for a particular company's content over others is not what search service users are looking for. ' He accused the manipulation of the results is not a sound way.