A terrible graph showing the blow the restaurant suffered from the new coronavirus epidemic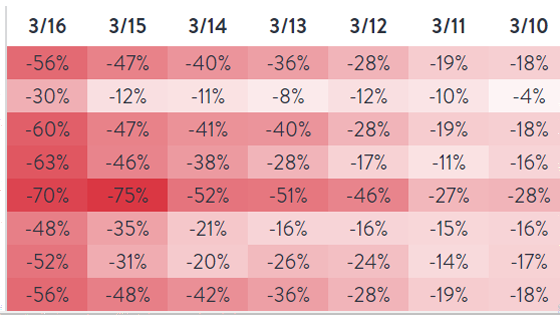 Blockades of public transport and curfew in all parts of the world have hit the city's restaurants. Of course, it is difficult to eat out during the epidemic of coronavirus infection (COVID-19), but it is necessary to be aware of the situation so that you can take action when the time comes, restaurant reservation service Is an
open table
that visualizes the tremendous decline in restaurant reservations in each country. You can see that there are many towns that are 70 to 100% lower than the previous year.
The state of the restaurant industry
https://www.opentable.com/state-of-industry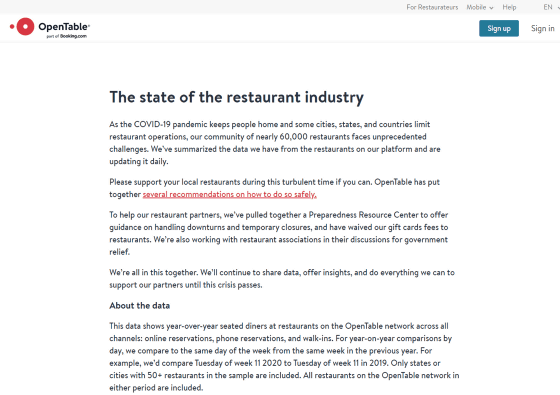 This figure shows how online reservations, telephone reservations, and visits on the day of the open table network have changed during the same week and the same day last year. For example, it compares the Tuesday of the 11th week of 2020 with the Tuesday of the 11th week of 2019. Global Australia, Canada, Germany, Ireland, Mexico, Great Britain and the United States have had no impact from February 18th, or even have more customers than last year ...




In early March, the number of customers dropped off sharply, and as of March 16, some countries were '-56%' and '-70%', less than half.




Although Japan is not included in the figure, it was possible to change from country to city.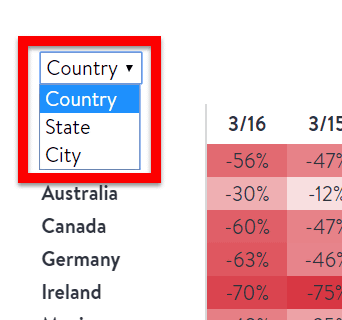 Cincinnati and Columbus in the United States were $ 100%.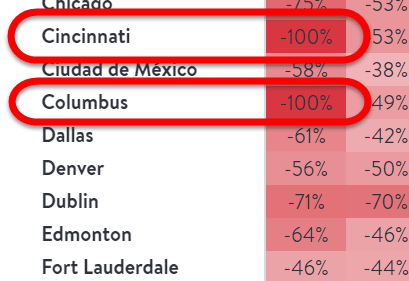 How can an open table support a favorite restaurant that has been hit hard? Is also available.

How to to Support Restaurants Through COVID-19 (Coronavirus)
https://blog.opentable.com/2020/support-restaurants-covid-19-coronavirus/

◆ Buy gift cards
At open tables in the United States and elsewhere, you can purchase a meal ticket 'Open Table Gift Card' that can be used at each store. If you buy a gift card that you can eat cheaply at your favorite restaurant and eat after the epidemic of the new coronavirus infection has calmed down, you can immediately drop money at the restaurant being hit and you are also a profitable person That's why. At the time of article creation, the open table exempts the fee paid by the shop side for gift cards.

There is no gift card system for open tables in Japan, but it seems likely that one option would be to purchase items and meal tickets sold by restaurants via the website.

◆ Use take-out and delivery
Uber Eats and other delivery services are gaining in popularity, and one way to get them to bring their favorite restaurant meals home is to use these services. It is also recommended to use a store where you can take home.

in Note, Posted by darkhorse_log