Gmail outsets Hotmail and becomes the largest e-mail service in the world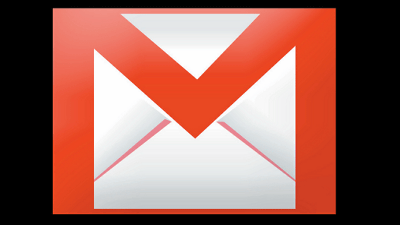 ByAbraham.williams

Google mail service "Gmail" has unveiled MSN's "Hotmail" and became the world's largest mail service became clear. Hotmail is a long-established store that offers services since the 1990s, and Gmail on the other side started in 2004. It's Google which ran quickly in the top of the search service quickly, but in the mail service it means that it took eight years to take the top.

Gmail finally beats Hotmail according to third-party data [chart] - Tech News and Analysis
http://gigaom.com/2012/10/31/gmail-finally-beats-hotmail-according-to-third-party-data-chart/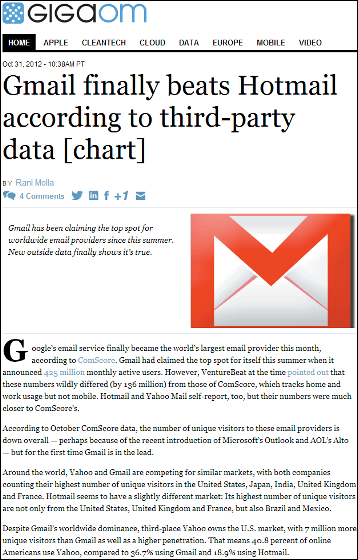 This is a summary of ComScore figures by GigaOM. 1st place is Gmail, 2nd place is Hotmail, 3rd place is Yahoo! It is Mail.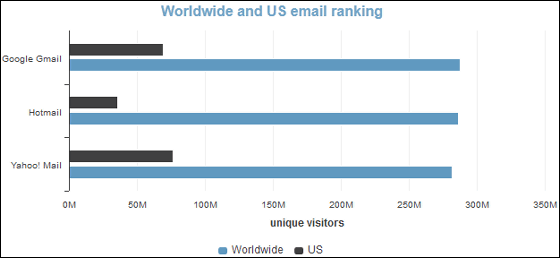 As we look at the actual figures, Gmail is 287.9 ​​million users in October, Hotmail is 286.2 million, Yahoo! Was 218.7 million. Already this summer, Google announced that Gmail 's monthly active users reached 425 million monthly, but IT technology blogsVentureBeat, It was pointed out that there is a large deviation (about 136 million more people) compared with the value of ComScore. However, VentureBeat points out that ComScore's aggregated values ​​are only on the desktop and do not include mobile. By the way, MSN (Microsoft) offering Hotmail and Yahoo! As well as Google announces the result of counting on its own, but this was not far from the value of ComScore.

Speaking only in the United States, Yahoo! Is No. 76.7 million, Gmail is second with 69.1 million, Hotmail is third with 35.5 million people. In proportion, 40.8% of Americans who are active online are Yahoo! , 36.7% is using Gmail, and 18.9% is using Hotmail.

Despite this, Hotmail has been keeping the 1st place so far, Gmail and Yahoo! In addition to the United States, Japan, the UK, France are the main markets, while Hotmail may be the difference between Britain, France, Brazil and Mexico as major markets if it is outside the United States.

In 2007Compare the number of users of "Gmail" and "Yahoo! Mail"There are articles that I have done, but at this point it is Yahoo! Mail was overwhelming. No doubt, as expected the growth rate Yahoo! On the contrary, it will overtake Hotmail ... ....

By the way, although it is Gmail who went to the top, according to the result of this October tabulation, the number of users is decreasing in all services. This is a new service that Microsoft began at the end of JulyOutlook.com"And AOL's multi-webmail service announced in October"AltoIt is thought that it is influence such as.