The number of people infected with the new coronavirus more than 6 times in a week, experts in each country announce that the damage will spread, but China replies that 'the United States has spread panic'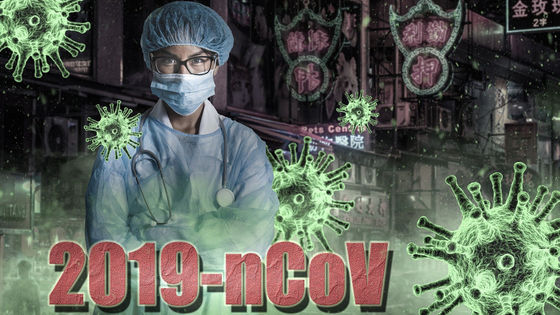 By
_freakwave_
On February 3, 2020, the number of new coronavirus infections confirmed in China exceeded 17,000. About 2700 people were confirmed a week ago on January 27, which means that the number of people infected has increased six-fold in just one week. Regarding this situation, there are also opinions that 'the World Health Organization (WHO) will issue a
pandemic
declaration soon' and 'the number of infected people exceeds 75,000'.
New Research Estimates 75,000 People in Wuhan Are Infected With Coronavirus
https://www.sciencealert.com/new-study-estimates-75-000-people-in-wuhan-infected-with-coronavirus
Wuhan Coronavirus Looks Increasingly Like a Pandemic, Experts Say-The New York Times
https://www.nytimes.com/2020/02/02/health/coronavirus-pandemic-china.html
China to allow in US health experts as virus shows no sign of slowing-Reuters
https://www.reuters.com/article/us-china-health/china-accuses-us-of-whipping-up-panic-over-virus-as-stocks-tumble-idUSKBN1ZX00T
The Ministry of Health, Labor and Welfare announced on February 3, 2020 that
the number of confirmed cases of infection in China was 17,205 and the number of deaths was 361.
As of January 27, the numbers of infected and dead
were 2,744 and 80 respectively, so the number of infected people increased by about 6.3 times, and the number of dead people increased by 4.5 times.
About the present situation of new coronavirus infectious disease and correspondence of Ministry of Health, Labor and Welfare (February 3, 2019 version)
https://www.mhlw.go.jp/stf/newpage_09290.html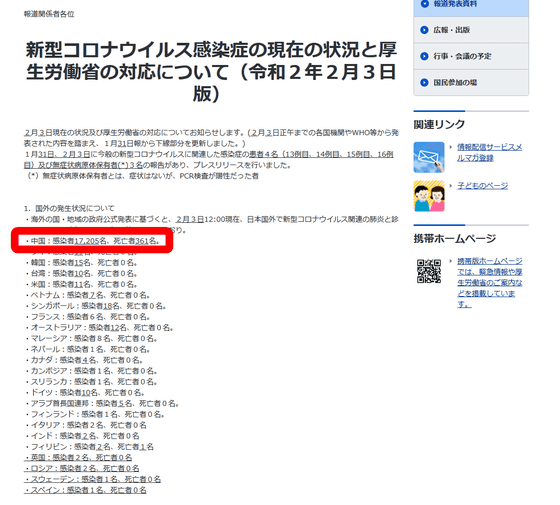 Professor Allen Chen of the Department of Infectious Diseases and Epidemiology,
Monash University
, cited
viremia
,
pneumonia
,
sepsis,
and other
complications
as cases of "
severe
illness" of new coronavirus infections. Calculating from the number of infected people and deaths as of February 3, the fatality rate of the new coronavirus is about 2.1%, but Professor Chen says 'the actual mortality rate is unknown'.
Based on the current state of the new coronavirus, experts from various countries have announced pessimistic forecasts. Professor Gabriel Leon of the University of Hong Kong analyzed the number of cases obtained by January 19, 2020 and the impact of quarantine in Wuhan and surrounding cities, ``The number of people infected with the new coronavirus is 75,815 people. Estimated. From this result, he expressed the view that "
outbreaks
" are occurring in major cities in China.
Nowcasting and forecasting the potential domestic and international spread of the 2019-nCoV outbreak originating in Wuhan, China: a modeling study-The Lancet
https://www.thelancet.com/journals/lancet/article/PIIS0140-6736(20)30260-9/fulltext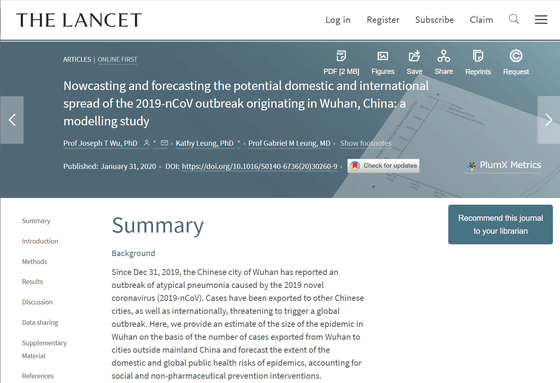 Anthony Favius, director of the
National Institute
of
Allergy and Infectious Diseases in the
United States, is one of the researchers who announced a pessimistic forecast. Favus told the New York Times on February 2, 'The new coronavirus is very, very contagious and will almost certainly be a pandemic.' Pandemic in Japan in the situation that is translated as a 'global pandemic', 'infection explosion', WHO is a 'new disease is prevalent in the world status' for the pandemic
definition
we are.
Regarding the outbreak of the new coronavirus, WHO had judged on January 22nd and 23rd that 'it is not an emergency situation', but on January 31st, 'Public health emergency of international concern it's situation '
declaration
. At the time of writing the article, WHO has not determined that the new coronavirus epidemic is pandemic worthy. 'It's unlikely that the new coronavirus will be contained,' said Thomas Frieden, who has served as a board member at the Center for Disease Control and Prevention in the United States.
In response to WHO's Declaration of 'Internationally Concerned Public Health Emergency', the US State Department raised the travel alert level to the highest level on February 2, 2020, and implemented a 'no travel' measure to China. Is launching.
China Travel Advisory
https://travel.state.gov/content/travel/en/traveladvisories/traveladvisories/china-travel-advisory.html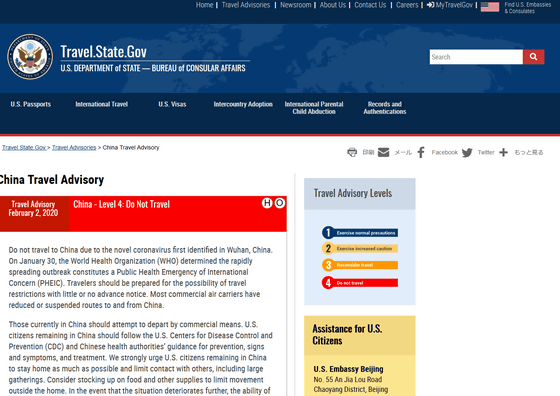 In response, WHO Executive Secretary Tedros Adamanom commented, 'No travel bans are necessary,' and China's Foreign Ministry said, 'Despite the WHO calling to avoid travel restrictions, the discourse of 'on the road announcement was. Again, the Chinese Ministry of Foreign Affairs as 'imposed unnecessary / excessive restriction against China, contrary to the recommendations of the WHO,' 'spread to produce the incessantly panic' on February 3, answer to answer in , South Korea, Japan, United Kingdom, France, Turkey and other countries that have assisted China in this emergency.


in Note, Posted by darkhorse_log