New coronavirus spreading in China advances to the United States, authorities raise `` travel alert level ''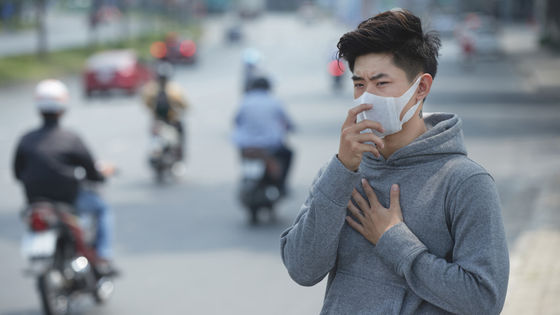 by
DragonImages
The US Centers for Disease Control and Prevention (CDC) announced on January 21, 2020 that a new case of coronavirus found in Wuhan, Hubei Province, China, was 'confirmed in Washington, USA'. Along with this, the CDC has raised the 'Warning Alert Level' of Wuhan City to '2' out of three levels, calling for attention.
First Travel-related Case of 2019 Novel Coronavirus Detected in United States | CDC Online Newsroom | CDC
https://www.cdc.gov/media/releases/2020/p0121-novel-coronavirus-travel-case.html
Washington state man who traveled to China is first US victim of coronavirus-Reuters
https://www.reuters.com/article/us-china-health-usa/cdc-confirms-first-us-case-of-china-coronavirus-idUSKBN1ZK2FF
The US has its first case of the new Wuhan coronavirus-The Verge
https://www.theverge.com/2020/1/21/21075647/us-wuhan-coronavirus-case-china-deaths-virus-illness
In Wuhan, China, viral pneumonia of unknown origin was found around December 2019, and one male was confirmed dead on January 9, 2020.
One death due to pneumonia caused by the new coronavirus, expected not to be transmitted from human to human-gigazine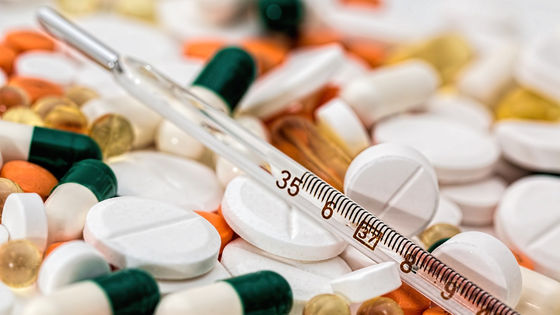 by
stevepb
Initially, it was a new type of coronavirus that was seen as 'doesn't infect from human to human', but was later found to 'infect from human to human'. To date, the spread of infection has been confirmed in Japan, Taiwan, Korea, Thailand, etc., and the number of cases has tripled in a few days.
It is confirmed that the new virus pneumonia in fashion in China is transmitted `` from human to human '', the number of cases more than triples in a few days-gigazine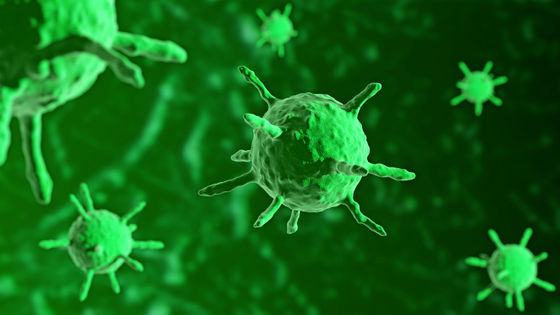 by
claudioventrella
Meanwhile, the CDC newly announced that the first case of a novel coronavirus (2019-nCoV) in the United States was confirmed in Washington State. The patient had recently returned from Wuhan, China. . Accordingly, the CDC has raised the 'Vigilance Alert Level' to 2, which calls on travelers abroad to raise public awareness, and called for stronger precautionary measures.
Novel Coronavirus in China-Alert-Level 2, Practice Enhanced Precautions-Travel Health Notices | Travelers' Health | CDC
https://wwwnc.cdc.gov/travel/notices/alert/novel-coronavirus-china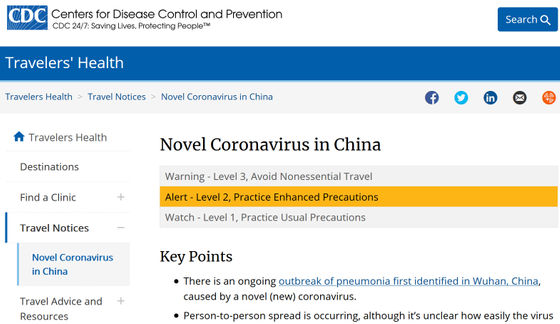 CDC announces 'Vigilance Levels' for 'Level 1 (Caution: Implement normal precautionary measures)', 'Level 2 (Caution: Implement enhanced precautions)', and 'Level 3: (Warning: Unnecessary emergency Avoid travel)), the level at the time of writing the article is 2. The CDC recommended that travelers to Wuhan City take the following precautionary measures:

・ Avoid contact with sick people
Avoid animals (live or dead), markets where animals are sold, and products of animal origin (uncooked meat, etc.)
Wash hands thoroughly with soap and water for at least 20 seconds, or if not, use alcohol-based hand sanitizer
-Consult with a physician regarding travel to Wuhan, as the elderly and those with health problems may be at greater risk of illness

Furthermore, if you travel to Wuhan City and feel sick due to fever, cough, or breathing difficulties, avoid contact with other people and immediately consult a medical institution and ask your doctor about your recent travel destination. I'm asking you to tell.

`` A 30-year-old man confirmed to be infected with the new coronavirus in Washington has returned to his hometown of Wuhan, China, '' said Washington State Governor Jay Insley at a press conference in Seattle. After that, she became ill on January 18, 2020, and was diagnosed with the new coronavirus on Monday. Fortunately, the symptoms of the man were mild and no other people were infected. '' And called for a calm response.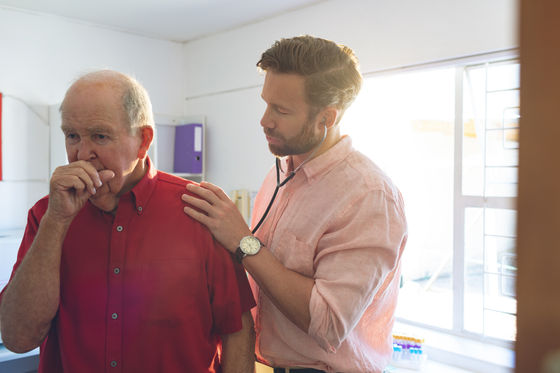 by Wavebreakmedia

`` A key issue we need to understand is to find out how easy and persistent it is for a virus to spread from human to human, '' said Nancy Messonier, director of the CDC's National Center for Vaccination and Respiratory Diseases. Is '.

On the international response to the new coronavirus, the World Health Organization (WHO) will hold an emergency technical committee on January 22 to declare `` a public health emergency of international concern '' I will consider whether to do it.

in Note, Posted by log1l_ks