I tried `` Black Thunder Gorigo Gorilla Thunder '' with a crisp texture and a gorilla package with a gorgeous finish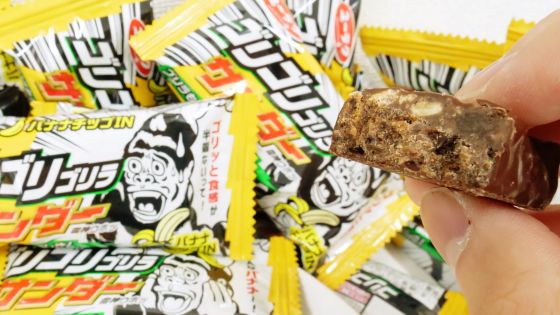 " Black Thunder Gorigo Gorilla Thunder ", which adds a banana flavor to a solid texture, has appeared in Yuraku Confectionery " Black Thunder " series since Monday, December 9, 2019. I was wondering what the difference in texture compared to the normal black thunder, so I tried to eat it.

Gorrigori Gorilla Thunder will be released at convenience stores nationwide from Friday, December 9th! | News | Yuraku Confectionery

https://www.yurakuseika.co.jp/news/Gorigori Gorilla Thunder, nationwide from December 9 (Friday)
Gorilla is also delicious! New Black Thunder Product "Gorigo Rigo Thunder" 12 ⽉ 9 Newly released at convenience stores nationwide from ⽉ (⽉)! ! https://t.co/6oAq98AXhh

— Black Thunder ???? (Yuraku Confectionery Official) (@Black_Thunder_) December 2, 2019


Gorilla is drawn on the package of 'Black Thunder Gorigo Gorilla Thunder', and three kinds of lines are prepared.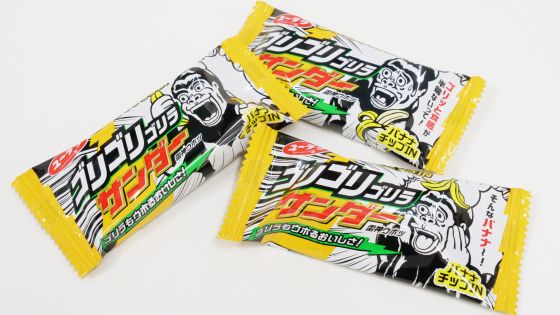 The phrase 'Gorilla is also delicious!'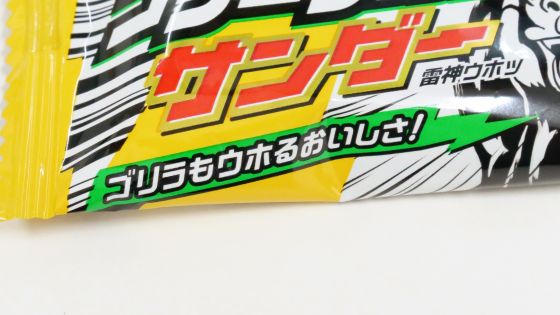 The raw material looks like this. In addition to the ingredients that are familiar to ordinary black sanders such as chocolate, semi-chocolate and cocoa cookies, banana chips are also included.




Calories are 136kcal per 1 bottle (26g).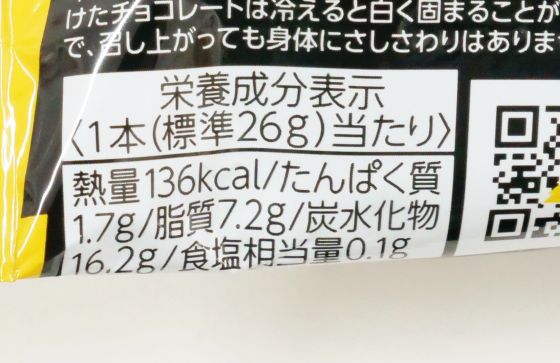 As soon as I opened it, there was a stick of chocolate.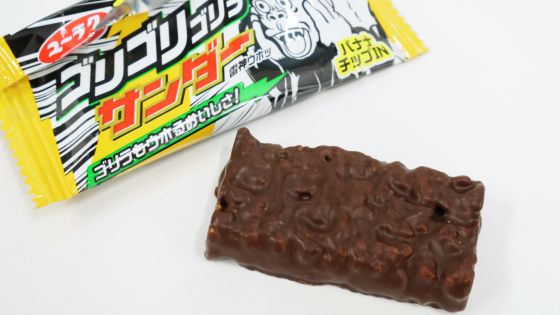 Compare it with a normal black thunder. The "Gorigo Gorilla Thunder" on the left side appears to be filled with chocolate with no holes compared to the regular version. The color of chocolate is too dark.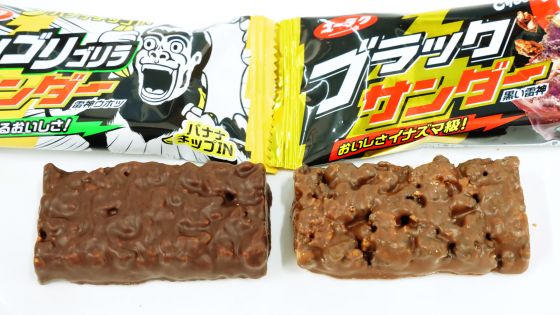 Next, comparing the cross sections, the impression that chocolate is more tightly packed with "Gorigo Gorilla Thunder". In addition, yellowish banana chips are visible and hidden in the "Gorigo Gorilla Thunder" taste on the left.




Finally, the essential texture is compared. After eating a normal black thunder and eating the "Gorigo Gorilla Thunder" taste, the chocolate texture was certainly hard and literally "Gorri". The slight sweetness of banana chips is a good accent, so you can eat without getting tired. It was finished in a black thunder that would make you want to eat boldly.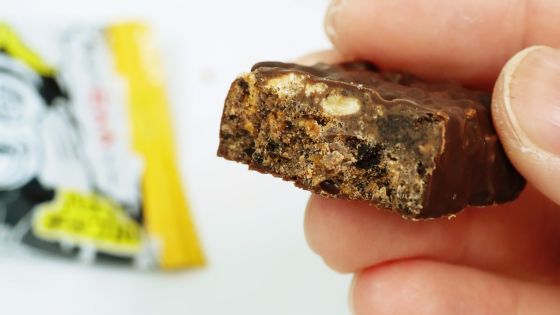 'Black Thunder Gorrigori Gorilla Thunder' is on sale at convenience stores nationwide from Monday, December 9, 2019 for 40 yen tax.