`` Anal sunbathing '' where you can take sunlight for 30 seconds in the anus is effective for one day of normal sunbathing, many posts appearing on SNS appear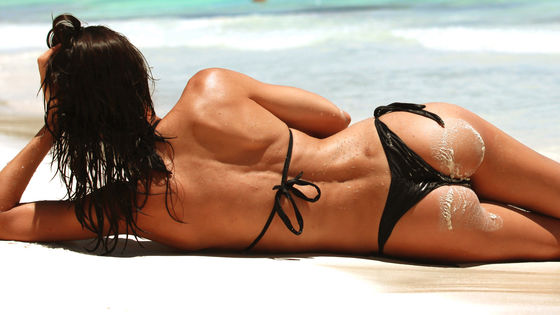 by Claudio_Scott

Vitamin D is one of the essential nutrients biosynthesized when exposed to sunlight. Vitamin D deficiency prevents people from fully absorbing calcium from the small intestine, causing osteomalacia and osteoporosis, so people need to be exposed to sunlight regularly. About such sunbathing, an instagrammer who claims that 'directing the anus to the sun for 30 seconds is as healthy as bathing the sun all day long' appears. People who practice anal sunbathing are also appearing one after another.

Sunning light on your anus is a viral joke that has some science behind it | Inverse
https://www.inverse.com/article/61289-perenium-sunning-butt-science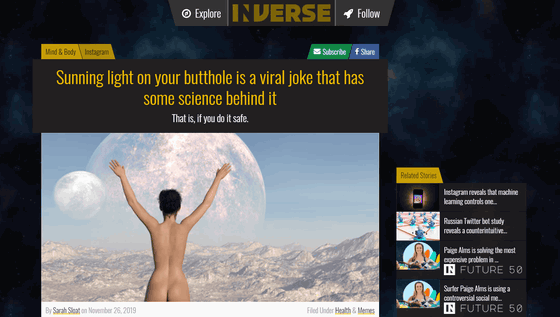 Holistic educator Troy Cayce insists that buttholesunning (anal sunbathing) is effective, 'sunlighting the anal mucosa for 30 seconds has the same effect as sunbathing all day.' Metaphysicalmeagan, who agreed with this claim, reported that she was practicing anal sunbathing on Instagram. This post was spread on Twitter, with over 18,000 retweets and over 89,000 likes at the time of writing. It became topic as we collected.

Out Here Butt People-Chugging Sunlight. Pic.Twitter.Com/o8rxNwyASA

— Nice Nun (@sisterofonline) November 25, 2019


The person who posts the state on Instagram appeared. The hashtag ' #buttholesunning ' dedicated to anal sunbathing has been born.

View this post on Instagram
View this post on Instagram


Some of them practiced anal sunbathing together side by side.

View this post on Instagram


Joshua Miller, a nutrition scientist at Rutgers University , said, "It's not unusual to think that it's better to put your butt on the sun and sunshine." "If you turn your hips to the sun, the area of your skin exposed to sunlight increases, which may increase the amount of vitamin D biosynthesis per minute."

On the other hand, Mr. Miller argues that `` it has not been proven that the amount of vitamin D biosynthesis per unit area changes depending on the part of the body, and there is no scientific evidence that anal sunbathing is healthy '' . According to Miller, the effect of sunbathing changes depending on many conditions such as location, time, age, skin color, season, etc. 'How can sunbathing efficiently biosynthesize vitamin D?' Is difficult to verify and seems unclear.

In addition, Mr. Miller cautions, "5-30 minutes a week is enough for sunbathing, and excessive sunbathing is a risk of skin cancer."