What is the reason why so many 'ice eggs' were launched on the beach?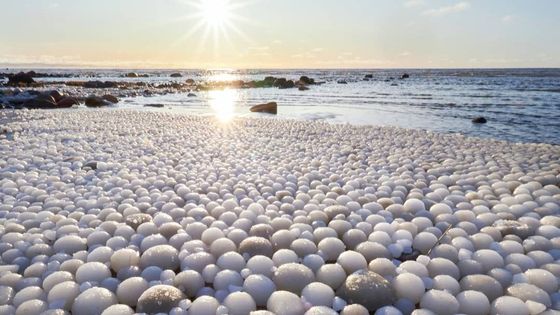 In nature, ice sometimes forms beyond human expectation, and in some cases,
ice like old man's gray hair
or
circular ice
rotating in a river has been discovered.
Risto Mattila
, an amateur photographer, was walking along the coast of Finland's
Hai Luoto Island
and
discovered
that a large number of 'ice-shaped spheres of ice' were launched.
Hundreds of Mysterious 'Ice Eggs' Have Washed Up on a Finland Beach
https://www.sciencealert.com/hundreds-of-rare-ice-eggs-washed-up-on-a-finland-beach-thanks-to-weird-weather
Mattila said he was taking a walk to the Maruyaniemi coast of Hairuoto Island with his wife on the morning of November 3, 2019. Mattila says that the day was fine and the temperature was about -1 degree and the wind was strong. And when we arrived at the beach, Mattila discovered that a lot of "ice eggs" were launched on the beach along the coastline.
This is actually an ice egg photographed by Mattila. The color of ice varies from white to impurities or brown or blackish, some of which have an oval shape like a rugby ball.


It seems that the ice eggs filled the coast for about 30m, and each size varied from golf ball size to soccer ball size. Mattila has lived nearby for about 25 years, but has said she has never seen these ice eggs in her life.

A movie shot by Ritva Rundgren, who lives in the same locality as Mattila, is also available on Twitter.

ICE BALLS cover Beach in Finland !!!! ????????

Permission: Ritva Rundgren
Hailuoto, Finland-Bothnian Sea @WeatherBug -Download the weather app today! Pic.twitter.com/F9fe1K8tcd

— Live Storm Chasers (@Livestormchaser) November 7, 2019


Iced eggs are filling the feet where Rundgren walks.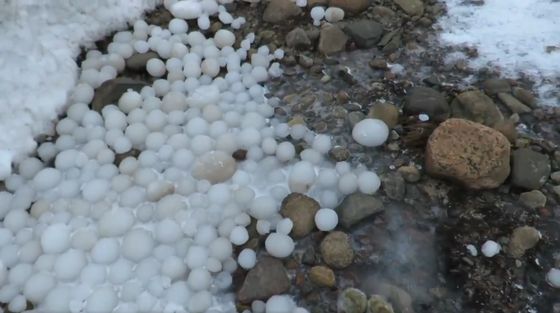 You can also see places where ice eggs launched along the coast pile up and freeze to form walls.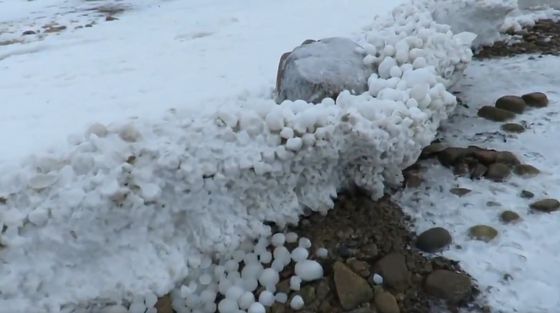 When I looked at the inside of the wall, there were more ice eggs.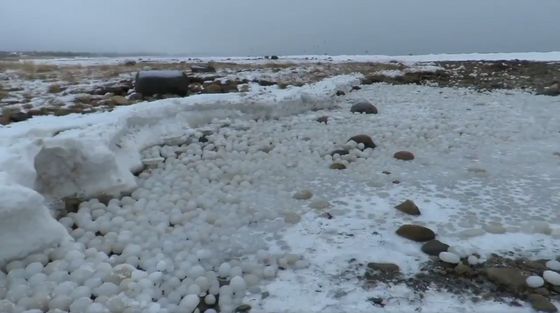 According to ScienceAlert , a science-based media, in order for ice eggs to form naturally, it is necessary to have an almost perfect set of weather conditions. The weather conditions needed to make an ice egg are very delicate, not too warm, but not too cold, nor too windy or windless. It is also important that the water that is the source of ice is relatively mild and that the water temperature is low enough to become ice.

Under these conditions, when small sand grains or ice crystals float in the water, the surrounding water collects in the particles and forms ice. This gradually grows and grows, and after being launched on the beach, it was blown in an appropriate wind and rolled, resulting in a rounded egg-like shape. This process is similar to the ice particles blown up in a storm that grow gradually and then drop to the ground as a hail .

There have been cases where similar ice eggs have been found in other places in the past. For example, the following movie is a picture of an ice egg discovered in Lake Michigan , USA. It is relatively large compared to what Mattila discovered this time, and it seems that the corners are staggered.

Ice Balls forming along Lake Michigan near Glen Arbor-YouTube