A movement that expresses gratitude to Pokemon exposed to criticism is expanding worldwide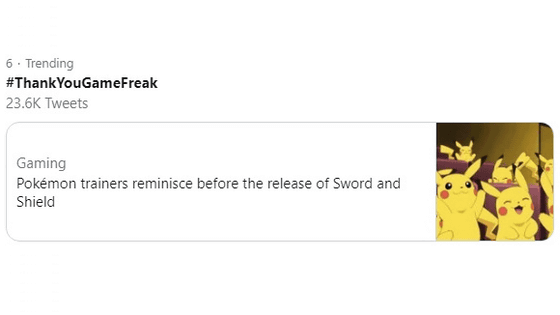 The latest Pokemon series `` Pokemon Sword Shield '' released on Friday, November 15, 2019, revealed in an interview that not all Pokemon in the past series can be used in the game This has led to the disappointment of many fans. Pokemon that was exposed to criticism beyond imagination, but a movement called ` ` #ThankYouGameFreak '' that tried to convey thanks to GAME FREAK (game freak), the creator of Pokemon, occurred around the world. It has become a hot topic.

Why Pokémon's #ThankYouGameFreak is trending • Eurogamer.net
https://www.eurogamer.net/articles/2019-11-09-why-pokemon-thankyougamefreak-is-trending

Pokemon Sword Shield can not use all Pokemon that appeared in the past Pokemon series, and some Pokemon can not even be used in the game in the first place. This was revealed in an interview with Junichi Masuda, producer of Sword Shield, and Shigeru Omori, director. However, at this stage it was not yet clear which Pokémon could actually be used with Sword Shield.

We hit Junichi Masuda and Shigeru Omori directly on "What I want to hear" of "Pocket Monster Sword Shield". Also mention 'Pokemon story to be brought'! [E32019]-Famitsu.com
https://www.famitsu.com/news/201906/13177936.html

However, at the beginning of November 2019 when Sword Shield was about to be released, the full list of Pokemon available for Sword Shield will be leaked on the Internet.

Is the list of all Pokemon appearing in Pokemon Sword Shield leaked?-GIGAZINE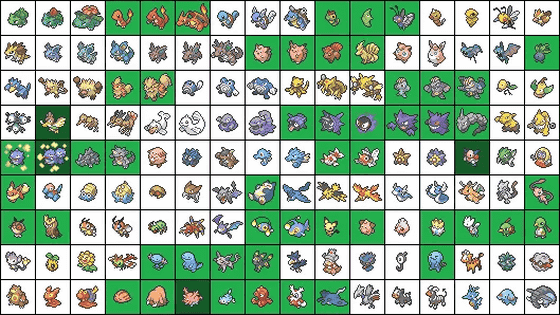 With the release of detailed information on "Which Pokemon can be used?", Pokemon fans on the Internet have criticized. It is unclear whether this is an effect, but after the criticism over the Internet, Pokemon Co. , Ltd. will cancel the release event of Sword Shield. In addition, Pokemon Co., Ltd. explains the reason for the event cancellation only as "We decided to cancel the event due to operational reasons."

Criticism on the Internet is increasing day by day after the full list of Pokemon available for Sword Shield has been leaked. International Internet users are criticizing the hashtag " #Dexit ".

So it looks like out of my top 10 favorite Pokemon, literally ZERO of them will be in Pokemon Sword & Shield.So glad I waited 23 years for a main-series console Pokemon game!

White is out, green is in, orange is in with new Galarian form. # Dexit pic.twitter.com/5SsO4nodAl

— Welsknight Gaming (@WelsknightPlays) November 4, 2019


In an interview with Eurogamer, an overseas game media, Mr. Masuda and Mr. Omori said, "I certainly feel a little pressure when creating a game, but I feel that the development of the game itself is stressful. No, after all, game development is what we want to do and it's really fun, we definitely want to meet all our fans' wishes and expectations, but this is very difficult. In a sense, there is definitely pressure, "he said, saying the difficulty of pleasing Pokemon fans.

Also, regarding the point that Sword Shield does not support all Pokemon, "It was a very difficult decision internally. There was a lot of discussion about which direction to go. `` The decision to detach the Pokemon book of the department has become the best solution for creating the richest experience we can have throughout the game, '' he said, and recorded in all Pokemon to keep the quality of the game Explain that there was no.

A hashtag to support game freaks who are working on the development of such a sword shield is '#ThankYouGameFreak'. Hashtag was created by game publisher MysticUmbreon, who said, `` #ThankYouGameFreak for a company called Game Freak who created a game that helped me to overcome the tough times of childhood with my Twitter account. I know that this is a tough situation for game freaks, but fans still love game freaks and the games they develop. Please spread this hashtag. '

I wanted to see if I could start a #ThankYouGameFreak trend. # ThankYouGamefreak for creating the games that got me through all the tough times in my childhood.I know times are rough, but there are still fans that love what you do.Spread if you appreciate what Gamefreak does.

— MysticUmbreon # GoldenDeer (@ MysticUmbreon94) November 9, 2019


MysticUmbreon talks on his YouTube channel about why he created the hashtag "#ThankYouGameFreak". MysticUmbreon said in the movie, 'I will try to counter all the hatred that game freaks are making by making this hashtag.'

#ThankYouGamefreak Spread this!-YouTube


The hashtag `` #ThankYouGameFreak '' is spreading all over the world, and according to Twitrend , who can investigate worldwide trends of Twitter, it is 18 of the global trend at 4 o'clock on November 10, 2019 in Japan time. In addition, the United States (2nd), Canada (1st), Mexico (4th), France (11th), Italy (4th), Spain (8th), Portugal (17th), the Netherlands (5th place), Belgium (2nd place), Philippines (17th place), Australia (17th place) and other countries around the world.

Overseas Trends (12 hours ago) | Twittrend-Twitter Trends in Each Region



"I think honestly and positively the work of a major video game franchise that portrays blacks means a lot."

#ThankYouGameFreak for the consistent and positive portrayals of black / brown people in a major video game franchise
it means a lot, honestly pic.twitter.com/tmEArtCG8z

— ???? | ???? (@gurugurugravity) November 9, 2019


"Thank you for the awesome game I spent a lot of time and the game freak that gave me lots of memories and great Pokémon."

#ThankYouGameFreak for giving me great games to spend a ridiculous amount of time in, and giving me so many memories with so many great Pokemon.pic.twitter.com/NzovVvC820

— DodongoHateSmoke (⚔️ ???? THIS MONTH !!!!) (@CabooseShoes) November 9, 2019


Some people give a compliment, 'Thank you for creating God.'

#ThankYouGameFreak for creating God himself pic.twitter.com/NvWbxqBVdD

— Maddie loves alola #Thankyousunandmoon (@MaddieFandoms) November 9, 2019


"Thank you for making one of the games I played for the first time! Pokemon shaped my childhood and had a bigger impact on me than any other game series. Everything the game freaks have done I would like to convey my incredible thanks to my work and all the work that I will do. ''

#ThankYouGameFreak for creating one of the very first video games I've ever played! Pokemon shaped my childhood and impacted me way more than any other series.I'm incredibly thankful for all the work you guys have done and all that you continue to do. ❤️❤️ pic.twitter.com/wS2GOnglXy

— Lemoncholic ⚔️ ???? (@ Lemoncholic1) November 9, 2019


"Thank you for the best memories of my childhood. When I moved to my childhood, I lost my friends. But I had a Nintendo DS and Pokemon Platinum , so I got the chance to talk to others. I immediately made close friends, so I will never forget Pokemon. '

#ThankYouGameFreak for my fondest childhood memories.When I moved to a new neighborhood I had no new friends, but because I had my DS & Pokémon Platinum I had a way to talk to others & was able to make some of my closest friends still to this day, so I'll never forget that ???? pic.twitter.com/WheKPs8hTt

— Aero (@ActualAero) November 9, 2019


The hashtag "#ThankYouGameFreak" seems to be recognized by Mr. Omori, director of Sword Shield, and expresses his thanks on his Twitter account.

#ThankYouGameFreak

Is in trend all over the world! ?
happy…! !

5 days left until Sword Shield released.
I'm looking forward to playing with everyone!

— Shigeru Omori @ Pokémon Sword Shield released in winter 2019! (@Shigeru_Ohmori) November 10, 2019
in Game, Posted by logu_ii