I took a picture / video to compare how much the Pixel 4 and Pixel 3 cameras are different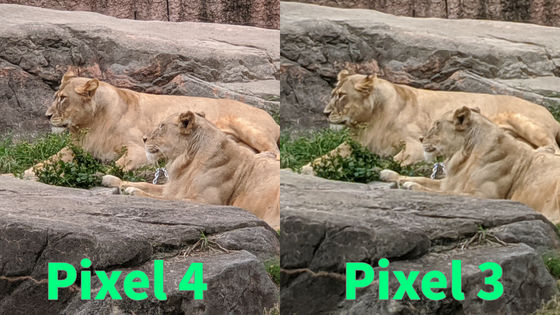 Google's smartphone `` Pixel 4 '' and `` Pixel 4 XL '' officially announced in the event `` Made by Google '19' 'held on October 15, 2019 will be shipped today from October 24, 2019 . In fact, shipments started earlier than the scheduled date, and many reports have already arrived at hand, and the GIGAZINE editorial department has already arrived.
I opened it
and tried the new face recognition that Google is proud of
. Next,
I tried to
shoot various kinds of photos and videos to see what kind of difference compared to shooting with Pixel 3.
Pixel 4-Smartphone Google wanted to make-Google Store
https://store.google.com/product/pixel_4
Go to
Tennoji Zoo
in search of models that show their true appearance. Below, the photo was
taken with Pixel 4 on the left side and with Pixel 3 on the right side
. Unless otherwise stated, the photo was taken in "Camera" mode with the default settings. In addition, image processing is only simple reduction for publication.
Koala was "moving" to the UK due to the
high cost of growing eucalyptus to feed, and
the building was unattended.


Polar bears were cheering from excursion children



Shoot polar bears at maximum zoom. Pixel 4 recognizes the face of a polar bear and automatically switches to the po trade mode.



Sea lion pool. The baby sea lion cucumber , who got out of the drain during the pool cleaning and was rescued 4 days later, was off due to health issues.



Snowy owl on display outdoors.



Higacyclosai



Below is a movie of a movie that was being eaten quietly.

Higacyclosai @ Tennoji Zoo that took a movie with Pixel 4-YouTube


Higacyclosai @ Tennoji Zoo that took a movie with Pixel 3-YouTube


Kirin & Abeno Harukas



Lion



Continue to the nocturnal zoo. This is a facility where lighting is kept to a minimum so that you can see where nocturnal animals are moving. Flash photography is prohibited. For people who want to shoot animals, this is a place where they suffer from camera shake and noise. Pixel 3 and Pixel 4 both have a night view mode, but in the night view mode, animals moved and became blurred, so the following photos were taken normally.



Owl



Hakubishin



I tried to shoot a movie of Kinkajou that moves smoothly.

Kinkajou @ Tennoji Zoo that took a movie with Pixel 4-YouTube


Kinkajou @ Tennoji Zoo that took a movie with Pixel 3-YouTube


The following was taken in portrait mode, first of all, Abeno Harukas distant view.



Tonkatsu KYK roast and (200g)



Sweet tooth Maeda taste of Mitarashi dumpling-warabimochi-quail (soft cream + Shiratama + red bean paste) is collectively 'Petit quail'. At the time of tonkatsu, Pixel 3 was closer to warm colors, but in soft ice cream, Pixel 4 was closer to warm colors. Is it the difference of the lighting of the shop?



Mitarashi dumpling



In this shooting, there was no scene that says "Pixel 3 did not release the shutter, but Pixel 4 did it". There may be many scenes where you can fully use the power if you change the model from a terminal of a different generation, but at least if you are within the shooting range of everyday use, you can feel the difference with Pixel 3 There seems to be little.

However, usability when changing settings has improved. When changing the "Settings" of the camera, it was necessary to open "Settings" from the displayed menu for Pixel 3 by swiping the menu horizontally from "Camera" and selecting "Others".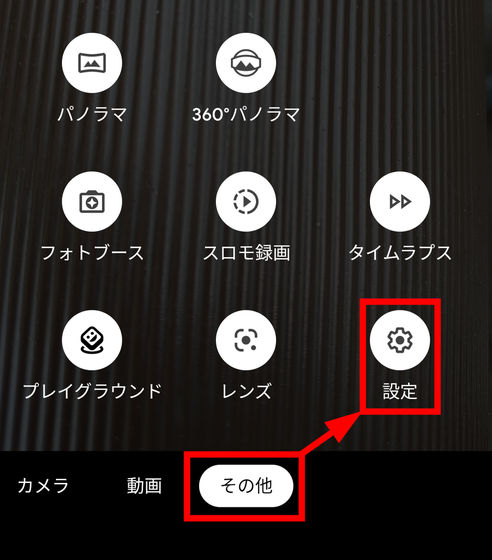 However, with Pixel 4, if you swipe down from the top of the screen while the camera is running ...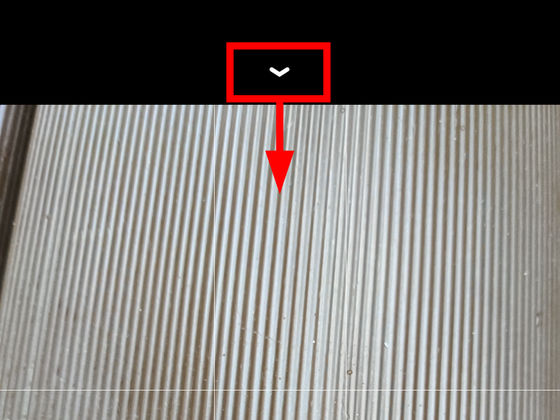 The setting menu is displayed in this way, and you can change the detailed settings with the gear icon in the lower right. "Motion", "Timer", and "Flash" were displayed at the top of the screen in Pixel 3, so the one-level menu became deeper, but access to other settings has improved.