I tried to eat Acecock 'Vertical Long Ringer Hat Pirika Champon for a limited time 3'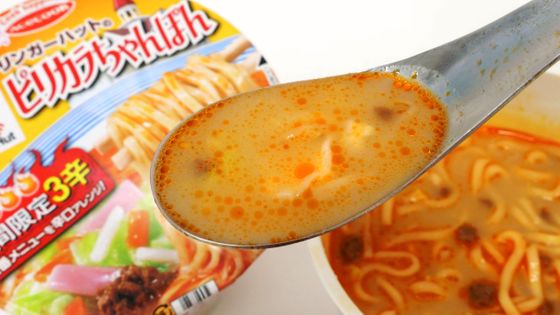 As part of the
Ringer Hut supervised series
of Nagasaki Champon Chain, Acecock "
Vertical Long Ringer Hat Pirika Champon Limited 3 Hot
" will appear from Monday, August 5, 2019. It is said that it is a dish that can be enjoyed with a spicy taste of '3 spicy' level, so I tried to eat it in order to stimulate the appetite to lose in the hot summer.
The "Ringer Hut" supervising series "3 spicy" level, which has more than 650 stores in Japan and overseas, will appeal to the hot summer! Ringer Hut's Pirical Champon Limited Time 3 New Release on August 5, 2019
(PDF file) https://www.acecook.co.jp/news/pdf/1907_TLRAH.pdf
This is 'Vertical Longer Ringer Hat Pirika Champon Limited Time 3'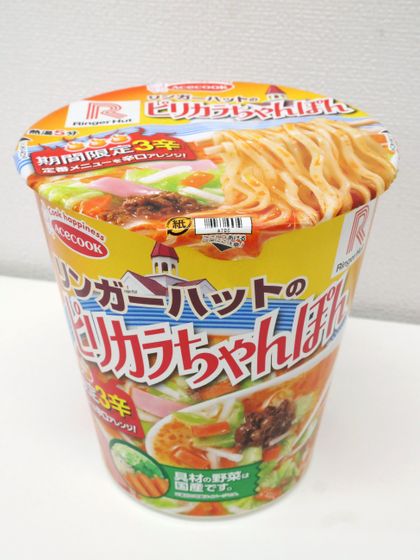 The lid of the package is decorated with a red pointed roof with the Ringer Hat symbol.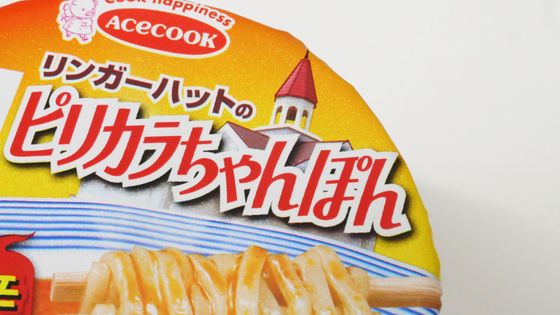 The standard spicy
chanpon
that can be eaten at Ringer Hut stores is 2 spicy, but this time the "Ringer Hut Pirika Champon" is 3 spicy, so you can enjoy the first level of spiciness.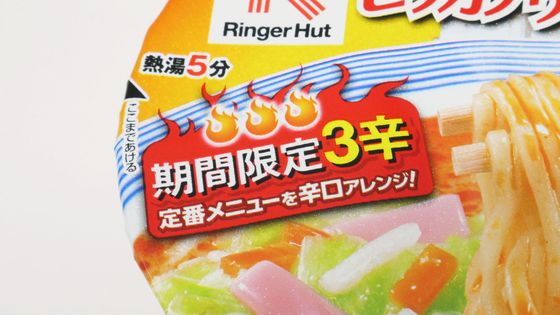 There is a letter of soy sauce in the name of the raw material, which seems to play a role of spicy.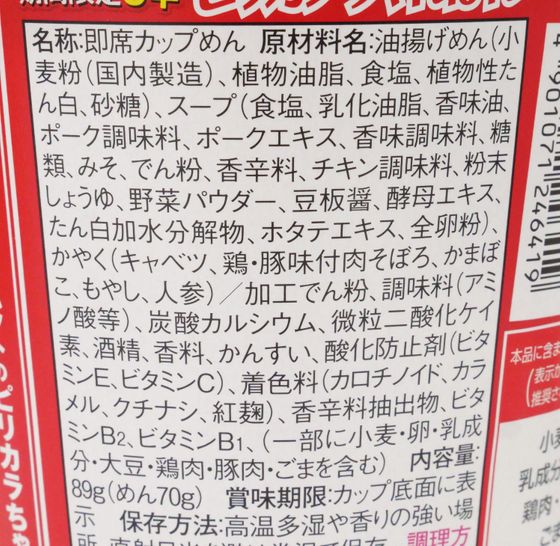 Calories are 383kcal per 89g serving.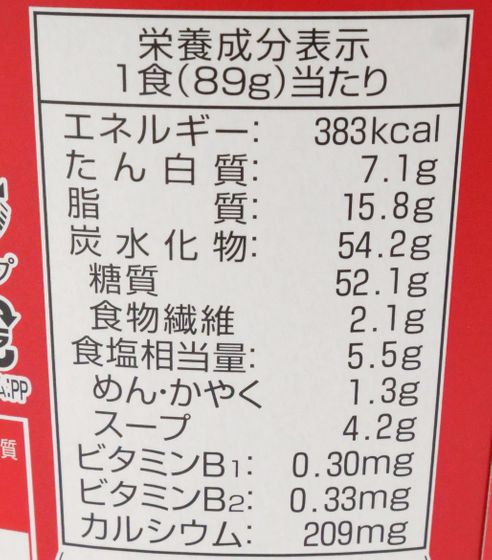 When I opened the package, I found a special paste bag.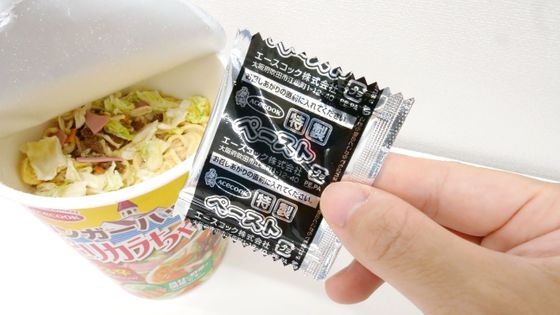 Put hot water ...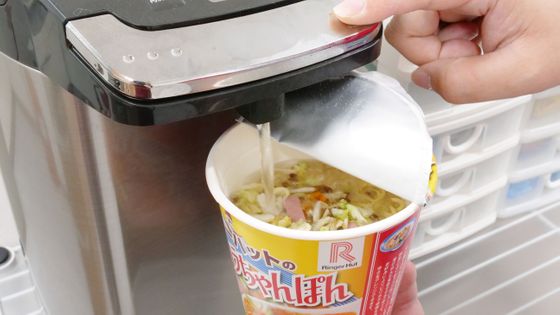 Waiting time is longer 5 minutes.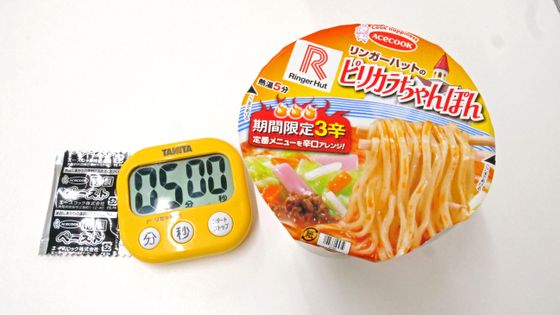 After 5 minutes, special paste is added.



Stir well to complete.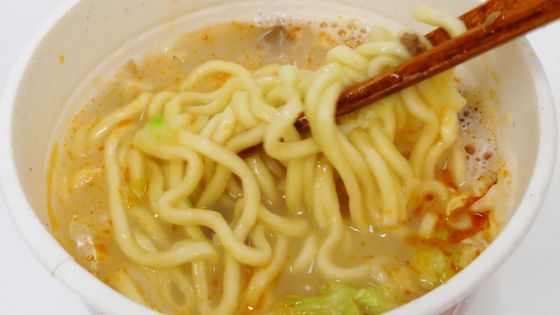 The red bean plate sauce stands out on the surface of Champon soup.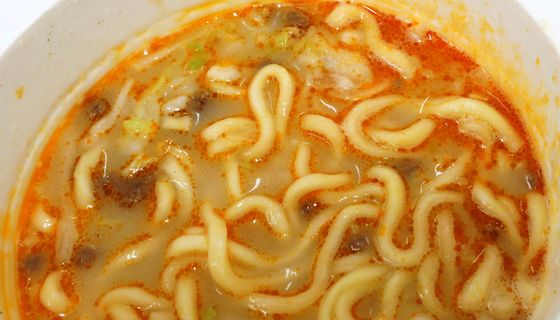 First of all, if you drink from the soup, it will be as hot as the name of "3 spicy", and if you swallow the soup, your throat will become hot. In addition, the richness and umami taste of tonkotsu and vegetables were firmly felt in the spiciness.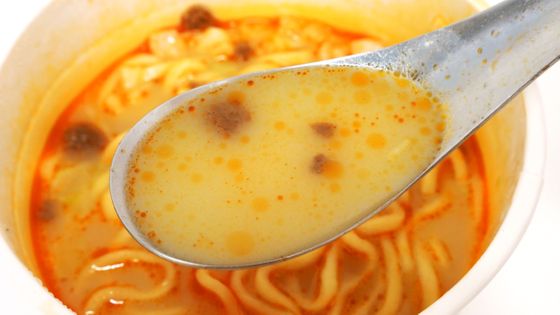 The surface of the noodles is softer than the mochi mochi, but when you chew it you feel a firm elasticity that is tightly packed. Vegetables are made from domestic products like
Ringer Hut,
and the crispy texture of cabbage amplifies the feeling of champon. On the other hand, the vegetables were less than the original Ringer Hut, so the impression was more junk.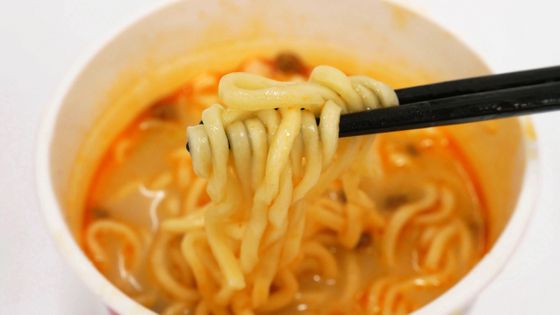 The suggested retail price of Acecock 'Vertical Long Ringer Hut Pirikara Champon Limited Time 3' is 220 yen. Available for purchase for a limited time from August 5, 2019 at retail stores such as convenience stores and supermarkets nationwide.