It turns out that over 70% of people who use free Wi-Fi don't care about security risks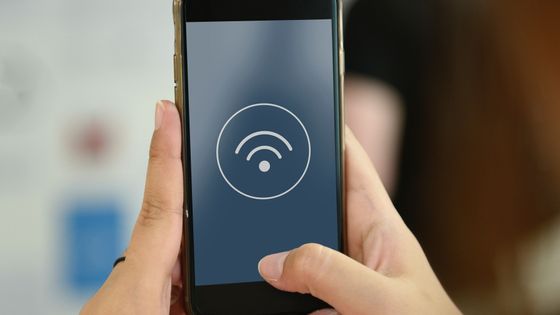 By
rawpixel.com
Some dining options and public spaces offer free Wi-Fi as part of their service. Despite the security issues with such free Wi-Fi, a survey revealed that many people are using free Wi-Fi without worrying about security issues.
REPORT: 82% of People Say They Connect to Any Free WiFi That's Available in a Public Place | Decision Data
https://decisiondata.org/news/report-82-of-people-say-they-connect-to-any-free-wifi-thats-available-in-a-public-place/
Market research company
DecisionData
conducted a questionnaire on Internet access etc. for 1195 people living in the United States. The following is the result of a survey on public Wi-Fi. As a result, 82% answered 'Yes' to the question 'Connecting to free Wi-Fi network in a public place', 13% answered 'No' to 'No' Was 5%. You can see that the majority of people are using free Wi-Fi in public places.



So I asked the question, 'How much security do you care about when using public Wi-Fi?', And 71% of the respondents answered that they did not care at all. And 9% answered that 'I am slightly concerned', 16% answered 'I am quite concerned', and 4% answered 'I do not understand'. Respondents of the questionnaire also commented that 'I do not mind taking risks if I want to access the Internet' or 'I can not think that there is a risk in public Wi-Fi.'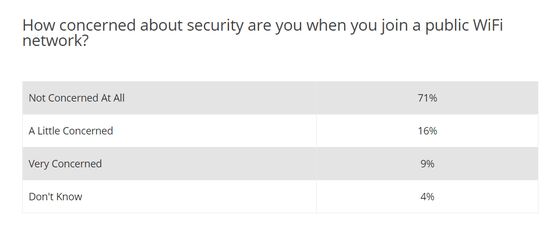 DecisionData points out that there are various risks to the public Wi-Fi spots that many people use. For example, when using Wi-Fi such as coffee shops, the Wi-Fi
SSID
is usually the store's name. However, since anyone can give the SSID a name of their choice, a malicious third party can 'spoof' to create a Wi-Fi network using the store's name without permission.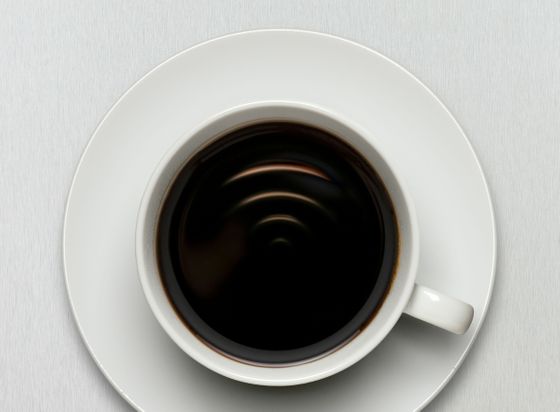 By Fisher-Photostudio

According to DecisionData, it is not difficult to extract information on people who have connected to the Wi-Fi network, and the risk of 'spoofing' is high. Besides 'spoofing', DecisionData also mentions many other issues such as man-in-the-middle attacks and malware.

As a security measure that DecisionData can use by itself when utilizing a public Wi-Fi network, 'when entering a public network, refrain from entering personal information' 'URL of the site to visit' 'https: // Make sure to start with ', and state that' using VPN is the best way to keep all your data safe '. However, he added that 'it is difficult to choose a reliable and secure VPN'.