A quick cup of fragrant guilt with a low irritability, but it's easy to eat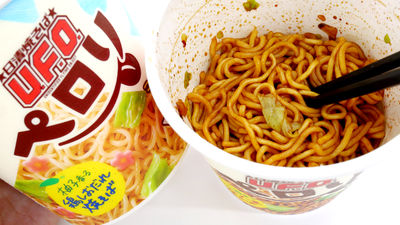 A new series for women who feel that 'I want to eat something thick but I hate it too thick' from Nissin's cup Yakisoba brand '
Nisshin Yakisoba UFO
', '
Nisshin Yakisoba UFO Perori
' has appeared You There were two flavors, "
Nisshin Yakisoba UFO Perori Katsushiko Ruka Rashashi Sauce
" and "
Nisshin Yakisoba UFO Peroli Gyoza Shrimp Chicken Shi Ore
", so I tried to eat it on the day of sale.
Nisshin Foods 'Nisshin Yakisoba UFO Perori Katsuo Seasonal Sauce' 'Yuzuko Fragrant Chicken Shioore'
https://www.nissin.com/jp/news/7927
[New series was born to be loved by women! ]
Easy-to-hold, cute design, very good volume ✨ 'Dense dark', not only taste ✨ 'Nisshin Yakisoba UFO ロ リ ロ リ' comes up! Moth
There are 2 kinds of 'Tsukashi seared soy sauce' and 'Apricot fragrant chicken Shioore'. Enjoy the exquisite mariage of the newly developed miso noodles and rich sauces ???

— Nisshin Yakisoba UFO official (@ nissin_u_f_o) July 22, 2019


This is Nisshin Yakisoba UFO Perroli's 'Tsukashi sardine custard sauce' (left) and 'Saiko chicken roe' (right). Unlike Nissin Yakisoba UFO, it is cup Yakisoba with vertical cup. The size is about the same as cup soup.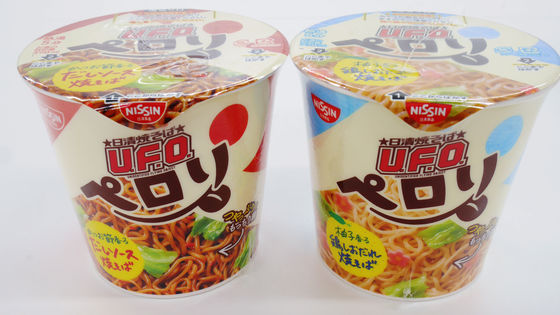 The lid part of the large 'pe' is written on it, 'Perori' logo on it.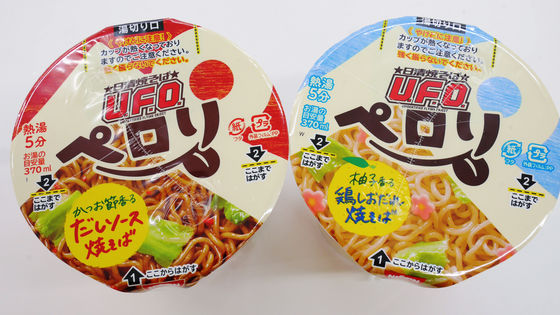 The raw materials of 'Tsukashi seared soy sauce' are as follows. The content is 74g and noodles 65g.
Nissin Yakisoba UFO for
normal size is 100g of noodles, so Nisshin Yakisoba UFO Perori means that the amount of noodles is about 2/3.


There are 320 kcal calories and 50.4 g of carbohydrates per serving.



The raw materials of 'Gyoza fragrant chicken seore' are as follows, in addition to Yuzu peel, dried bonito powder, fish seasoning oil, chicken fat, green onion seasoning oil and so on. The content is 73g, of which 65g of noodles.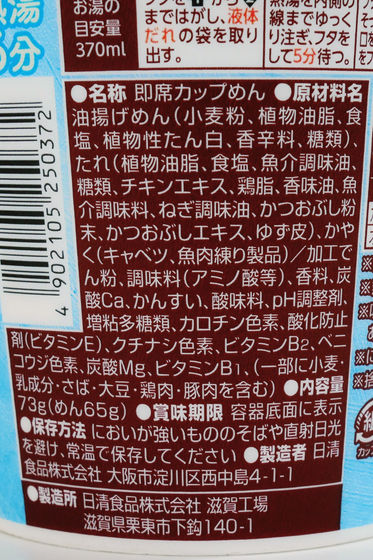 Calories per serving is 323 kcal and carbohydrates 45.2 g.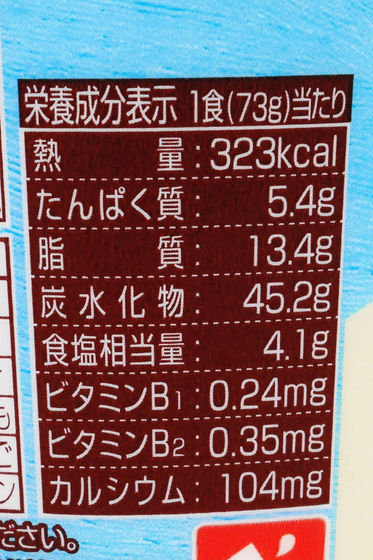 When the lid is opened, the sauce inside the pouch is included. There are no bags or bags.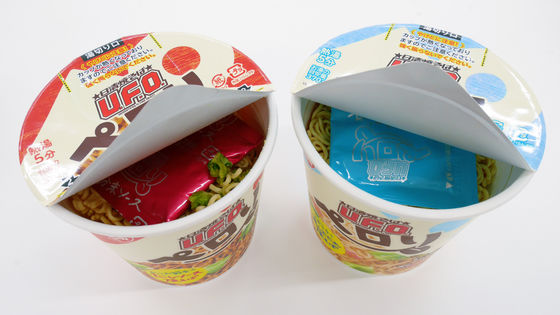 Nisshin Yakisoba UFO is 'Boiling water 3 minutes', but Nissin Yakisoba UFO Pelori adopts 'Mr. Puri' as a new texture, so it is 'Boiling water 5 minutes' .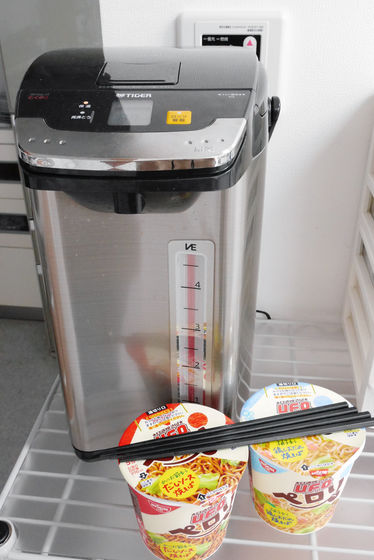 After 5 minutes open the spout on the lid ...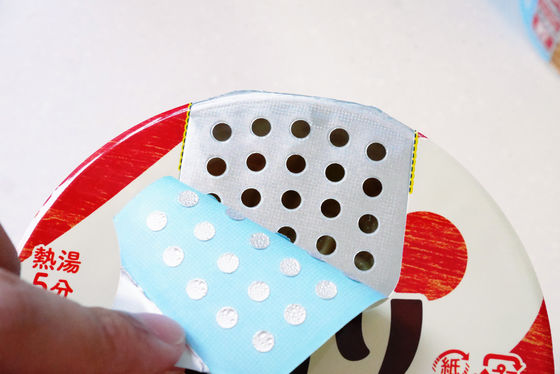 I pour hot water.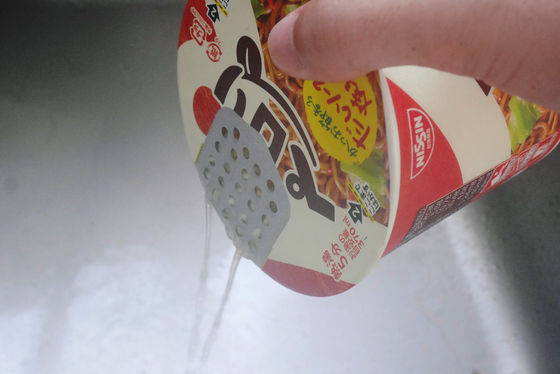 'Tossed dried bonito sauce' put the supplied powder source ...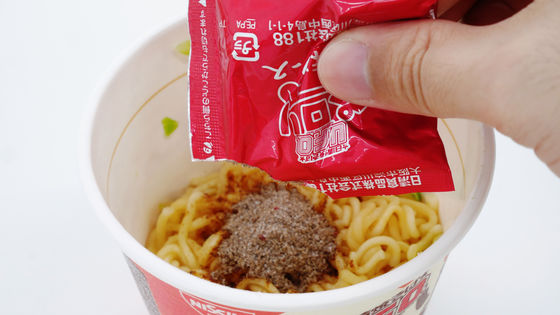 Completely entwined with noodles.



'Lotus fragrant chicken and drool' is a liquid who.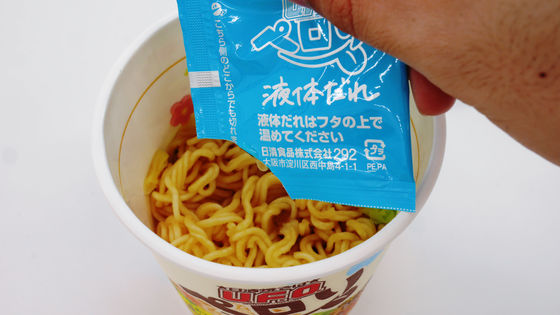 Mix well and you're done.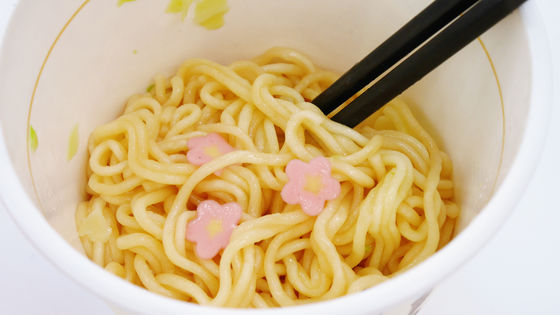 First of all, I try to eat it from bonito soup stock. When I try to eat it, the sauce is rather pale compared to Nissin Yakisoba UFO, and I feel that the bonito soup etc. is working well instead. Because there is no liquid source, the oil content is quite small, and some noodles are entangled and there is also a feeling that it is difficult to scrub. It's a new series for women that 'I want to eat heavy stuff, but I don't want too thick', but the impression is that it's a bit too light for that. However, the overall taste is a more casual taste than the usual cup noodles, but it is a taste that can be felt as 'an cup of noodles like this'.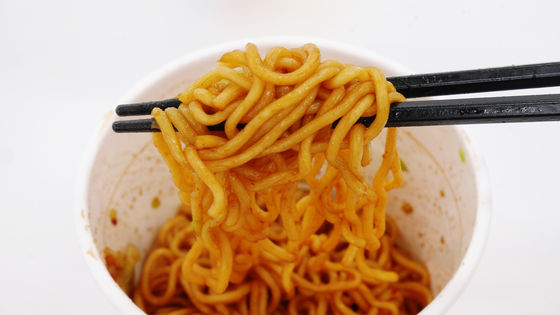 However, it seems quite sad that ingredients are only cabbage.



Then, try to eat the yuzu fragrant chicken Shio-O-ha. This is a more light-tasting taste than bonito soup stock and is a lighter, more flavorful cup of fried noodles. Raw materials include bonito (seaweed), seafood seasoning oil, chicken fat, green onion seasoning oil, etc., but the refreshing flavor of dumplings is strong, and it tastes like a 'sauce with yuzu flavor'. In addition, cabbage and kamaboko are included in ingredients here.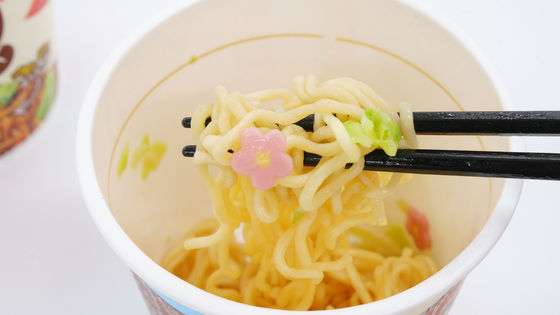 In addition, "Nisshin Yakisoba UFO Perori Katsushiko Sukoru Rudashi Sauce" and "Nisshin Yakisoba UFO Peroli Chili Shrimp Chicken Shireore" are being sold nationwide for a suggested retail price of ¥ 125.