'Chicken ramen no soba' tasting review twice enjoyable with thick, punched oil soba and chicken cutlet soup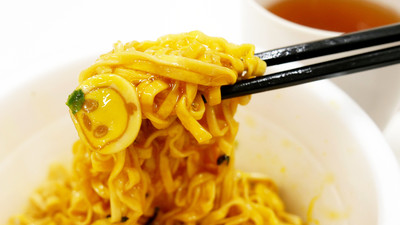 Nisshin's 'Chicken Ramen' series, which was featured in the serial drama novel '
Manpuku
' of NHK, developed the 'Jushiless Chicken Ramen' series, which will be the first type of hot water cutting type in 61 years after its appearance. The first '
Noodle with Chicken Ramen
' appeared on March 25, 2019. I tried actually eating what kind of taste it would be if the familiar roast soy sauce flavored noodles were reborn to
oil soba
.
'Oil soba with chicken ramen' (released on March 25) | Nisshin Foods Group
https://www.nissin.com/jp/news/7686
Get 'Oil Soba with Chicken Ramen' right away.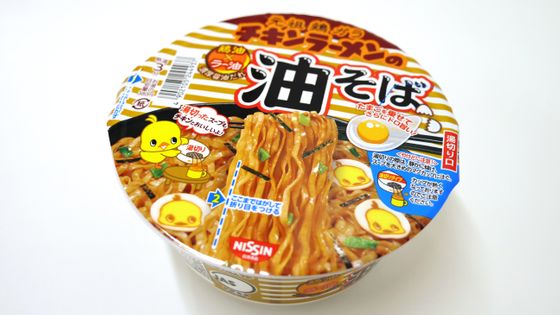 As there is no soup, you can find a so-called "soba soba" on the right side of the lid. In addition, additional placement of eggs was also recommended, saying, 'It's even more delicious to put an egg!'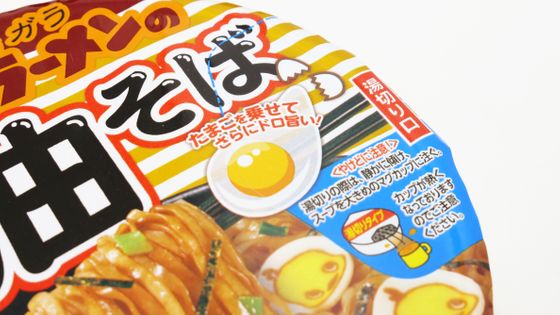 Raw materials look like this. Chicken ramen such as "fried noodles", "soy sauce", "salt" and "chicken extract" are familiar with the ingredients and "tare" and "kayak" are written together. Kaname contains fish paste products, green onion, and seaweed.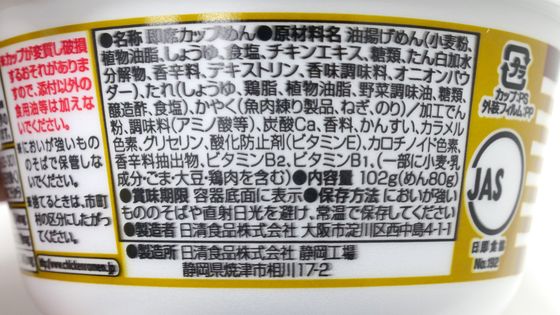 Calories are 486 kcal per serving.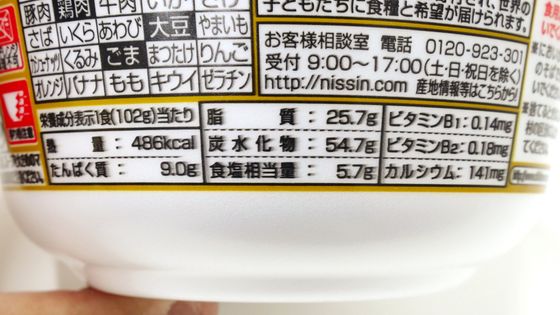 First of all, open the lid from the left ...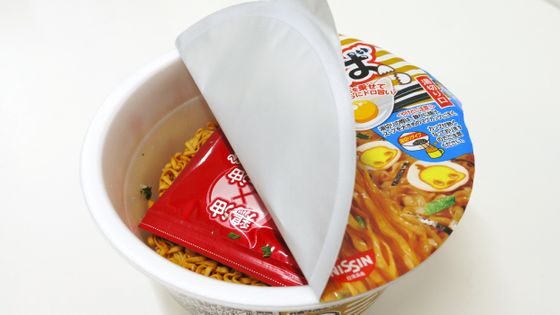 Take out the 'rich soy sauce' and 'Kizamineri' bags of chicken oil and chili oil from inside.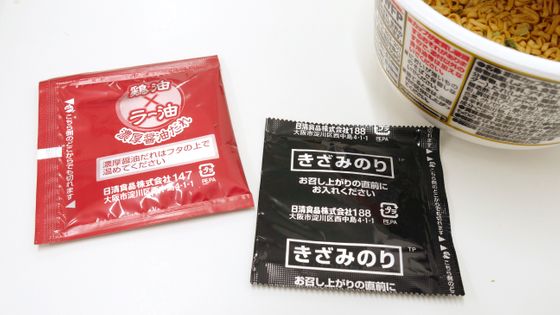 When I looked in the cup, I saw dried green onion as an ingredient along with ordinary chicken ramen.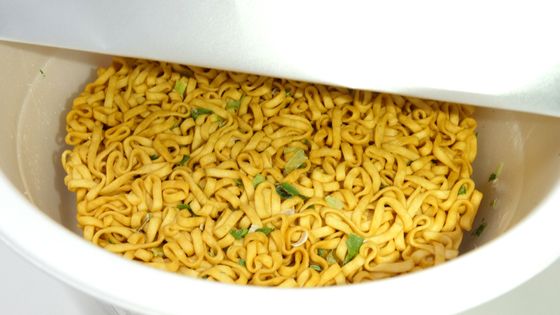 Pour hot water to the inner line ...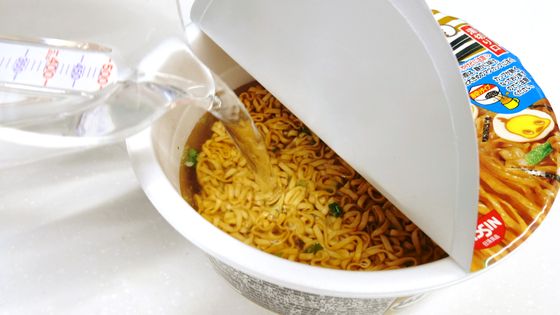 Wait 3 minutes while warming the thick soy sauce over the lid.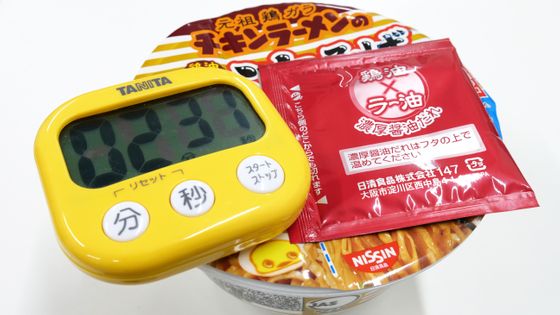 After 3 minutes, flip the lid of the bath.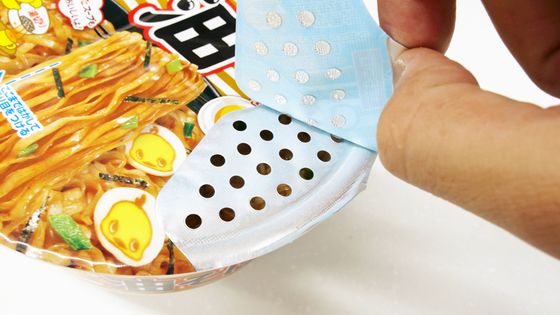 The hot water is usually thrown away, but the big point is that you can prepare a soup that can be combined with the soba noodles by cutting the water into a large mug in this 'chicken ramen oil soba'.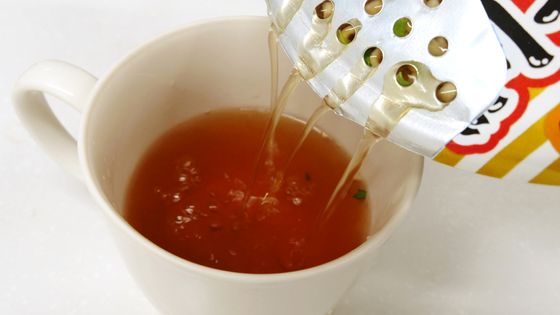 After pouring the soup into a mug, pour thick soy sauce over the noodles ...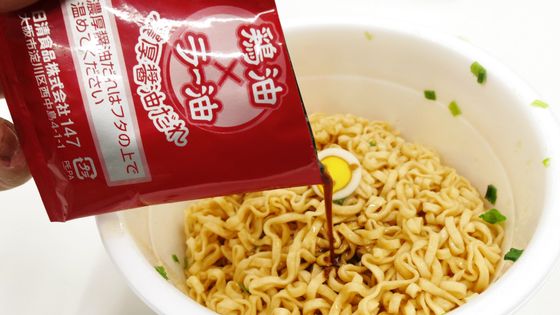 I will mix well. As it is mixed, the flavor of chicken ramen and soy sauce drifts around.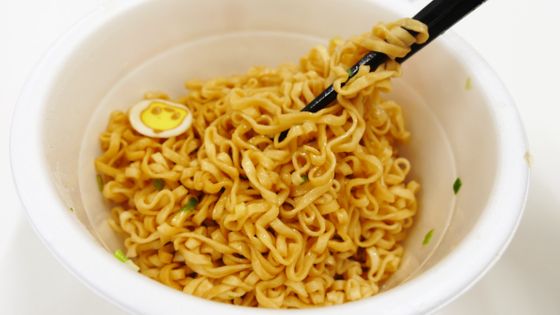 I did not notice it before pouring hot water, but there was a small kamakoko with a
chick
's face in it.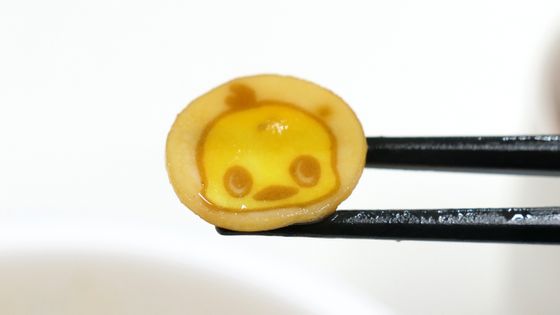 Add the soup poured in a mug over Kani Minori, and complete 'Oil Soba with Chicken Ramen'.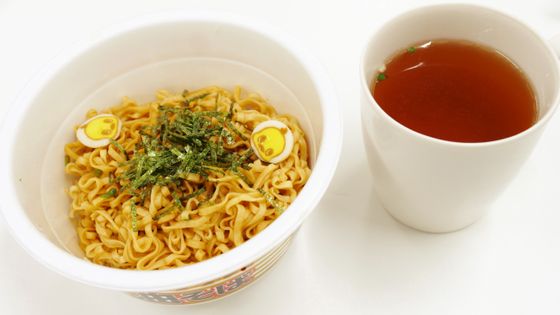 I ate a bite while mixing well. Noodles are familiar but delicious noodles, and the taste and smell of the familiar chicken ramen are firm, but the smell of chicken oil and chili oil contained in the rich soy sauce more than that makes the appetite soothing of the soy sauce sore A certain umami is being added. It tastes more punchy than the original chicken ramen, and is finished with oil that is quite acceptable to eat, but on the other hand it is an impression that the salt is heavily seasoned, and some people may be a little tight without drinks .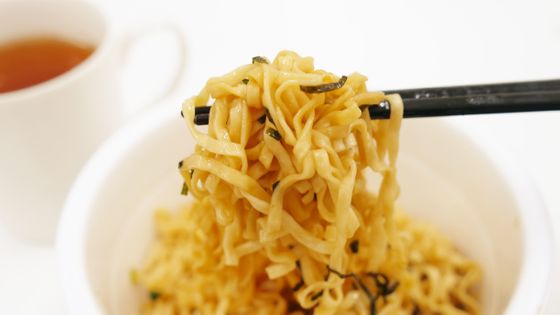 When you have eaten in the mouth with the rich soy sauce's salt and oil, a bite of chicken ramen soup will refresh you a little. However, since the thickness of the soup is about the same as that of ordinary chicken ramen, if you want to make a quick soup, you may want to increase the amount of hot water poured in the cup a little. As we can taste soup of hot water by set, there is enough volume.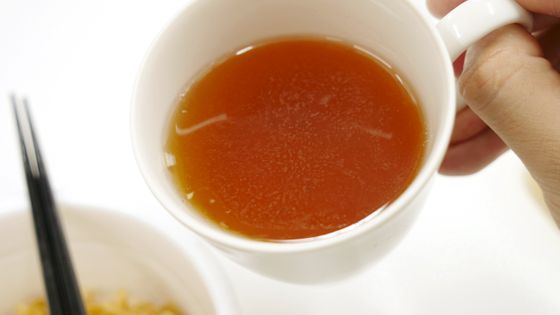 Next time, as it was written on the lid, I decided to put an egg.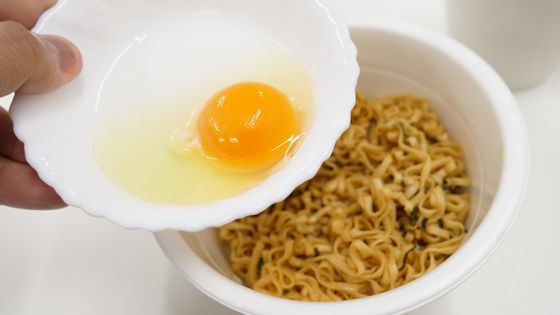 Break the yolk and mix it well ...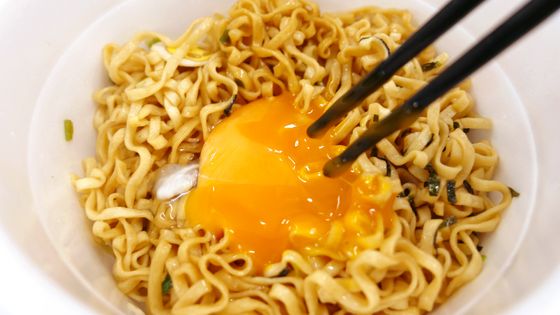 I will try it soon. The egg has a salty horn and a mellow mouthfeel, which is quite ant. The soy sauce is rich in sour taste of eggs, and it has a soup-less soba with a taste like sukiyaki. However, it is recommended that you eat immediately after turning off the hot water and mixing the sauce, as the noodles will spread quickly because there is no juice.



'Oil soba with chicken ramen' can be purchased at supermarkets nationwide from March 25, 2019. The suggested retail price is 194 yen including tax.