Amazon Warehouse Workers Strike on the Day of Amazon Prime Day


Amazon holds a prime sale only '
Prime Day
' from July 15th to 16th in 2019, but workers who work for the Amazon warehouse in Minnesota, USA, will strike at this prime day. Was committed.
Amazon Prime Day: Minnesota workers strike to protest working conditions-Vox
https://www.vox.com/recode/2019/7/15/20695342/amazon-workers-strike-minnesota-prime-day-mn
Amazon warehouse workers in Europe spent Black Friday protesting-Vox
https://www.vox.com/the-goods/2018/11/27/18114735/amazon-warehouse-workers-europe-protests-black-friday
Amazon warehouse workers in
Shakopee
, Minnesota, launched a six-hour strike on Monday, the first day of the Prime Day. As Amazon has more than 100 warehouses in the United States, it seems that the strikes that take place in one warehouse will not have a major impact on the business, but warehouse workers are expected to have Amazon's "minimum wage of 15". It can be seen that you are not satisfied with the decision to raise the dollar or more (about 1600 yen).
Amazon Workers Criticize New Wage System, 'Monthly Salaries Decrease Because Hourly Salary-GIGAZINE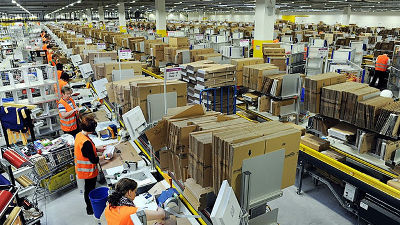 'The job should be safe and reliable for us,' said William Stortz, warehouse worker at Shacopy. Stalls, who worked for two years at Amazon's warehouse, said the work at the warehouse was mentally and physically stressful.
Amazon announced in 2019 that 'the
products will be shipped to prime members in a single day
', and the pressure on jobs at distribution center workers and the increase in job quotas have increased their repulsion . Workers who participated in the strike said that they are asking Amazon to require workers to reduce productivity, to make temporary workers permanent employees of Amazon, and to improve the safety of the field. Of.
You can see the state of the strike in the following movie.
Amazon employees protest on Prime Day in Minnesota-YouTube
Behind the reporter, workers with placards march in a circle.


The strike participants have different ages, genders and races.



Some workers have a cloth that says, 'We are humans. We are not robots.'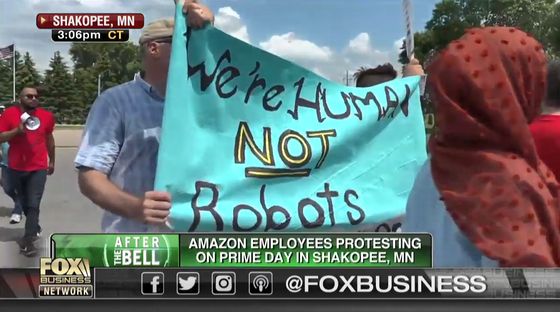 The strike was not only conducted by warehouse workers, but was led by The Awood Center , an organization that supports people with roots in East Africa living in Minnesota. The Awood Center has asserted in the past that 'the assignment of work to fasting Muslims should be reduced.' Also, in addition to engineers of the Amazon who work in Seattle is participating, to transport the cargo of Amazon Atlas Air , Southern Air , ABX Air also pilots of the airline, such as, we are committed to support the strike.

The strike by Amazon workers has already attracted much attention in the United States, and Bernie Sanders, who has announced its intention to run for the 2020 US presidential election, is also paying attention to the strike.

Amazon workers deserve safe working conditions, fair scheduling, and reasonable production demands. I stand with Amazon MSP1 workers in Minnesota and their #PrimeDayAmazon strike! Https: // t. co / zmCUCpc0F1

— Bernie Sanders (@BernieSanders) July 15, 2019


There has never been a case in which Amazon warehouse workers in the United States have conducted strikes to match prime days, but strikes are taking place in 2018 in European countries such as Germany and France.

Amazon Workers Strike Strike To Huge Sale 'Prime Day'-GIGAZINE