'Firefox 68' official version release, update of dark mode and display of recommended extensions, etc. added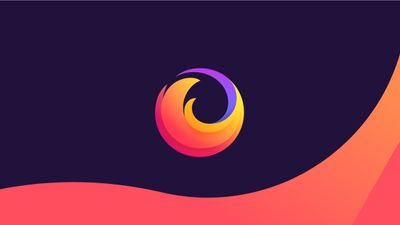 The official version of the web browser 'Firefox 68' has been released. In addition to the more comfortable use of the dark mode in the reader view, there is also a feature that the formula recommends the best among the extensions.

Firefox 68.0, See All New Features, Updates and Fixes
https://www.mozilla.org/en-US/firefox/68.0/releasenotes/

Latest Firefox Release Available today for iOS and Desktop-The Mozilla Blog
https://blog.mozilla.org/blog/2019/07/09/latest-firefox-release-available-today-for-ios-and-desktop/

◆ Dark mode of leader view
Firefox has a feature called ' Reader View ' that displays only the text in blogs and articles. To switch to reader view, click on the text icon displayed in the address bar on the corresponding page. You can set the leader view to the dark mode by clicking the 'Aa' icon from the menu on the left of the leader view and selecting 'dark'. Previously, only the body part was displayed dark in the dark mode, but from Firefox 68 the sidebar is also displayed dark.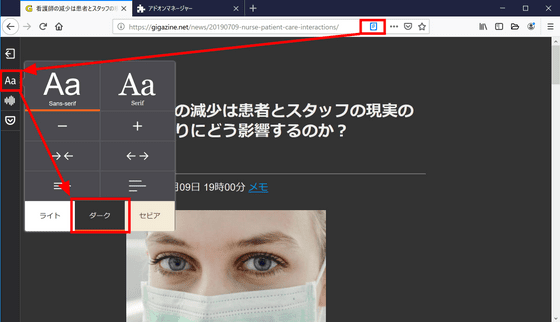 If you also want to make the area near the top of the address bar dark, open the Add-ons page from the menu and click on the theme item ...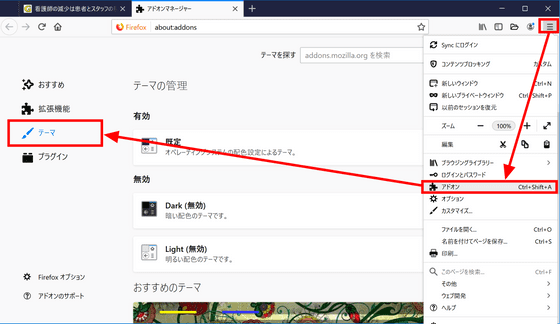 It is OK if the theme written 'Dark' is activated.




◆ Show official recommendations on the page of extensions
Officially recommended extensions will be displayed in the 'Advanced' section above the 'Theme' above. It is said that the point of security, usability, usefulness etc. is confirmed and selected.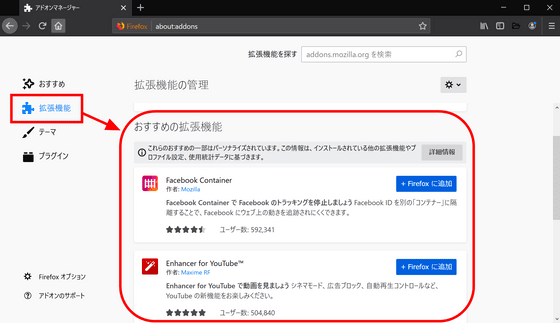 ◆ We expand GPU support function at the time of site display
From the previous version, Firefox 67, the GPU was used to speed up page display. This feature is only for PCs with Windows 10 and NVIDIA graphics cards in version 67, but also for PCs with AMD graphics cards in Windows 10 from version 68 .

◆ We can update even if we close Firefox
It corresponds to ' Background Intelligent Transfer Service ' which is a standard function of Windows, and Firefox updates can be downloaded even if Firefox is closed.

◆ Access to camera and microphone requires HTTPS
If the web page uses a camera or microphone, HTTPS connection is required.

Also, it is well known that ' Bookmarklet does not work well' as a known bug along with the update content.