I have carefully watched the Tesla 'Model X' and 'Model S' with a sense of future that is equipped with an ultrasonic sensor and Falcon Wing door and also supports automatic driving.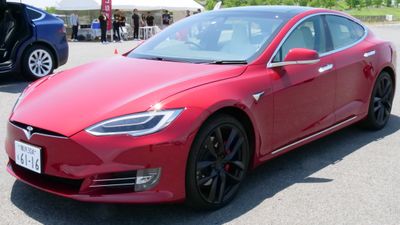 A test ride event where you can experience the performance and cutting-edge technology that Tesla develops " Model X " and " Model S " of electric vehicles (EVs) developed on Sunday, June 9, 2019 at Maiko Sports Island in Osaka It was held. Close up with Model X equipped with 'Falcon Wing Door' that opens wings so as to widen wings just by touching a hand, and 'Model S' equipped with surround cameras and various sensors compatible with fully automatic operation that will be implemented in the future with Model X Because I could see it, I carefully checked the futuristic and glamorous body.

Tesla Ludicrous Campaign | Tesla Japan

https://www.tesla.com/jp/campaign/ludicrous?redirect=no
Model X | Tesla Japan
https://www.tesla.com/jp/modelx
Model S | Tesla Japan
https://www.tesla.com/jp/models
Maiko Sports Island Arrive at an empty square. Under the clear blue sky, several models X and model S were stopped.


◆ Model S
Model S total length 4970mm × total width (including mirror) 2189mm × total height 1445mm, the vehicle weight is about 1960kg. It is a five-door hatchback type sedan that is slightly larger than the same sedan '
Model 3
' and has a capacity of five people.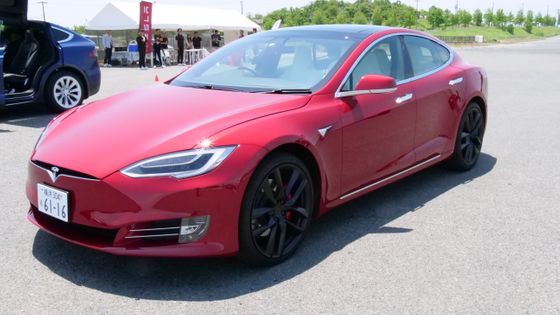 As with Model X, it has a sporty appearance that combines elegance and sharp impressions that use many curves.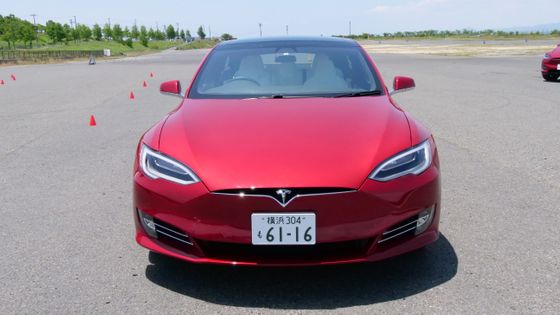 Rear looks like this.



An expression from the side that 'The aerodynamic design that has been completely calculated is included.'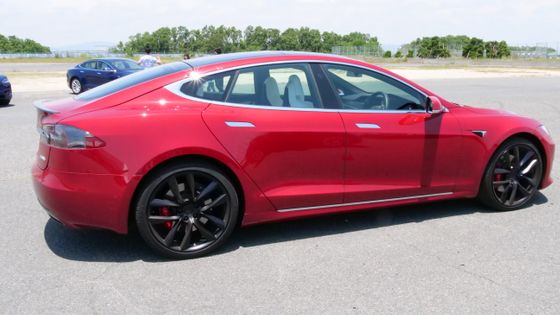 The door handle is usually stored inside the door so as not to be air resistant ...



It will come out when touching the surface of the door handle.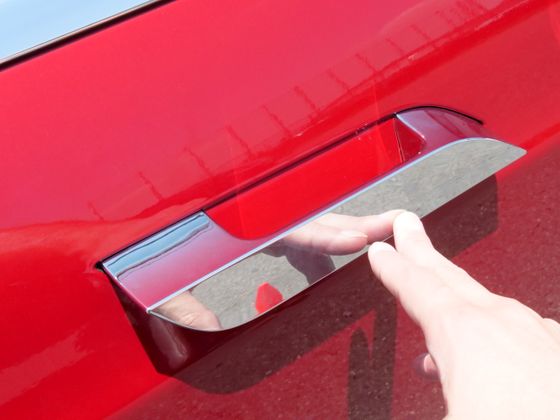 The interior looks like this.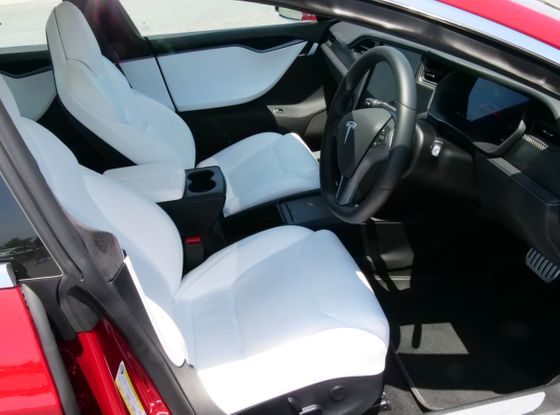 There is a cup holder between the driver's seat and the passenger's seat. And in the space under the cup holder ...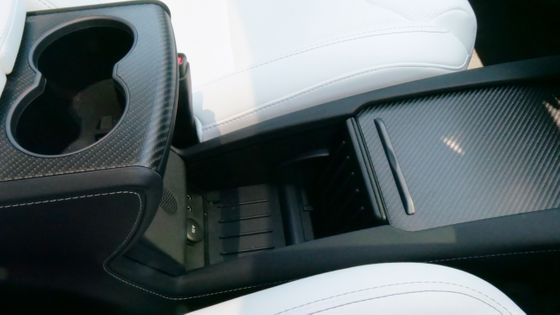 A 12V power socket and 2 USB ports are deployed. This USB port can not only supply power to smartphones, etc., but also can connect a USB drive etc. and play audio files stored in storage in a car stereo.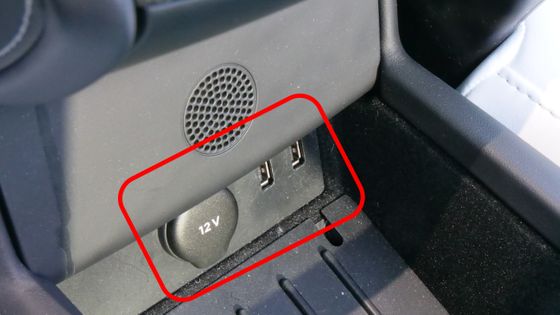 In addition, all new Tesla cars are equipped with various cameras and sensors that support fully automated driving functions that will be installed in the future. The camera is a front window or ...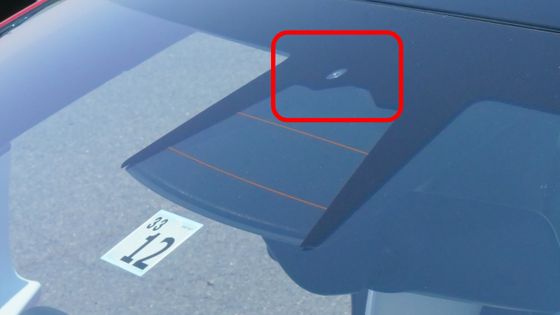 Door pillars between the driver's seat and the passenger's seat on the left and right of the vehicle body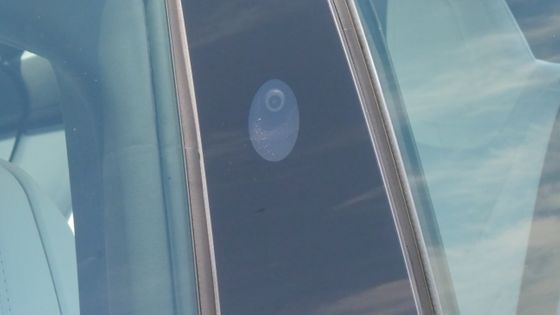 It is mounted in a total of five places near the license plate of the rear part. The front window is equipped with three cameras with different maximum viewing distances and viewing angles, and a surround camera consisting of a total of eight cameras and ultrasonic sensors mounted on the front and rear bumper will be realized by future software updates It supports fully automated driving.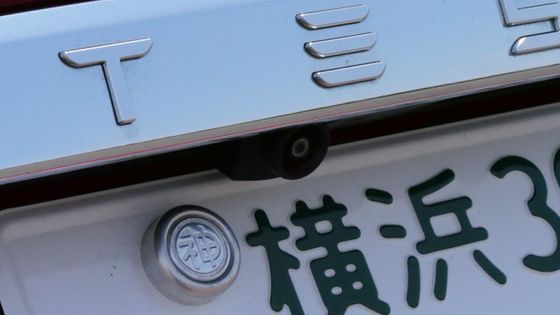 The charging port on the left side of the rear is the '
supercharger
' installed by Tesla in the country, of course, and by using a conversion adapter, it is a public charging facility installed at a total of 20,000 or more in Japan at the time of article preparation. It is possible to charge.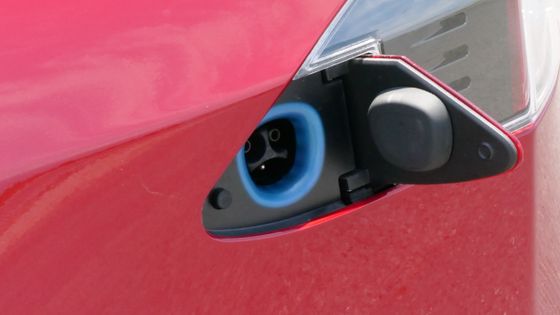 The model S is a convenient sedan type, but it has a combination of exciting design like a sports car and fully automatic driving hardware designed to be the '
safest car on the street
'. is what they said.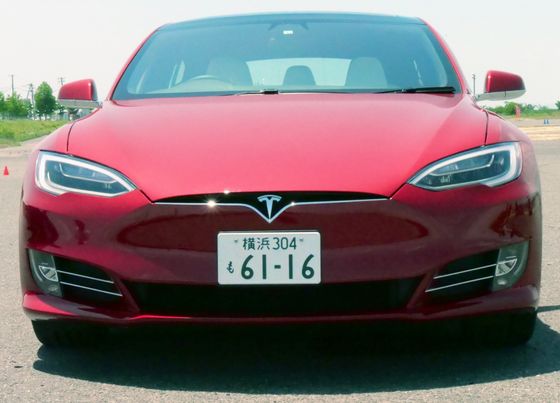 ◆ Model X
Model X has a total length of 5036 mm x total width (including mirror) 2271 mm x total height 1684 mm, and a vehicle weight of approximately 2459 kg. It is an SUV with a maximum seating capacity of 7 people in a 3-row seat.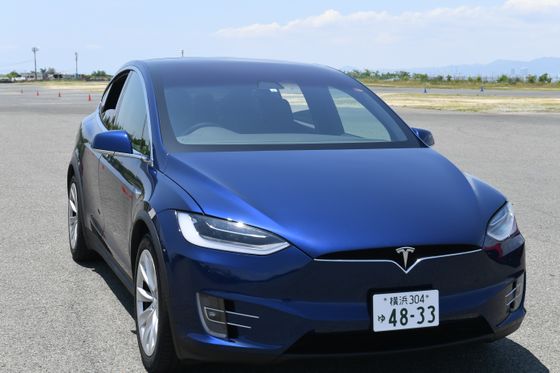 The Model X features the 'Falcon Wing Door', whose rear seat door opens up like a gull wing door.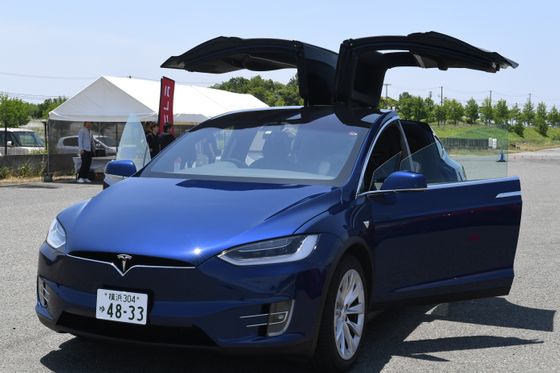 You can see how the Falcon Wing of Model X is actually opened and closed from the following movie.


Touching the Tesla Model X Falcon Wing Door-YouTube
When I touch my handle ...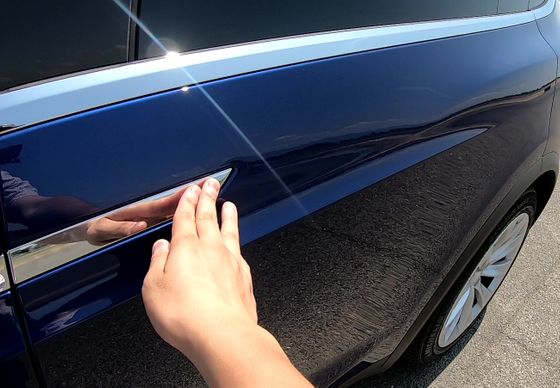 The door will rise automatically.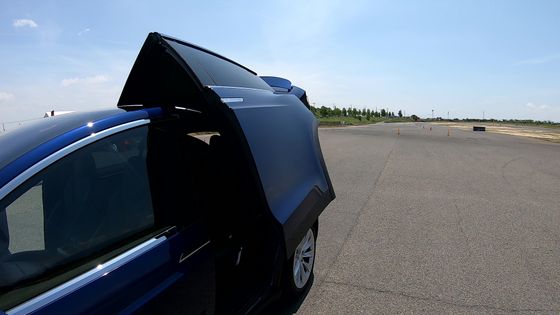 By pressing a button installed inside the door or in the car, the door will close automatically.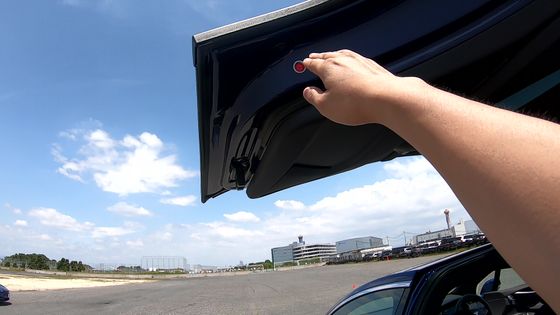 It looks like this from the side with the Falcon wing door open.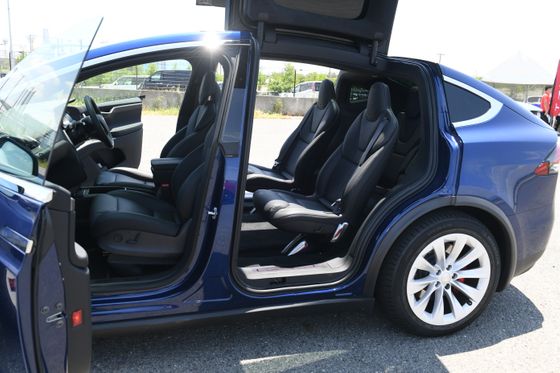 Thanks to this Falcon wing door, it is possible to get on and off without staggering unlike general SUV sliding door.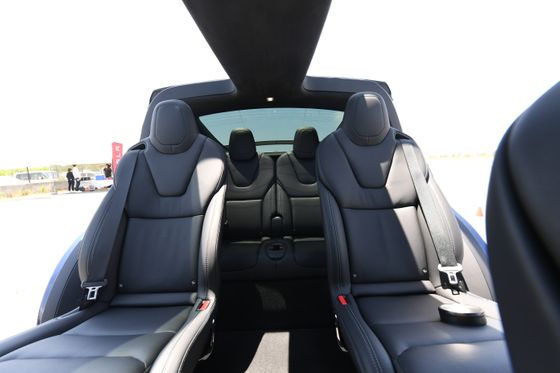 It looks like an electric car (EV) and there is no meshed
front grille at
the
front,
giving a clean impression.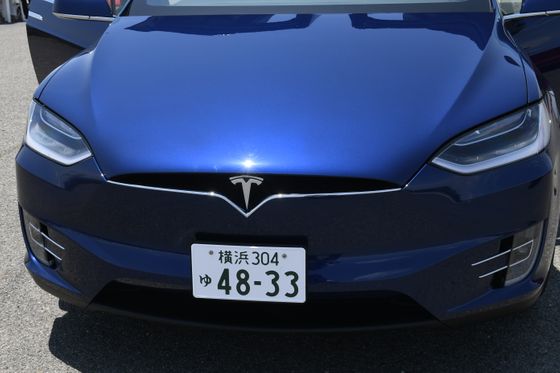 When you open the hood, there is a front trunk instead of the engine.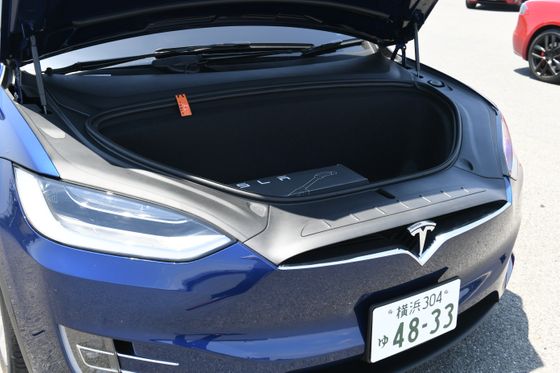 Rear looks like this.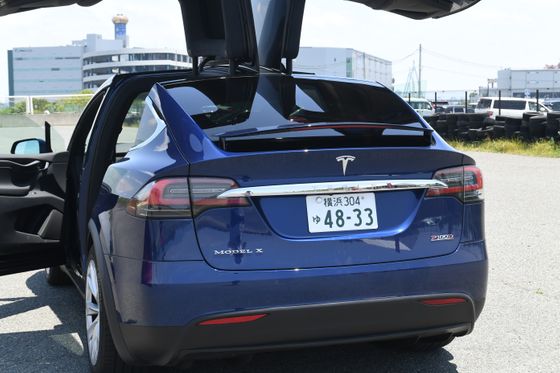 Notable in the interior is the large 'instrument panel' between the driver's seat and the passenger's seat.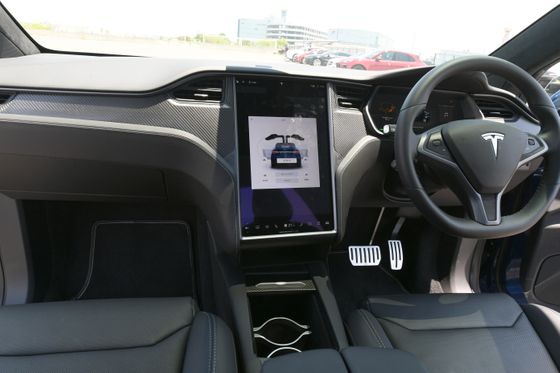 All interfaces such as car air conditioners and car navigation systems are unified in this instrument panel.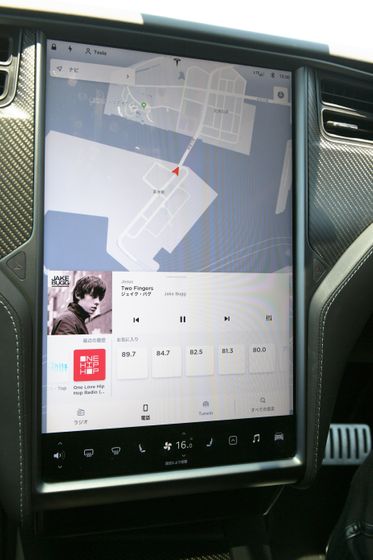 The front window is a 'panoramic view' specification in which the glass continues to the head of the driver.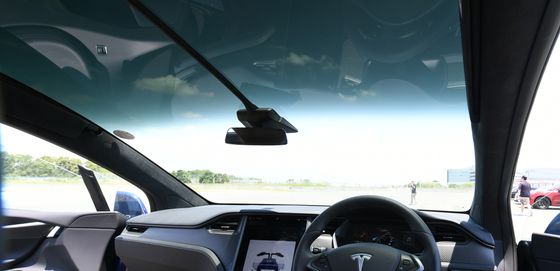 Thanks to this panoramic view, we have realized a bright, full-light interior space.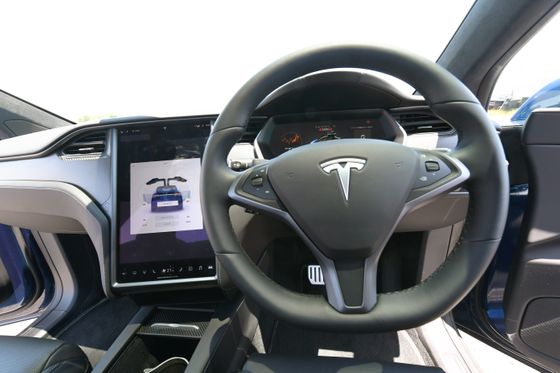 Of course, it also has a sun visor, so there is no chance that the sun will shine during the drive.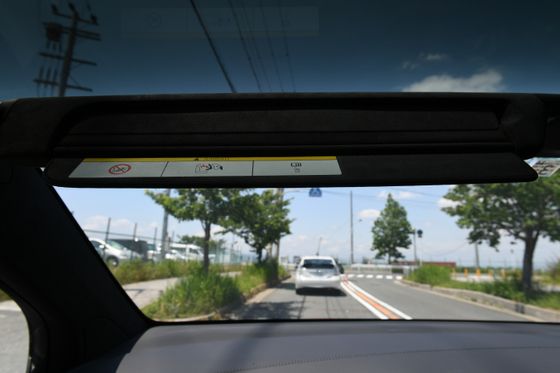 The body of the Model X was a
crossover SUV
that contained a space that could be borne by 7 adults in a futuristic, functional beauty-filled form.