YouTube changes content guidelines once again to remove content and channels by supremes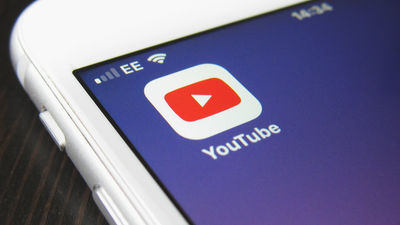 by
Hello I'm Nik
We have revised YouTube's '
Community Guidelines,
' a summary of the platform's bans, and banned movies that make violent extremism or
supremeist
remarks. This could potentially kill the thousands of channels that appeal on YouTube such as age, gender, race, caste, religion, sexual orientation etc.
Official YouTube Blog: Our oncoming work to tackle hate
https://youtube.googleblog.com/20019/06/our-ongoing-work-to-tackle-hate.html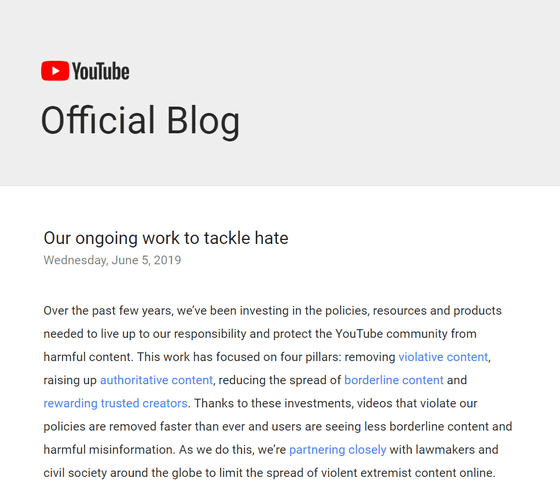 YouTube just banned supremacist content, and thousands of channels are about to be removed-The Verge
https://www.theverge.com/2019/6/5/16652576/youtube-supremacist-content-ban-borderline-extremist-terms-of-service
In order to maintain soundness as a service, YouTube has put out various measures such as '
prohibiting live distribution only to minors
'
, but
revised the community guidelines anew and To prohibit movies that promote the layer's superiority.
With this change, movies promoting
Nazism
and other discriminatory ideologies will be removed from YouTube, but at the same time, thousands of channels will be closed that handle supremacy movies. The foreign media's The Verge predicts it.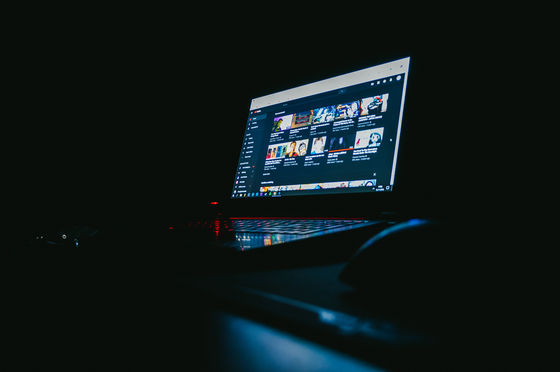 by
Leon Bublitz
YouTube has
reduced
the number of times it has been recommending 'content in line close to it, but never violates the community guidelines', 'movies calling for fake solutions to serious illness' and 'the earth is flat.' The movies that claim to be, movies that make false claims about historical events, and "superior movies" have been targeted. The rate at which these movies appear as recommendations has been reduced by an average of 80%. It seems that even this alone has had a certain effect in removing content on the platform from the community guidelines, but YouTube has announced that it will not get bored by itself and that it will finally prohibit suprising content.
YouTube claims content that some groups claim to justify discrimination, segregation and exclusion based on age, gender, race, caste, religion, sexual orientation and even veteran status. It is said that it was prohibited. For example, a movie promoting or advocating discriminatory Nazi ideology will be deleted from YouTube.
In addition, content that denies the past documented violent events such as Holocaust and
Sandy Hook primary shootings
seems to be targeted for deletion. About this YouTube said, 'We recognize that these content are worthwhile for researchers and non-governmental organizations trying to understand hate to combat some hate, so we can use them in the future Because they are exploring options to make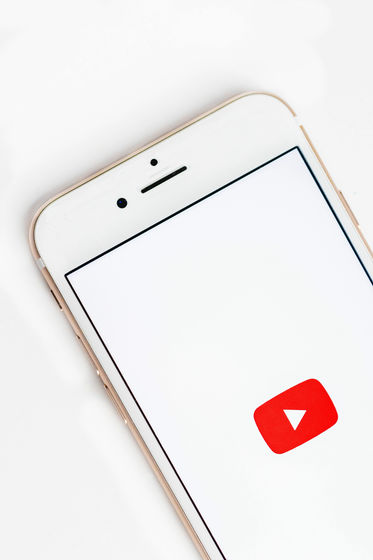 by Sara Kurfeß

'The move is likely to cause panic among the right-wing YouTube channels. The conservatives of the United States have the idea that' YouTube and other platforms are promoting discrimination, 'The Verge said Republicans have tried a number of hearings over the issue over the past year on the issue despite the lack of evidence of bias, and YouTube's move warns that we are on a slippery slope towards totalitarianism And there is a high possibility of creating new bonds. "

According to YouTube, the removal of content as a result of the revision of the Community Guidelines will be gradually implemented in the coming months.