Interview with a Joh Yu producer who produces a new lupine 'LUPIN THE IIIRD' different from 'Family Lupine'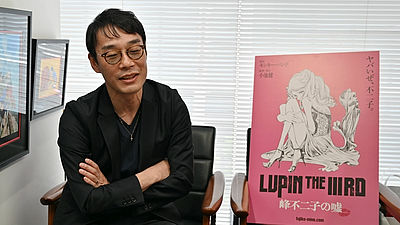 Following the '
Dame
Daisuke's Tombstone
' published in June 2014, and '
The Ishikawa
Five
Gates of
Blood Smoke
' published in February 2017, '
LUPIN THE IIIRD Lies of Fujiko Mine
' will be
available
from Friday, May 31, 2019. Theatrical release. The genealogy of this 'LUPIN THE IIIRD' series goes back to the TV anime '
LUPIN the Third- Woman Fuji
Toko-' broadcasted in 2012.
With the bright comedy touch, it became a family-oriented work 'Lupin III', and how was it created a series with a hard-boiled atmosphere that was drawn by the original
Monkey Punch
. We talked to the producer Joh Yu who is the birth parent who gathered the main staff.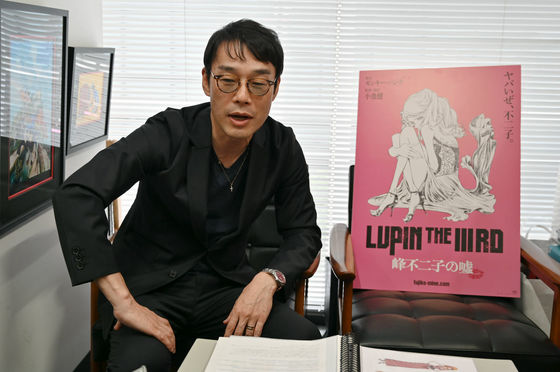 'LUPIN THE IIIRD Lies of the Land Fujiko' PV From May 31 (Fri) Shinjuku Balt 9 and others Limited theater exhibition | '' LUPIN THE IIIRD: Fujiko's Lie '-YouTube
GIGAZINE (hereinafter, G):
'Fuji Fujino's Lie' is the latest work of the 'LUPIN THE IIIRD (Lupin the Third)' series, following 'The Tombstone of Dimension Daisuke' and 'The Ishikawa Five Bloods of Blood Smoke'. The notation different from the TV special 'Lupin the Third' series is from 'LUPIN the Third-Woman of Fujiko Minato-which was aired before 3 works. How was this series born? ?
Jojo producer (following, Jojo):
About seven years ago I became the president of
telecom animation films
,
and
I started the 'LUPIN THE IIIRD' series, directed by Mr.
Koike
, after he came to telecom. When I was asked by
Sayo Yamamoto,
"
Yuri !!! on ICE
", I was still a producer of
Toms Entertainment
. While I was working on it, Tom's president told me to do the telecom president.
Sayo Yamamoto director
madhouse
it's production assistant-born, those who are aiming to produce than like there is a company policy to debut as a director while doing a production assistant and set the production in the Madhouse, directing from the production assistant is also director Yamamoto I'm making a debut. I was the first female director in the 'Lupin III' series, but when I saw '
Mitico and Hutchin
' in
Noitamina
, he said, 'This guy, I will do something hard boiled as a female director, it's cool,' I So, when launching a new Lupine III series, I drew a blueprint for the main staff when I wanted Sayo Yamamoto and Ken Koike somehow to get involved. Mr. Sayo was a junior of Koike, and he also saw that he was working with him at Mad House. 'If you direct Sayo, I will tell you that I would like Koike to design characters!' That was a win in me. And as it was right after "
REDLINE
" was over, I thought that there would be a possibility if Mr. Koike had no major projects. First of all, when Sayo-san decided to take over as a director and cleared one, I asked, 'What should I do with character design?' In my heart, I thought, 'Ken Koike! Ken Koike!' (Laughs)
G:
'Please give Mr. Koike's name!'
Jion:
Then, in about three seconds of things, he said, 'I think that Mr. Koike is good.' I still remember the voice of that time. I already have a guts pose in my heart (laughs) I saw the animation part of '
PARTY 7
' worked by Koike, 'I think that this person is a person who can draw lupine coolly', and Koike's MAD I liked it as I was making a lupan while watching a movie.
G:
I got an ideal staff.
Jion:
I would like to thank you very much because if you did not take over as director, you could not come here. I used to call Mr. Koike a '
Madhouse treasure
' (laughs), but that's because he is so much. Did Koike really take over Lupine III at that time? I was thrilled. However, Mr. Koike was able to receive a reply saying 'I want to do it'.
G:
Oh!
Jion:
At first I got five characters drawn. That was so cool, even at the company that 'It's not good?'
G:
What was the 5 points that Mr. Koike drew first?
Jion:
It is Lupine's compatriot and Zen form. This is only for me, not for the world. It is now a good idea to add more updates. Director Sayo Yamamoto said, 'This woman Fujiko Mine wants to be a cartoon.' 'I want to kill a three-dimensional feeling, that is better for Lupine screen is better.' From 2011 to 2012, there were an increasing number of realistic works that seemed like a photo, but against the flow, the background was also deformed. It should also be 'manga'. In response to Mr. Sashiro's story, I think that Mr. Koike has done his own way, but has removed the three-dimensional effect. But the details were thoroughly elaborated. It's Koike-san, there is no compromise.
G:
The details are insanely detailed.
Jion:
In the case of "Mine Fujiko Onna," I was able to get an OK from the staff I wanted except Mr. Koike. I think it was the peak of my life.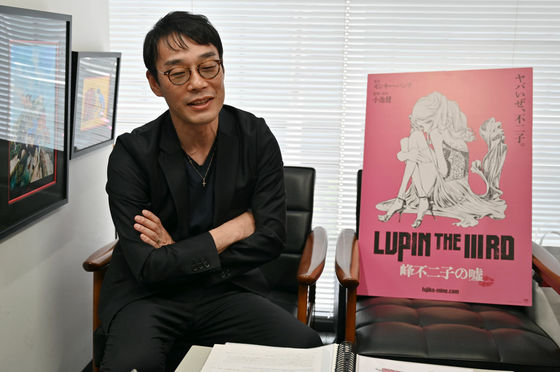 G:
Is it unusual for everyone to decide on a single shot?

Jion:
In addition to Lupine, I have set up my own plans, and the company says "I want this to be done" and shakes the plans, and while taking a bath, I think that "that person is good" in various ways. It is almost always said that it is refused. It is really rare that people who I thought were starting members met once and said 'I will do it.'

Lupine has been working on TV specials on a continual basis, but he planned to create something different from 'Family Lupine' on the royal road, and thought, 'I want to put out some more hard-boiled items from Monkey Punch.' I, of course, grew up in heavy rotations like '
Gamba's Adventure
', '
Yatterman
' and '
Lupin III
' in my childhood, so of course I like Lupine in the red jacket and have seen it to death. However, I wanted to do something more like 'Mine Fujiko Woman', and if I did, I thought I would definitely like Lupine in the industry, but people who have not done Lupine have joined us. That's
exactly
what, like
Shinichiro Watanabe
.
G:
'
Cowboy Bebop
'.
Jion:
Bebop thought, 'Lupin than Lupine at that time' or 'honestly, it was done, cool'. If so, we, who are doing lupine of the original family, also have to make such a thing. Just as 'Mobile Suit Gundam' has been widely deployed, Lupine should be able to deploy a character alone.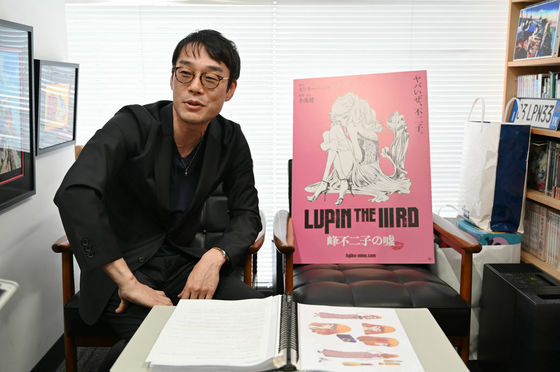 Jion:
In fact, in 'Fujiko Mine,' I was able to ask Shinichiro Watanabe to produce music with the hope of being directed by Sayo Yamamoto.
Mr. Naruto Kikuchi
brought me, and Mr. Watanabe, who liked Lupine III, pulled the emotions and tempo of the image in the form of music. In that sense, great creators were gathering.
G:
Oh ... wow ....
Jion:
I asked Koike-san to do the drawing director in the first episode, and I drew it in the final episode, but in the middle, the schedule was also convenient, and I decided to do it by human-sea tactics. Including Mr. Koike, Ms.
Okada Eri,
who plays the script, Shinichiro Watanabe on the music side, the shooting was based on the strength of Mr.
Sanjigen
, and the atmosphere of 'new lupan starts' including the view of the world was put out and left a scratch mark I thought, 'I thought once again Lupine III, which was able to put out the power of Ken Koike.' Under such circumstances, I was going to go to telecom from Toms, so I decided to promote a new project by trying to make something even 100% pure Koike and something more cool. Lupine III has 100% rights to visualization, so if you really know what you want to do, you can support the project.
It was the new project's 'Daisuke Daisuke's tombstone' that began in this way. Telecom was still at Mitaka in the 'Mine Fujiko woman', but since it was decided to move to the headquarters of Toms in Nakano, Koike-san who was in the studio of Arai Yakushi also entered telecom at this timing. I received it. So, although I was going to talk about each person, the order was not decided, and since it was not decided that the series was decided on the other hand, it is necessary to give the result in the first shot, I just decided what to do from the dimensions I could get. It turned out that "Dame Daisuke's Tombstone" is well-received, and the results can be retained, and that Koike and Telecom have high affinity.
G:
What kind of part is affinity?
Jion:
As Koike has just finished the major work called 'REDLINE', I could imagine that the body would be getting used to long span. There is also a part that I thought, 'What should I do, is the schedule okay?' However, Koike was married and a child was born. Then, Koike Ken, who was a 'super-hyper creator' of all night when he did, said, 'I want to take a bath in my daughter, so I will come early in the morning and return at around 18:00.' When I first heard about it, it was a surprise like 'What is it?' However, 'Fujiko Mine' was produced in the studio at Arai Yakushi of Toms Entertainment and there were many people of the night animator because it was a free group, but since all telecom animation films are employees animators, 11 Sometimes I come and go back to the night without going all night. An anime company like Telecom is quite unusual, but its culture and director Koike matched very well.
G:
I see, there.
Jion:
Among the three "Daisuke's Tombstone", "Ishikawa Five-emon of Blood Smoke", and "The Land of Fujiko Mine", that Mad House's Ken Koike took root in telecom. In this work, production and art directors, original art
Kazuhiro Tomonaga
,
Yokohori Hisao
,
Sakuma Chiaki,
etc. also come to the company regularly on a daily basis. If it is an employee, overtime work such as late-night overtime work and holiday work will be strictly taught as attendance management. Of course I want to be creative, so the sticky place is sticky. Before that, however, it is also good for telecoms to be able to pre-provision pre-provisioning, to be able to perform daily communication other than meetings on the same floor in the company, and to quickly resolve minor alerts. For Koike, who admires the people who face the work seriously, regardless of the name, such telecom would have been comfortable.
G:
I was really addicted to it.
Jion:
However, although there are animators who can be expressed as 'A grade' and 'S grade' as in Tomonaga and Yokobori, there are animators who are cautious, but they look at their work and not their name value. At first, it was only the top class three people who got in (laughs) However, if I do it once, I can trust and put in more and more when I am successful, and it will bring up young children. I think there is something that attracts people and it has the ability to grow. But ... the content required is so great that the animator will be pale if you can see the storyboard (laughs)
G:
If it's hard to go, why not make it good?
Jion:
That's right. The degree of completion is high. It is something that seems to be 'interesting' even if it shoots and sends it as it is. In the case of Tokyo movie work, this game is the story of
Tsutomu Dejima
. Sometimes there is no background, and the direction in which the character is pointing may not be clear, but anyway the heat is great. There is no doubt that a lot of things are transmitted, and it's a Conte to be drawn in and watched. Mr. Dejima is a genuine director, and I feel like, 'I want to show a drama with such a plan. Then, put your cool picture on it.' 'Please make an approach with the picture you want to do,' says the man in charge of the work in a good way, while questioning his or her ability, and there is still scope to do what you want to do. On the other hand, Koike-san is an impression that he is an animator, so it is completed at the time of Conte. Everything is drawn, and it seems that the content given by the boss as 'I made a boat stand' is perfect.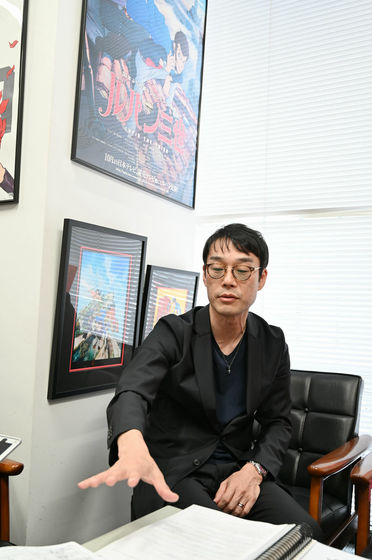 G:
You draw in so much.

Jion:
Not only Conte, but also setting. I draw to the back of my shoes. I can not see it because I can not see the camera here, but I draw. It is said that 'I can not do this far' when showing to a good animator. What I can not do is 'permanence is great'. It's usually lazy, so it doesn't seem to have to be done here.

G:
It is also made in detail that you can only get out for a moment.

Jion:
If this is shown, there will be no noise.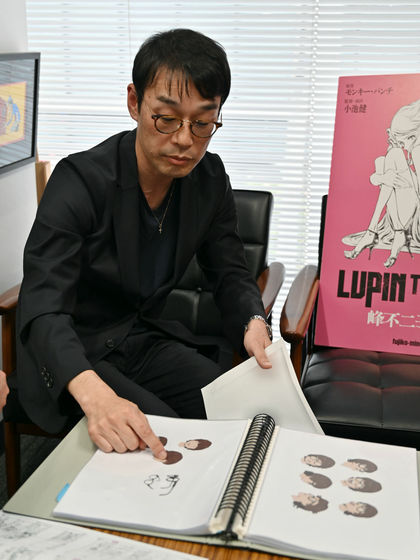 G:
It doesn't mean it was an offer that I wanted you to draw this much.

Jion:
I have also asked Koike 'Why do you draw so much?' Then, because animation is something that various people draw, it was the answer that you have to make things of the highest value. Some of the coaches say, 'I'm medium and I leave it to the creators. Please draw cool things.' Some people say, 'Draw according to my plan.' Mr. Koike says, 'I've done it so far. After all I will do my best.'

G:
If a director who is also an animator is making the best score, it is tough.

Jion:
It is an impression that it is so stoic. A person like Ichiro who practices more than anyone else. When the peak of production is reached, the hair is stretched and faded, and it seems as if the swordsman is practicing. If you look at Koike's figure, you can tell if production is at its peak. However, it would be 'I have no choice but to do for Koike-san' because I do so by myself. The director who makes something worthwhile is something that everyone demands around, but Koike-san works as a shura and does not bend.

G:
'Do not bend'?

Jion:
It is Toru Hatsushin. There is not much post-processing for the plan made in Conte, but just do the plan to the end. There is no such thing as 'If so, isn't it okay?', Maybe you're getting close to the film you already have in your house. Depending on the director, there are people who do not know what the outcome will be and look forward to it. That's why I asked a person who likes me to do character design and general director, 'Oh, it's a good thing.' Mr. Koike says that he is the toughest person on his own.

G:
Every time you say Koike, the action is great. There is also a powerful car chase this time.

Jion:
In fact, in terms of volume, this is the smaller one. I think that I want to avoid the fight between the body and the body because Fujiko. Because I have the ability to do that, I did my best, and because I have guns, I thought that they were cool, including actions. On the other hand, Fujiko uses a gun and rides a bike, but he needs to show how to look like a female character. I think that I can not get a picture even if I do too much, or I must ask for exhilaration in the Fujiko fight ... Koike-san performed very beautifully there. Music is good for
James Shiga-
san.
G:
Music was very fit.
Jion:
If you think you're going to put in more up-to-date songs, then it's unique to Fujiko that you're trying to make binchams get into emotions. The battle scene with that bin cam is Mr. Koike's nomination and is drawn by two female animators. Pretty and beautiful while fighting. I think it will become more and more humorous if it becomes a meat bullet battle. Since it is 'woman vs. man' in the first place, it does not look very cool. It would be nice if it was a superhero and it would be nice if you could get a beam out of your eyes, but that's not it. The reason why I did not make Vincam a 'too monster' existence like Yael Okuzaki and Hawk is because I wanted to be fascinated by Fujiko's attraction somewhere instead of a slaughtering machine that doesn't go to mind when fighting with Fujiko.
G:
Did you decide about that while talking with the director?
Jion:
Well, in the scenario making, Oh, and in this way, hold down here. Koike has drawn Conte alone in this work, and is directing and writing. It is a style that is not very common with today's anime.
G:
Please tell me the response to coming to the third album in this way about the series that I was able to collect and produce the dream team.
Jion:
First of all, I'm grateful to Director Koike, who takes a long time to the third bullet and pulls the team including me. And every time, I'm glad I feel a sense of accomplishment when finished. There is a feeling that you want customers to look at it quickly. This time, you can see many faces and performances that you can not usually see of Fujiko played by
Miyuki Sawashiro
. It is finished in such a work that past fans can notice once again the charm of Fujiko Mine for new fans. When "Daisuke Daisuke's Tombstone" was completed, Dr. Monkey Punch also made a special trip to Toms to preview it and said, "This is an interesting part of Lupine's history," he said. This series of Koike's series was supported by Mr. Monkey very much, so I think that there is now.
G:
I see. Thank you very much.
In addition, he continued to talk about what kind of person is Koichi Ken, who is the main figure who pulls the 'LUPIN THE IIIRD' series, and how he is making works.
・ Continuing
Interview with director LUPIN THE IIIRD Fujiko Mine, directed by Takeshi Koike, making a work that brings out the attractiveness of intelligence, height of intelligence, beauty and physicality-GIGAZINE