"Lupine the 3rd" new TV animation series began in April around Mine Fujiko as the axis


It is clear that the popular anime "Lupine the Third" whose TV specials are broadcasted every year becomes the TV animation series for the first time in 27 years. Broadcast starts from April, titles are "LUPIN the Third ~ Woman named Midomi Fujiko ~". It is said that the active performance of young Lupine Ichimi will be drawn with the heroine Fujiko taking Lupine as the centerpiece.

Lupine The 3rd Anniversary 40th Anniversary Memorial Site
http://lupin40.com/

Animation based on manga "Lupine the 3rd" by Monkey · Punch is the first television series made in 1971 - 1972. Three television series and six movies were produced, including the second series from 1977 to 1980, "Lupine the 3rd Part III" was broadcasted from 1984 to 1985, TV specials have been produced since 1989 One aired every year.

This TV series is the first TV series since "Lupine III Part III" for the first time in 27 years, and the first midnight animation. Although there is an image that it can be enjoyed from adults to children when it is called Lupine, it is said that this work makes it an adult and hard "dangerous and cool Lupine" by approximating the original to the original.

Key visual is like this.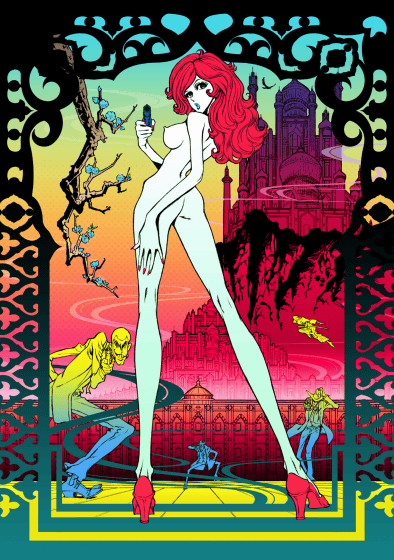 Broadcast started on April 4 (Wednesday) 25:49 on Nippon TV. From the second episode onwards, every Wednesday starts at 25:29, and all 13 episodes are scheduled.

In addition, the cast is familiar with Lupine by Kurita Koichi, Dimension Daisuke is Kiyoshi Kobayashi, and in addition to this, the TV special broadcasted in December 2011 "Lupine the Third Blood's Stamp ~ Eternity Mermaid ~Miyuko Sawashiro, Mr. Miyuki Sawashiro, Mr. Namikawa Ishikawa Goemon, Mr. Zenigei Koichi Yamadera Koichi will perform the cast change from "Mr. Fujiko."

Staff, director "Michiko and Hutchin"Shiyo Yamamoto, series composition is"We still do not know the name of the flower we saw that day."Black ★ Rockshooter"Aquarion Evol"Yuri Okada who is showing remarkable success, character design and drawing director said"REDLINEDirected by Ken Koike.

Although rumors of a new series of Lupine the 3 had been out from before for the information that it is pretty much actually broadcasted it came out and I thought "What's going on?", 1 month ago I did not think that it would rise suddenly. I am looking forward to see whether it will be like "Golgo 13" that Mr. Hiroshi Tachi played the role of Golgo as an animation in an adult and hard atmosphere, or will return to feel like the first series of television .

By the way, the Friday road show on March 23 is "Lupine the 3rd VS VS Detective ConanBroadcasting. this isTelevision special broadcasted in January 2009So, Lupine Ichiban and Zenigami warrior remain as old cast. It is an opportunity to see how the previous voice was.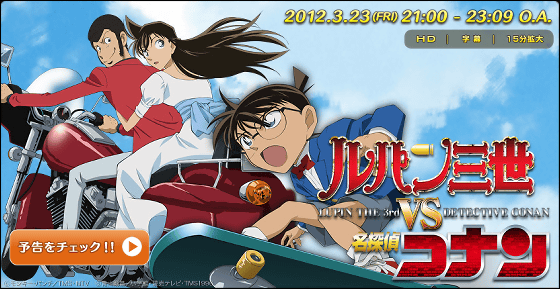 LUPIN the Third Girl named Fujiko PV - YouTube


Original: Monkey · Punches © TMS
in Anime, Posted by logc_nt