Interview with director LUPIN THE IIIRD Fujiko Mine, directed by Takeshi Koike, making a work that brings out the attraction of intelligence, height of intelligence, beauty and physicality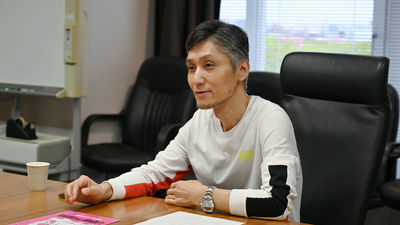 The LUPIN THE IIIRD series is the one in which the appearance of Lupine different from the 'Lupin III' series is a bit different. The latest work '
LUPIN THE IIIRD Fujiko Mine's Lie
' will be released on theaters on May 31, 2019 (Fri). This series was created by Ken Koike, who worked on 'REDLINE'. We interviewed Koike about how this love work was made.
'LUPIN THE IIIRD Fuji Fuji no Lie' official site
http://fujiko-mine.com/
GIGAZINE (hereinafter, G):
The story of the storyboards and setting materials drawn by the director Koike is a story from the Jojo producer, and when you look at the materials, you will see that the details of the materials are detailed, and the details of the shoes will not appear on the screen. It was Is there a reason for being a director to draw in tremendously?
Koike Ken (hereinafter referred to as Koike):
There is no 'superb' (laughs), it means that the back of the shoes must also be drawn as 'presuming to be out of sight.' If various people participate in the original drawing and change it 'something', it changes depending on the person. Then I come back to myself, saying that I have to work in unison. If you draw it as a design, it is easy to ask, 'Is there a setting on the back of the shoe?' There is such a merit.
As for storyboards, we try to drop points on the act and the performance you want on the contest as much as possible. Also, if you do not hold down the minimum of 'this flow' in the setup of the action, the positional relationship may be shifted or the book ends may not fit later, so let's try to hold that part, It is the part that is drawing at the minimum.


G:
As Koike, I was drawn as a minimum line here. It is an impression that cars and guns were also drawn down to parts, but it is said that it is a 'minimum, this much'.

Koike:
That's right, that's the 'Tataki stand'.

G:
That's it! It's amazing ...

Koike:
No. Everyone has a lot of good people than I as a painter, so it feels like it's going to say, 'I will draw more than this.'

G:
According to the Jojo producer, Koike-san was told that there is something more pragmatic than a previous reputation of having done these works. If you do not actually check it with your own eyes, is it a place like that?

Koike:
If you have a name, you know how it can be assembled technically, but because it is not understood if it is the first look, it does not mean 'try', but at first the short scene, the person I would like to see if I can make my work enjoyable. As you can see if you see what comes up, 'does you do it?' Including patterns.

G:
What part does it appear in?

Koike:
How many original drawings and how to put on plays? Depending on how you read Conte, the way you put it in during the performance changes, and it is possible to tell once if you are concerned about whether you are moving with this cut or not. ...... You may feel somewhat weird (lol)

G:
Director Koike is married to 'REDLINE', and after the birth of a child, 'I want to take a bath in the bathroom and I will return at 18 o'clock,' and Jojo producer
'A super hyper creator, Koike Ken said he was surprised, but
did you feel it has changed?
Koike:
(Laughs) I was originally from the morning, and when I was young it was a long time to put in my work, so it may be because I have that impression.
G:
Music creator James Shiga has revealed that the title of 'LUPIN THE IIIRD', 'Truimelai', is derived from Schumann's Troimelai, the song that the director was imaging during his work. Why was Schumann's Troy Melee?
Koike:
I asked for the introductory part of the work to be blended in in a flat state, and I asked for it to be made with a beautiful, slow image, with the image side reduced as ever. According to the music, I asked for a beautiful classic without much noise and jamming, and an image like Troimellai that can be inserted into a work.
G:
Was the music that came up as the one-shot OK image?
Koike:
I think that it has become a good music, with nostalgic atmosphere of the 70's, while following the feeling of work.
G:
In terms of music, I also felt that the atmosphere, movement, music, and everything in the works are all the same as in 'REDLINE'. Is this the result that the director aimed closely at? Or is there a part of chance?
Koike:
I'm aiming at it, but it's also coincidental (laughs) James is very imaginative, and I'm the one who just waits for the final form of the image and does not make it until then. As I look at the actual scene and decide the length and length as well as the timing and drop the atmosphere into the music, I think that there is little gap between the image and the music. I trust and leave it to you, but as a production you will be thrilled (laughs)
G:
I will wait until the last minute (laughs)
Koike:
'The schedule is different from the schedule', but the one that 'there was a worthwhile wait!' Is coming up.
G:
It is not leaked to the previous two works, and even in this 'Land of Fujiko Minato', the action scene is packed like raging including car chase. Did you have a policy of putting in more and more actions from the beginning?
Koike:
I thought that 'intelligence' 'Biei' 'physical height' could not be removed as the attraction of Fujiko. In the show place, I thought how to emphasize and enchant physicals, and I made the camera work longer, so that the tricks of action would not work. I think that it was a crying story, but I think that the physical height of Fujiko was able to be expressed more than I imagined because the drawing person responded and raised more than Conte.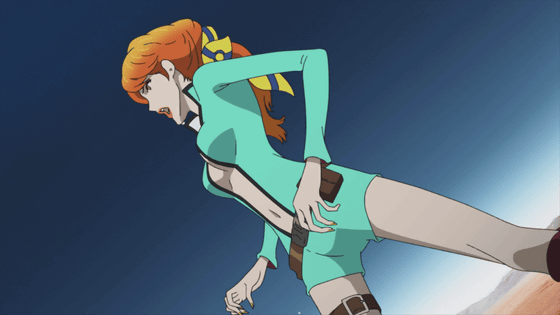 G:
In the 'LUPIN THE IIIRD' series, Fujiko's hairstyle changes every time, and this time is especially long. I think long hair is hard, but is there any reason to lengthen it?

Koike:
Taste, I wonder (lol) Even if I put a favorite thing 'Teacher and Maid' in the role of being a part, to put out a serious atmosphere, wearing glasses with a hair up like a career woman From the aim of wanting to, I have that hairstyle.

G:
The hair of the hair is unconnected in the battle, and.

Koike:
There was a desire to use the bandana like 'I decided to fight'. There was a talk with creative adviser Katsui Ishii saying, 'It's like releasing a ribbon for Mrs. Butterfly,' and that atmosphere is cool. I thought, 'Shy but I'm going to drop it' (laughs), but I think I did it well. Is it also Tokyo movie connection, is it all right?

G:
Particularly intense car chase comes out in this work. Although the car chase itself can be seen in other animations, it seems to be particularly powerful in Koike's work. Do you have any directing skills?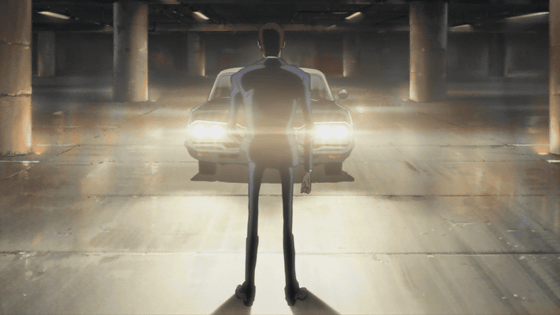 Koike:
I think that there are also the feelings of the original picture man who was in charge. Even in the 70's super car suspension distortion, there is a commitment that it is drawn differently depending on the vehicle type.

G:
How to warp?

Koike:
How to express the softness by the way of inclination and return when cornering? Because it is a sports car type, I think that there is a depiction of such a place that is firmly inclined to solidify. I put a cut in the car there and I also drew a character that is swung around with G, so I think it might have become a realistic scene.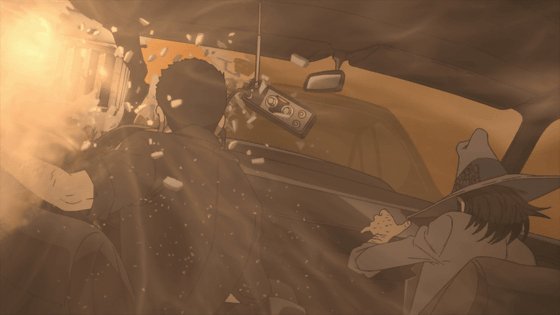 G:
I was looking at it and thought, 'Wow! ... what makes this feel so great?' It looks like 'I'm running right' even when I'm running on a motorcycle.

Koike:
Motorcycles can express a sense of speed by how to put on the center of gravity. If it is a desert, it can express the feeling of speed and the atmosphere at the time of stop by the way of soil smoke, so it might be a sense of presence because it can be dropped into the image.

G:
Is such a scene OK to confirm what came up? Or is the director putting in his hand?

Koike:
It feels like 'It's a batch!' I asked for those who directed the drawing in PART 4 and PART 5 of the TV series, but I am familiar with the mechanics of those days, and I also like the action scene, so 'I can only draw this person', Conte It is a quote at that point. 'If you have this person, you can make this scene.'

G:
In the interview of Pia movie life at the time of 'Dame Daisuke's Tombstone' about character design, there was a story that it was possible to put out the atmosphere of Monkey Punch's early dramatography touch drawn with pencils. The enemy of the movie 3 films felt that Yael Okuzaki, Hawk, Bincham and everyone "it's like it" design, but where did you consciously complete the design?



Koike:
I'm not saying that I'm not taking pictures of Monkey Sensei, but I put emphasis on how to bring out the character and special feeling rather than the patterns. If it is Yael Okuzaki, it is a part called a planned sniper, and if it is a Hawk, it is a power system. The enemy of this film, Binkham, is a reckless young man, but it looks like a 'Sherman', thinks about what to do to bring out the mysterious atmosphere that uses curses, and uses the image rough given by Mr. Ishii as a reference I made it.

G:
The enemy characters, along with the Lupine buffs, blend seamlessly.

Koike:
There was also a composition that I liked attractive enemies such as the early pikaru and poon even in the first lupine, that is, "Lupin vs. the killer" is good. It's not a drama, and it's unattractive, unless it's a character that Lupines are unlikely to fight against when it comes to putting that style into work. I expressed that with the idea of how to fight, and put a bribe and attached a character. As a result, I think it has become a familiar presence in the world of Lupines.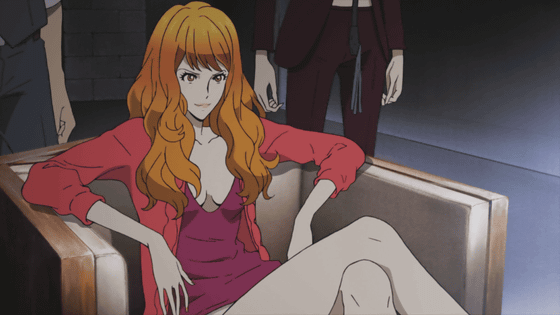 G:
Did you characterize and design on the premise of how to fight?

Koike:
It is a feeling that it was included from what kind of character you can differentiate from the previous work and how to put on the bond of this character.

G:
Koike has been involved in the character design of 'Mine Fujiko Onna', but the first character I drew was more like 'REDLINE'.

Koike:
In 'LUPIN the Third, Woman named Mine Fujiko', there is a talk from the director Sakayo Yamamoto saying 'I want to create an atmosphere of a character I like', and at first, please freely in the atmosphere of Mr. Koike's thinking Monkey. In the beginning, it was a character design with a perspective, partly due to the influence of handbooks and previous work 'REDLINE'. It was a request that 'it feels like a girl's cartoon is good' when I got a look at it, so I made it with a balance of life improvement, longer limbs, and so on. In 'Fujiko Mine', a touch of a pencil was put on the character in the shooting process and it looked unique. In the 'LUPIN THE IIIRD' series, the image follows that while drawing in a slightly different atmosphere.

In the time of 'REDLINE', there is an intention that 'I want to make it feel like I took a shot with a wide-angle lens' how to fit the character's angle of view itself, so I need to make a few purses in order to get an image at the character table stage. I made a setting that I emphasized. In addition to that, I used a method to make the shadow itself intensified in contrast and dropped into an American tone. But in Lupine, 'I want everyone to see it and see if I see it', so I change the method to hold the black shadow with strong contrast and put it on the point only, differentiate among myself, and hold down the manual. I made it.

G:
Koike's 'Teshima' is like wearing Perth?

Koike:
Because there is absolutely 'Aori' and 'an angle that I can easily draw', I sealed it as much as possible, and designed it so that the character could be seen in the standard.

G:
The visuals first presented in 'Fuji Fujino's lie' have a particularly feminine impression on Fujiko compared to before.

Koike:
At the first advertising meeting, we discussed whether to make the visual a dynamic image or a static image, and put it in the direction of a static image, so we submitted some with different angles, It was this pose that was chosen. At the beginning, they tended to be obsessed, their eyes were out of the camera, and the costumes were also for the main part, but the propaganda team indicated that they wanted an elegant atmosphere, and the dress was a soft feminine dress became. Since it is a long dress, the back is summarized by the image of a flower.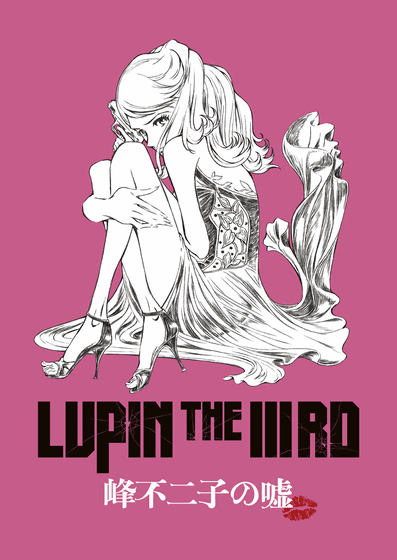 G:
This visual did not come up in a single shot, but it was something that was finished after a slight modification, incorporating an opinion. I read the words "The people of Toru Hatsune" that Jojo producers were talking about and the interviews received elsewhere, and I wondered if I had a solid image in my mind and would like to go ahead.

Koike:
Unexpectedly, there is such a side, too (laugh) Even as I made things that I did not have in my image was completed by exchanging ideas several times, I really like it.

G:
As such, when you get an opinion, is the correction image buzzing immediately? What do you worry about?

Koike:
In this case, I did not worry because I had decided on a clear direction: "I want women to see, how do I make it for visuals?" I enjoyed the work of making use of what I had digested in my life and drawing new places that I did not have before, and I got a choice from among the various paintings.

G:
Storyboards are not alloted, and Mr. Koike is drawing everything.

Koike:
That's right. Roughly draw from the head once, and once you make a round it will come out that 'This is a little different.' We will write on it once we have a unified view of the world.

G:
What kind of work is it?

Koike:
Although 'East of Calisania', which is the stage of this work, is roughly imagined as the arid area of Eastern California, there are places where there is no definite place here, so the image may be blurred at the beginning. As Conte goes around, its image is solid, so it's a form of packing up the parts that were shaking. The scene of the restaurant came out twice when I repainted it again, but the situation was similar, so the setting was that the store was closed for the first time, and I tried to differentiate it from the second half of operating.

G:
Is it a feeling that you are sharpening while eliminating blurring?

Koike:
I agree. If you look through it with a whistle, fix a part that has a slight sense of incongruity or a part that you feel that you are physiologically uncomfortable.

G:
It also comes out that 'physiologically uncomfortable'.

Koike:
There was also a place that was a little troubled with Binkham's expression. A scene in which a female character named Carla takes off the handcuffs of Bincum and drops it from the car comes out in the early stages, but at the beginning 'Kara flickers nuts and causes Bincum' and 'Vincam hurts Carla with nails' I was putting it. However, in order to make a more trained image, 'I'm being overwhelmed', while creating a Vincam character, there is a person who has no description that attacks the 'owner'. I thought it was good and I cut it.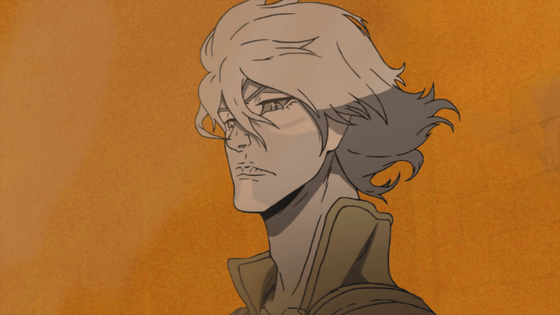 G:
Certainly, there is an impression that Bin Kam follows obediently because there is no such description. Just like the shogi shoguns, they are packed one by one in order to get rid of blur.

Koike:
At first I really want to digest the character in myself, and I draw the habits descriptively. However, it doesn't matter to the flow of the story, I just need to know myself, and the same kind of scene comes out by all means, and it is unnecessary to distribute it with 'show this time this time' for each scene. The part comes out naturally. I will cut it off and finish the contest. Sometimes we add the missing part.

G:
If you make such corrections and complete on the storyboard, and if you make as it is OK. Are there any parts that will be corrected after the completion of the contest?

Koike:
There are also parts where situations change and words change. In such a case, we ask Mr.
Takahashi,
who is the screenwriter, to supervise again whether the line is in line with the situation or the character is not blurred. Basically, I read the scenario and make something that came to mind into a storyboard, but there are also parts that I can sometimes grasp with some scope, such parts are 'I tried to make it like this,' Takahashi-san To present.
G:
By the way, what kind of reaction is there from Mr. Takahashi?
Koike:
Rather than fixing the scene, I feel that you have to adjust the content of the dialogue according to the scene. It doesn't change the story itself, so it's 'tuning nuances'. If it is a specific example ... There is a part adjusted in the last scene.
G:
How! But I can't just write the end as 'last, but it did' (laughs), so I would appreciate if there was another scene example.
Koike:
That's right (laughs) In the other scenes, Bincam smiles as 'Muji Fujiko ...' after Fujiko escapes in the car chase. At first, Bin Kam only stared without words. It came to be understood that Vincam was interested in Fujiko simply by adding this word.
G:
Is it the point of view as a maker when you check, or you stand in the position of how the audience feels, how is it combined?
Koike:
There is a premise that you want to be as objective as possible. However, since there is also one's own existence, it naturally becomes a flow of one's own taste, so the scenario team also sees and receives an opinion while identifying correction points and picking out those correction points. I'm asking Mr. Takahashi to rewrite.
G:
The matter of 'Hatsuhitoru Toru' image mentioned earlier is also so, but I thought it was made quite intuitively. It is a style that piles up according to the theory. Is the style changing?
Koike:
Yes ... (Laughs) 'LUPIN THE IIIRD' series, the production team itself is enthusiastic about the work and gives good advice, so you can brush up by incorporating your own opinion There is a feeling that there is.
G:
As is the case with Car Chase, it is a work with a part that feels like Koike of 'REDLINE'. When I talked to you, I did not aim for 'redliness'.
Koike:
You are not aiming at all, but rather trying to counteract. But there may be things that bleed even if you try to erase it. The title is Lupine, so I decided to make it as neutral as possible in a way different from the one I was making.
G:
What is the difference in the way of working with the one I was making in the lead is 'Lupin III'?
Koike:
'It is interesting to hear your opinion'. New ideas are created by the opinions of various people. I'm in a position to have other people draw the original picture almost regardless of this time, and to make fine adjustments, but I have a way of creating scenes that I can not do. The movement was also almost using the movement presented by the original man, and focused on 'how to make the sound rise' and 'how can it be expressed by the drop of' the way of seeing the image ''.
G:
It is a work that can be said to be a whole-featured highlight when viewed from a perspective, but as a director, where do you feel that this point is particularly well done?
Koike:
I think that attention will be drawn to Fujiko about 'the lie of Fujiko Mine', but it was something I had not done until now to carefully pick up the emotional change of a child named Jean, who is being scolded by Fujiko. It is a difficult point, and I think it is a point that I successfully sublimated in myself.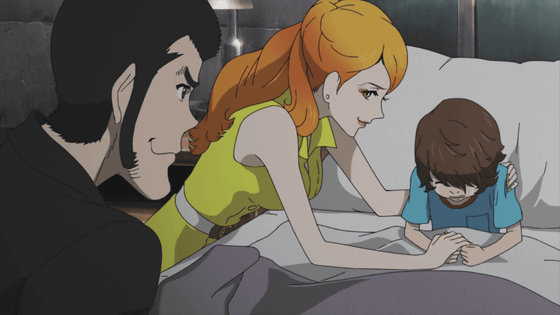 G:
I see. Thank you very much for a long time today.

'LUPIN THE IIIRD Fujiko Minato's lie' is the theater opening start in Shinjuku Balt 9 and others from Friday, May 31, 2019.

'LUPIN THE IIIRD Lies of the Land Fujiko' PV From May 31 (Fri) Shinjuku Balt 9 and others Limited theater exhibition | '' LUPIN THE IIIRD: Fujiko's Lie '-YouTube


In addition, the latest series 'Lee of Fujiko Mine' will be available on Amazon from August 23, 2019, and the limited edition DVD is 5412 yen including tax.

Amazon | LUPIN THE IIIRD Mine Fujiko's Lie Limited Edition [DVD] | Animation