Apple removes original developer game apps all over the world in response to an application by a Chinese company that made a cloned app


A Chinese company that developed a clone of the game application '
Clicker Heroes
' acquired a trademark in China. Based on that, if you submit an application for withdrawal of 'Ckicker Heroes' on the App Store, it will be accepted by Apple, and 'Clicker Heroes' that should have been the original will disappear from the world App Store.
Apple removed my game from the app store because some company in China made a clone, trademarked the name we were already using, and then asked Apple to take down my game.
https://www.reddit.com/r/gamedev/comments/bs6n3l/apple_removed_my_game_from_the_app_store_because/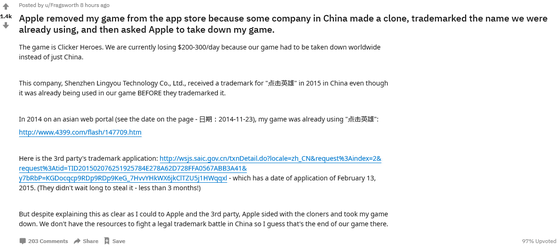 The problem was revealed by Fragsworth, the
creator
of Clicker Heroes and co-founder and CEO of Playsaurus.
Clicker Heroes will click on enemies on the screen to inflict damage and gain money, hiring heroes and strengthening skills to more efficiently defeat them in 2014. Browser game that appeared. From November 23, 2014, the Chinese game site "
4399
Xiaoling
" has also been able to play under the name "
Dimping Hero
".
Point Heroes Chinese Edition, Point Heroes Chinese Edition Kojima, 4399 Kojima www.4399.com
http://www.4399.com/flash/147709.htm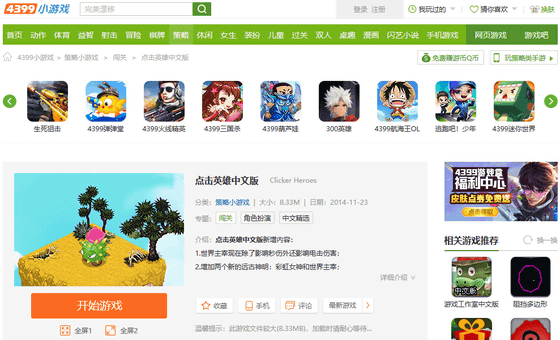 According to Fragsworth, a company named 'Shenzhen Lingyou Technology Co., Ltd.,' acquired the trademark 'Dinge Hero' in China on February 13, 2015, about three months after the service started, I gave this app a name.

Later, Shenzhen Lingyou Technology claimed to Apple that 'Clicker Heroes' infringes the trademark and asked for removal from the App Store. Although Playsaurus claimed to Apple that Shenzhen Lingyou Technology is a clone, Apple accepted the assertion of Shenzhen Lingyou Technology and removed 'Clicker Heroes' from the App Store.

According to Fragsworth, Playsaurus lost $ 200 a day (about 22,000 yen) to $ 300 a day (about 33,000 yen).

Fragworth, who says that she has no power to fight Chinese companies, said in a comment section that 'I have a trademark in the US, I should fight Apple anyway'. There are voices pointing out the lack of research before market development about the difference in trademark registration system in China.

Note that the App Store is the only one that has been removed, and you can continue to play the browser, steam, and Android versions.

Steam: Clicker Heroes
https://store.steampowered.com/app/363970/Clicker_Heroes/

Clicker Heroes-Apps on Google Play
https://play.google.com/store/apps/details?id=air.com.r2gamesusa.clickerheroes&hl=en


in Game, Posted by logc_nt