GoPro killer action camera 'Osmo Action' with super strong image stabilization function comes up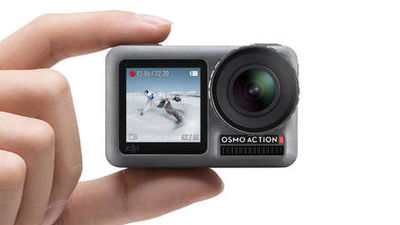 '
DJI Mavic Air
' to manufacture and sell the drone, such as
DJI
has announced a GoPro like a small action camera
'Osmo Action'.
'Dual screen' compatible with a display on the front and back of the terminal, ultra-powerful camera shake correction function, 4K HDR movie and 8x slow motion movie shooting are also possible, and it is also a complete action camera that also supports waterproof. It is said that
Osmo Action-Entdecke Deine andere Seite-DJI
https://www.dji.com/jp/osmo-action
Osmo Action is a compact action camera that measures 65mm wide x 42mm high x 35mm thick and weighs 124g. There is a monitor of 1.4 inches 300 ppi on the front ...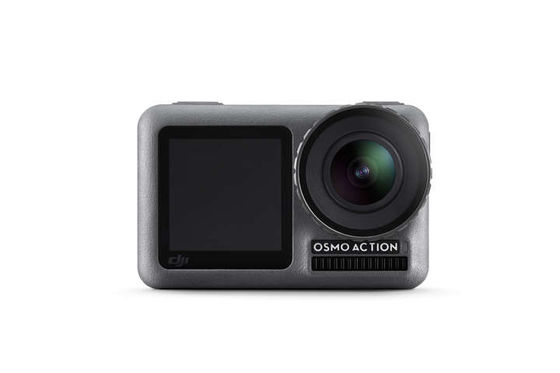 The back has a 2.25 inch resolution 640 x 360 pixel (325 ppi) touch monitor.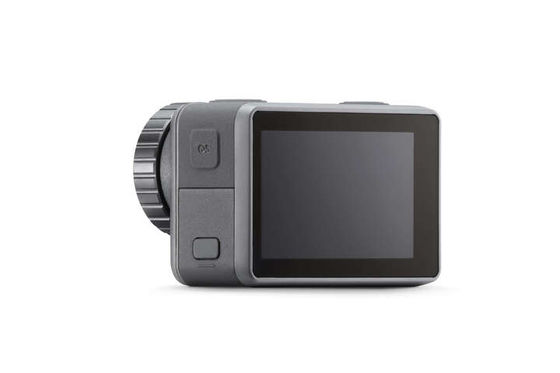 There is a power button and a recording button on the top surface. It seems that you can start shooting within 2 seconds by pressing the button even in sleep or power off.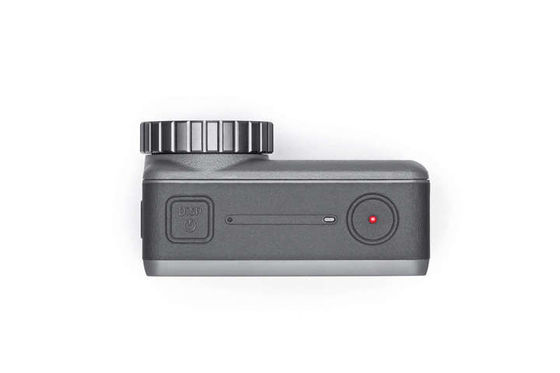 This size is about holding it in hand.



The attached parts look like this. Waterproof case · floating handle · charging hub · quick release base is included.



The characteristic of Osmo Action is the dual screen installed before and after the terminal. As shown below, you can shoot while checking the reflection on the screen, even if you are shooting yourself during the activity yourself. The mounted screen is touchable.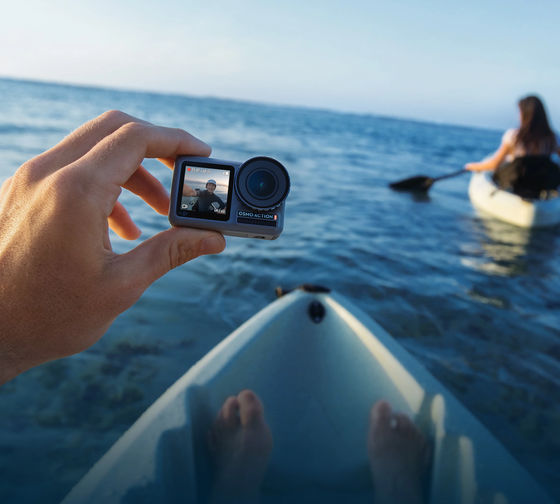 The camera can capture high quality images up to 4K / 60 fps, and for slow motion movies, 1080p / 240 fps (8x) is the largest. Other features include HDR movie shooting up to 4K / 30 fps, custom exposure settings that allow long exposures up to 120 seconds, time-lapse shooting, timer shooting mode, etc., and various video shooting is possible.

In addition, it also has a voice operation function to operate the terminal with five types of voice commands, but this is only compatible with English and Chinese, so it can not be used in Japanese.

It has a waterproof function that can withstand up to 11 meters of water depth, and the lens that has a three-layer structure is coated with an anti-fingerprint coating that repels dirt such as water and oil, and is suitable for low temperatures of up to -10 degrees. It is an action camera that enables stable shooting even in harsh environments. In addition, it is equipped with an efficient cooling system, which allows the heat generated by the operation to be dissipated efficiently, enabling stable shooting for a long time. The battery capacity is 1300 mAh, and charging is expected to be completed in 90 minutes.

In addition, the super-strong image stabilization function that is applied to DJI's drone technology is adopted in Osmo Action as 'RockSteady'. RockSteady is a combination of automatic electronic image stabilization and DJI's proprietary algorithm that helps you capture stable, low-shake footage.

Click on the image below to play the movie, and you can see in a single shot how much the image differs from the RockSteady function on and off.




In addition, Osmo Action Shake Reduction function · RockSteady is more powerful than other action camera shake correction function flows from around 29 seconds of the following movie, Sony's
FDR-X3000R
, Osmo Action,
GoPro HERO7 Black
You can see if you compare the anti-shake function.
DJI OSMO ACTION vs GoPro Hero 7 Black [4K]-YouTube
You can check the official movie created from the image of the actual use scene of using Osmo Action for outdoor activities and activities from the following.
DJI-Introducing Osmo Action-YouTube
DJI-Osmo Action Unleashed-YouTube
Overseas media The Verge reviewed the Osmo Action prior to its release, pointing out that 'you can take beautiful pictures in good lighting conditions, but the grain of the pictures is quite rough in the dark'. And the biggest drawback is that 'the image is trimmed more than GoPro in both photos and movies.' However, as a feature that GoPro doesn't have, it mentions dual screen, which is a big advantage when taking a picture.
DJI Osmo Action hands-on: GoPro should be worried-The Verge
https://www.theverge.com/2019/5/15/18622976/dji-osmo-action-hands-on-gopro-hero-7-black-camera
Another good point is that the camera lens itself is not damaged, thanks to the screw-in lens cover on the front of the camera lens.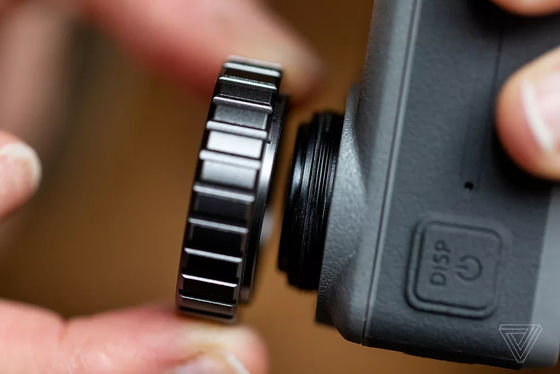 In addition, Osmo Action can be purchased from DJI official store for tax-included 44,820 yen.

Osmo Action-Action Camera-DJI Store