I tried eating 'Mystery Ippei-chan Yakisoba Omori sour grilled soy sauce flavor' where Yakisoba and grilled squid in the stall were fused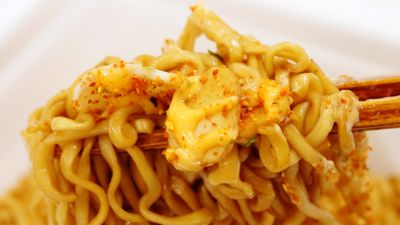 ' Mysterious Ippei's Yakisoba Omori sour flavored soy sauce flavor ' has been added to the 'Myoshi Ippei-chan' series of instant yakisoba from April 22, 2019. Ippei, who is the first in the Omochi menu, which is based on 'Yakika' in a popular menu of festival stalls and taverns, the first in the series, the fragrant irresistible scent that invites appetite and the rich taste of soy sauce sauce Because it is the taste that becomes, I ate and checked it.

'Mystery Ippei's Yakisoba with Yakisoba in the Night Store' (April 22 Release)
https://www.myojofoods.co.jp/news/7709.html

Myoshi Ippei's Yakisoba in the night shop Omori Squid or soy sauce taste: Mystery food
https://www.myojofoods.co.jp/products/product_detail.html?id=9277

This is 'Mystery Ippei-chan Yakisoba in the night shop'.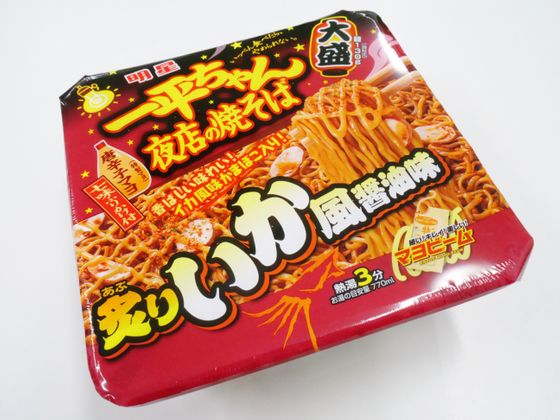 It was written in the package, 'It tastes fragrant! Squid flavored kamaboko!'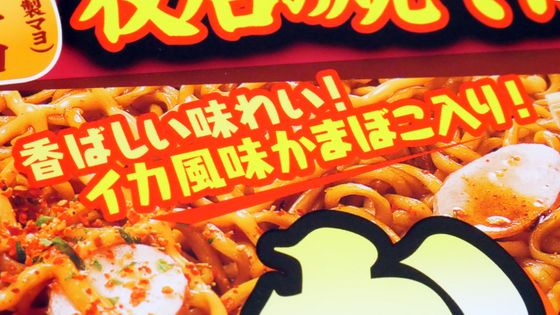 When you look at the raw materials, in the source column, it is described as 'Squid Extract', and it is written that 'Squid flavored kamaboko' is also included in the veggies, and a material that reproduces whether it is baked or not is used. I understand that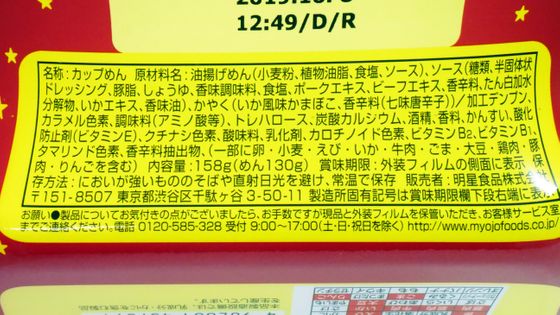 The calorie per 158g serving is 715kcal.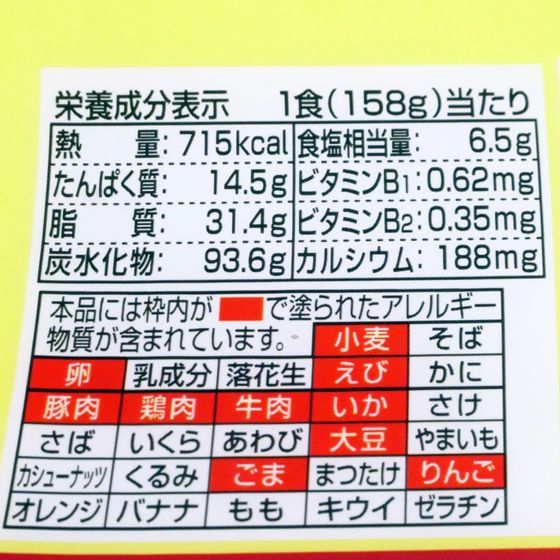 When the lid was opened, there were 'liquid source', 'Kayaku', 'Sprinkles', and 'specially made Mayo' pouches.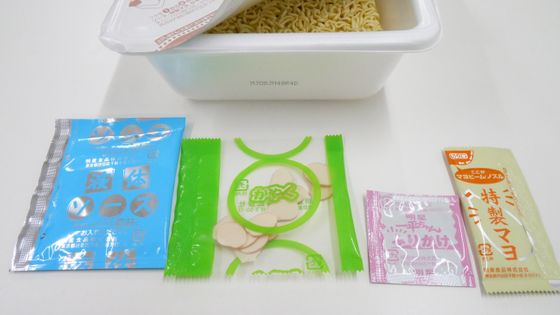 At first put in the hem ...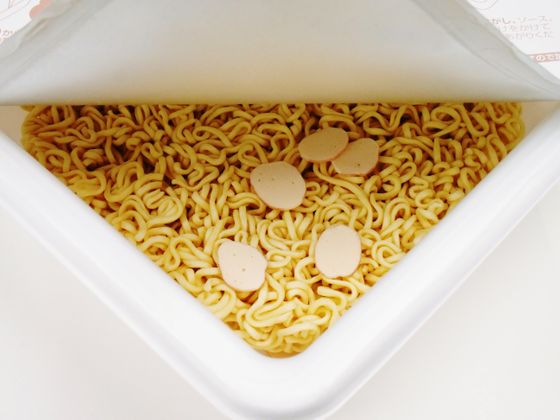 Wait 3 minutes after putting the hot water.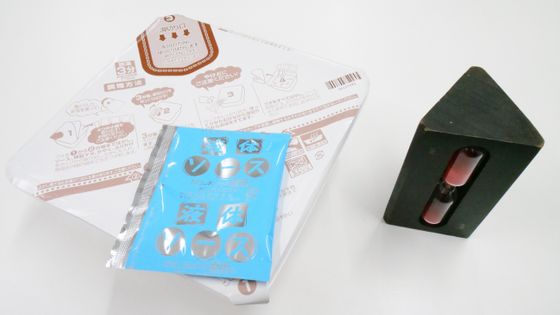 After 3 minutes, slowly throw the hot water out of the bath.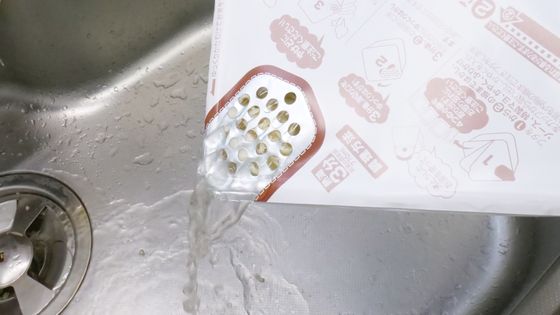 Next, mix the sauce well and mix it well ...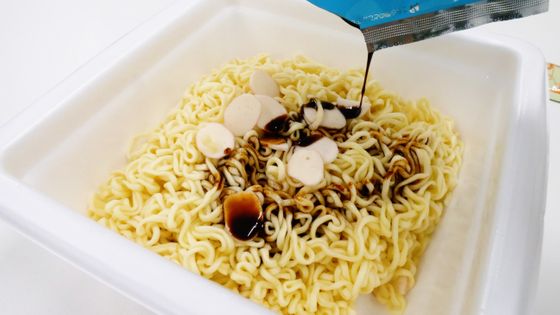 It is completed by sprinkled with specially made Mayo.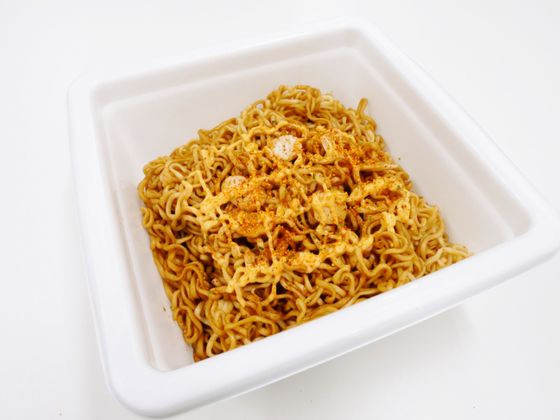 Along with the aroma of chili mayo and chichimi chili pepper, a savory or fragrant smell comes to me, which makes me have an appetite.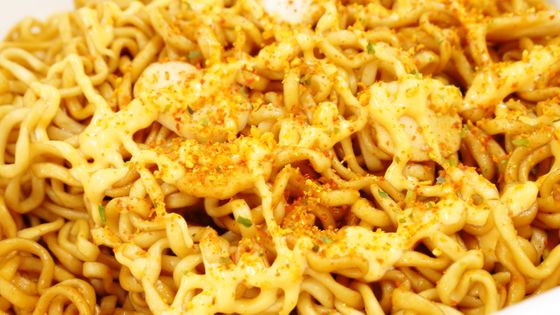 First of all, when you try to eat squid-flavored kamaboko, it is more resilient than ordinary kamaboko, and it has a very similar texture. On the other hand, the person who tastes, though it has a savory or fragrant flavor at the moment of eating, is an honest impression that if you eat it, the taste of kamaboko will win.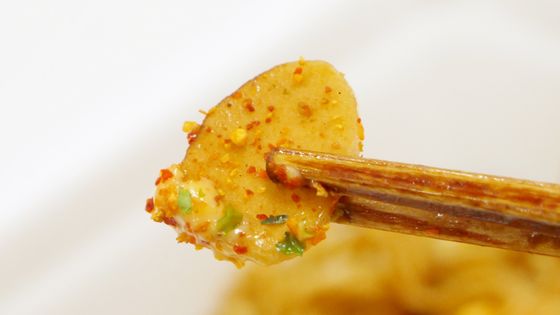 So, when I try to eat noodles with squid-flavored kamabo together, the rich flavor of soy sauce sauce and the rich flavor of mayonnaise are intertwined, as if the grilled grilled squid just turned into a fried noodle. In addition, the hot taste of chili mayo and chichimi chili pepper stimulates the tongue and brings out the rich feeling of the rich sauce and the taste of squid. In addition, because the taste of chichi pepper is quite high, it is recommended to adjust the amount of hot water if you are not good at it.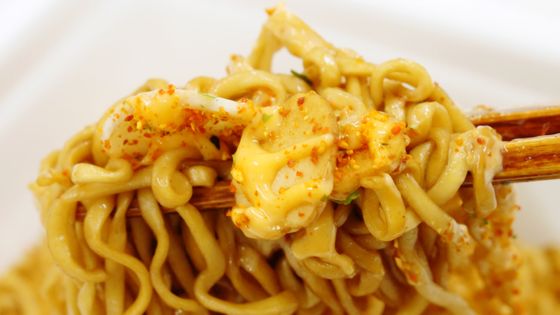 'Mysteries Ippei-chan Yakisoba Omori Saki Rika Sho soy flavor' has been sold at retail stores nationwide from April 22, 2019. The price is 221 yen including tax. Also, Amazon.co.jp is 12 pieces can be purchased for tax-included 2652 yen (221 yen per piece).

Amazon | Mystery Ippei's Yakisoba with Yakisoba at Night Store Squid Rika Ikaze Soy Sauce Flavor 158g x 12 pieces |