Developer reveals Easter Egg, a popular spiderman game on PS4 that no one has found yet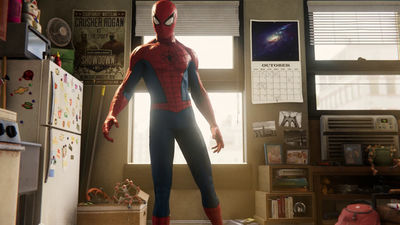 Becomes a spider man and runs around the city and shoots a villain In PS4's open world action ' Marvel's SPIDER-MAN ', although a man hid a proposal in the game, it is frail before it is released and the world's sadest Easter egg is born There is a strange episode that has ended. One of the developers who work at Insomniac Games , the developer of 'Marvel's SPIDER-MAN', has made it a big topic on SNS by revealing the existence of Easter Eggs that no one has yet found.

Insomniac Developer Reveals A Spider-Man PS4 Easter Egg Nobody Noticed
https://kotaku.com/insomniac-developer-reveals-a-spider-man-ps4-easter-egg-1834187252

Elan Ruskin , a programmer who works at Insomniac Games, unveiled the existence of Easter Egg, which no one has ever discovered yet. 'I think it's good time to talk about Easter eggs missed by everyone,' he said on his Twitter account. 'These men don't work on Saturday!' It revealed the existence of Easter eggs that had not been done.

Feels Like The This Right Time To Mention An Easter Egg That Everyone'S Passed Over So Far:! These Guys Do Not Work On Saturdays Pic.Twitter.Com/kJydFBG4DG

— Elan Ruskin (@despair) April 19, 2019


'If you play Marvel's SPIDER-MAN on Saturday, these NPCs will not appear in-game. This is the Sabbath, and Easter eggs on Jews who do not work or go out on Saturday. It is said that the hidden Easter eggs are related to the Sabbath and Jews.

If you are concerned about other Easter eggs hidden in Marvel's SPIDER-MAN, you can check the number of hidden tips in the following movie.

Spider-Man PS4 | 60 Easter Eggs and Secrets-YouTube