History of legendary game machine 'Game Boy' that sold over 100 million units in the world reaching its 30th anniversary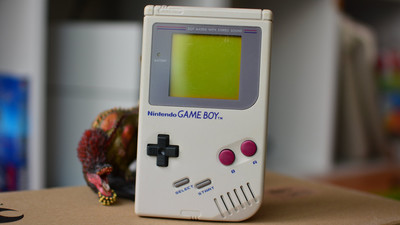 by
Ken Yamaguchi
April 21, 2019, Nintendo's handheld game machine '
Game Boy
' has been released for 30 years. Game Boy has recorded a blockbuster hit that has sold more than 118 million units in total, and is a legendary model that has made its name in video game history. Various media are looking back on the history that such a game boy has walked.
The Game Boy turns 30-The Verge
https://www.theverge.com/2019/4/17/18311479/nintendo-game-boy-30th-anniversary-switch-gaming
What Developers Really Think About The Nintendo Game Boy-Feature-Nintendo Life
http://www.nintendolife.com/news/2019/04/feature_what_developers_really_think_about_the_nintendo_game_boy
Nothing Will Ever Compare to the Game Boy, The Best Handheld Console of All Time
https://www.esquire.com/lifestyle/a27168934/game-boy-30-year-anniversary/
The Game
Boy, Nintendo's second portable game console following
Game & Watch
, was released in Japan on April 21, 1989. The suggested retail price at the time of release is 12,500 yen. The gameboy was led by
Ryohei Yokoi,
who was General Manager of Nintendo Development Division. Unlike games and watches where the game program was written directly to the main body ROM, it was a great attraction that you could play any game with one game boy by replacing the separately sold ROM cassette.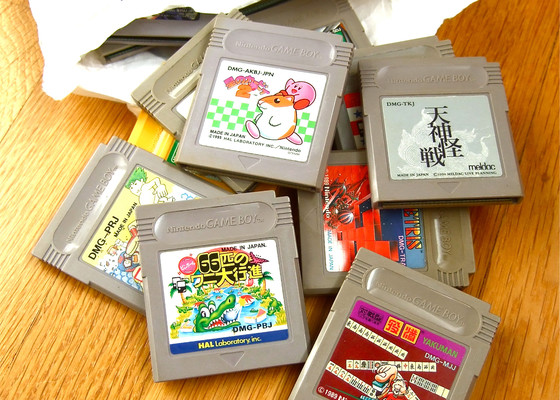 by
Bryan Ochalla
The Game Boy's screen was an STN reflective monochrome LCD with a resolution of 160 x 144 dots, and the power supply required four AA batteries. If it was an alkaline battery, it was possible to play all day. Also, unlike the
family computer on
the stationary, Gameboy could play the sound source in stereo by using earphones. 'Esquire of the foreign media is sure to be excited about the enhanced graphics, the quest for perfection in detail, the gorgeous soundtrack, but there is nothing like the tone that rings with the Nintendo logo when you start the game.' He said that even after 30 years, Game Boy is not faded.
You can see the start screen of such a Game Boy main body with the following movie.
Original Gameboy Startup Sound-YouTube
The color variation was only one gray color, but in 1994 the
Gameboy Bros
with six colors appeared. The launch titles released at the same time as the first Game Boy were '
Super Mario Land
', '
Alley Way
', '
Man full
', and '
Baseball
'. In particular, 'Super Mario Land' has sold over 18 million copies worldwide. In addition, '
Tetris
', which appeared two months later,
recorded
sales of more than 35 million copies, more than double that, and is known as the world's best-selling gameboy software.
The size of the first Game Boy was about 145 mm x 88 mm x 31 mm, and it contained a dry cell battery and weighed about 300 g, which made it a little difficult for small children to carry. Paul Machacek, developer of the UK game development company Rare said, "The Game Boy was bigger than the Game & Watch, and it was difficult to put it in the pocket, but it was possible to replace the ROM cassette and add" Tetris "and other software. It was wonderful to be able to play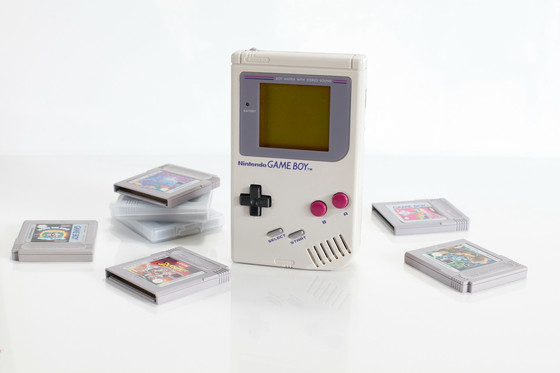 by
ptra
Game Boy was the most advanced portable game console at that time, but the game hardware industry as a whole was developing mobile game consoles. For example, in 1990, the year after Game Boy was released, Nintendo as the game hardware maker at that time Sega, who had been cutting Toshinagi, released '
Game Gear
' for 19,800 yen. The game gear equipped with 32 color liquid crystal and backlight of fluorescent tube has specifications close to
Sega's mark III
which is
Sega
's stationary game machine, launching 'Sonic the Hedgehog 2' etc. The Verge appeared in the title, and appeared with the sound of being able to watch TV anytime and anywhere with the TV tuner, but the Verge said that it was not practical in that it could only play for 3 to 4 hours with 6 AA alkaline batteries. It says.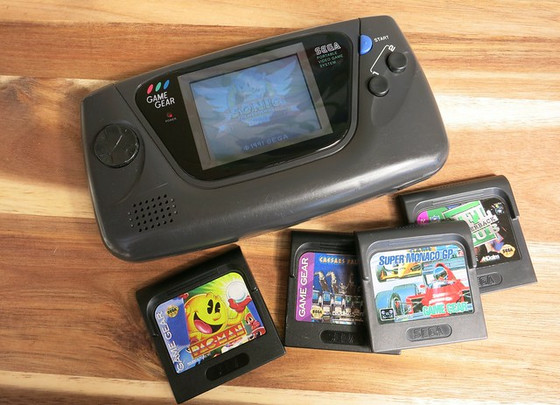 by
James Case
According to Nintendo's
(PDF file) data
, Game Boy has sold a total of 118 million units and software a total of 500 million units, and it has sold approximately 32 million units in Japan. In addition to the game gear, atari Corp's
Atari Lynx
and NEC home electronics
PC engine GT
also launched portable game consoles from competitors at the same time, but neither can break the Game Boy's fortress was. It is a gameboy with no back light in monochrome LCD, but it shows overwhelming advantage in that it is more robust and lasts longer than other portable game consoles.
Although the Game Boy's power has once declined, it is revived again after the '
Pokemon Red / Green
' released in 1996 has made a big hit. In the same year, Gameboy's LCD was improved, and the
Gameboy Pocket
, which has been reduced in size and weight, will also be released at almost half the original price of ¥ 6,800. Furthermore, in 1998,
Game Boy Lite,
which added a backlight function to Game Boy Pocket, was released. This gameboy light became Nintendo's last monochrome game machine.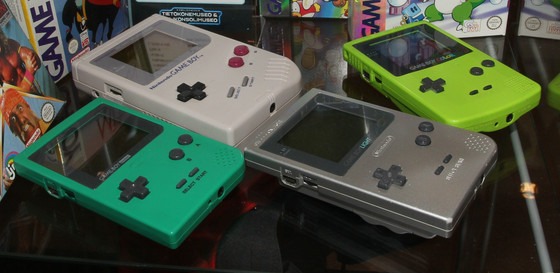 by MKFI

Peripheral devices can not be removed when talking about the history of Gameboy. The genuine peripheral devices that Nintendo has officially released are stereo headphones, communication cables to play against other players, rechargeable adapters, battery cases, and more. In 1990, as a third party peripheral device, ' Light Boy ' was launched from BIC Tokai . This is a peripheral device with a magnifying glass and a light bulb set, to make it easy to see the small LCD screen of Game Boy in the dark. Similar peripherals were launched from various manufacturers as a necessity for playing Gameboy without backlight in the middle of the night.

Lightboy pic.twitter.com/S6FSX0P5wV

— Plus @ Docabato (@pad_plus) June 1, 2014


In 1994, a Super Game Boy appeared for the Game Boy to play on the Super Nintendo. In addition to playing Game Boy software on a television screen, it was also equipped with a playful function that allows you to scribble on the screen. Also, in 1998, a pocket camera that can be used as a digital camera by inserting it to the Game Boy and a pocket printer that can print the picture appear. It is still a peripheral device that is still firmly popular from part. Many other unusual peripheral devices were announced in the Gameboy series, such as those connecting mobile phones, fish finders, card readers and MP3 players.

You can see the pocket camera and pocket printer commercials aired in the United States from the following.

Game Boy Camera-YouTube


Nine years after the appearance of Game Boy, in 1998, Game Boy Color with the first color LCD appeared. While the price is 6,800 yen, up to 56 colors can be displayed among 32,768 colors, and it has evolved greatly from the game boy whose black and white four gradations were limit. It was also a big point that the ROM cassette also had the same shape as the Game Boy and was upward compatible. In addition, infrared communication function is equipped, and it is possible to send data from Pocket Pikachu of pedometer type game to ' Pokemon gold, silver, crystal ', etc., and it can be said that the width of portable game machines has expanded.

The Gameboy series continued to lead the hand-held game consoles until the Gameboy Advance , the full successor to Gameboy, was released in 2001. In the meantime, the number of software titles released in the world is more than 3,000. The Game Boy itself, like the movie below, is sometimes used as a piece of equipment for music production, and has been loved from around the world for 30 years after its release.

Focused (Live)-8-BrickDMG-YouTube


'The Game Boy symbolizes everything in Nintendo. While new technology is applied to improve the play experience, Nintendo rarely pursues the state-of-the-art technology. The idea that made Game Boy hit is This has led to the success of the Nintendo Switch today. '