Ownership of iPhone reaches 83% for teenagers, according to the latest survey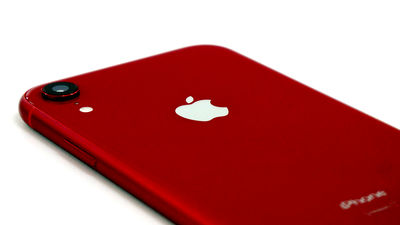 Piper Jaffray
, a US-based investment bank, has released the latest version of the survey data called 'Taking Stock with Teens', which is published semi-annually. In this data, about 8,000 students in the United States are surveyed variously, among them, it has become clear that Apple products are extremely popular among young people.
Taking Stock With Teens-Spring 2019 Infographic
http://www.piperjaffray.com/2col.aspx?id=5553
PIPER JAFFRAY COMPLETES SEMI-ANNUAL GENERATION Z SURVEY OF 8,000 US TEENS
http://www.piperjaffray.com/2col.aspx?id=287&releaseid=2393825
Piper Jaffray: iPhone reach 83% of teens as one out of five also own an Apple Watch-9to5Mac
https://9to5mac.com/20019/04/08/iphone-apple-watch-teen-survey-2019/
The survey by Piper Jaffray was conducted on 8,000 'teen teenagers' living in 47 states in the United States. The average age of the 8,000 people surveyed was 16.3 years, the average household income was $ 67,700, and the male-female ratio was 54% for men and 46% for women. Piper Jaffray estimates that all US teenagers spend about $ 83 billion in retail sales in one year, and what areas and brands are this huge market We are investigating if it has a strong impact.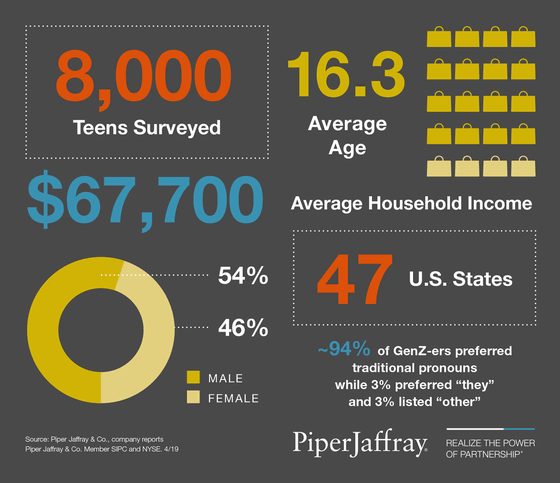 In this survey, it has become clear that 83% of the teenage students surveyed are iPhone users. Only 9% of the surveyed were Android users. When asked, 'Which model do you want to have when switching smartphones in the future?', 86% said that they changed to iPhone.

In addition, 20% of the teens surveyed said they own the Apple Watch, followed by 2% with Samsung Gear. In addition, 22% of the surveyed teenagers said that they would buy the Apple Watch within half a year, making Apple unmatched popularity in the smartphone and smart watch field Is clear.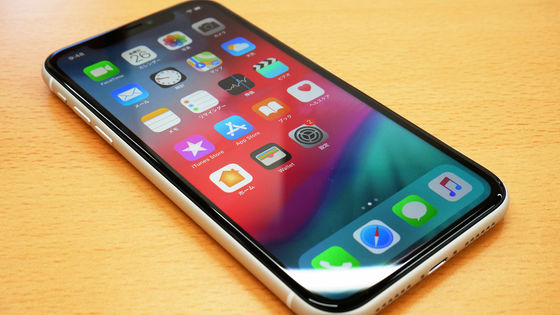 In addition, 'Which brand is gaining high popularity?' Is investigated in various fields and is summarized as infographics.

The following is a summary of the top 5 most popular brands in clothing, shoes and cosmetics by category. The most popular clothing brands are Nike (22%),
American Eagle
(9%), Adidas (5%),
Forever 21
(5%),
Hollister
(3%). Popular for handbags are
Michael Kors
(28%),
Kate Spade
(14%), Louis Vuitton (11%), Coach (11%) and Gucci (8%). Popular shoe brands include Nike (41%), Vans (20%), Adidas (13%), Converse (5%) and
Foot Locker
(3%). The frequently used shopping websites are Amazon (50%), Nike (5%),
Urban Outfitters
(4%), American Eagle (3%),
Fashion Nova
(2%). The frequently used cosmetics stores are
Ulta
(33%),
Sephora
(31%), Walmart (8%), Target (6%) and Amazon (4%). Popular cosmetic brands are
Tarte
(11%),
Too Faced
(8%),
MAC
(7%),
Morphe
(7%) and
Maybelline
(6%).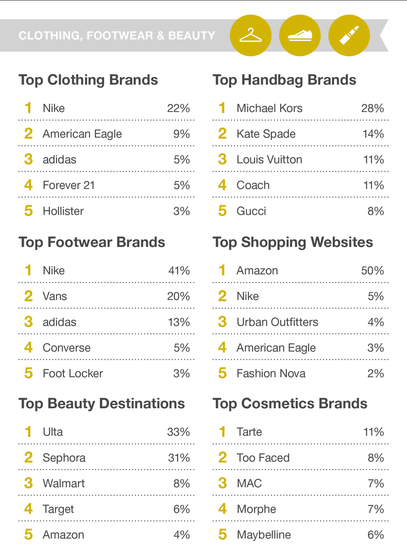 Below is a graph that shows what kind of media teens are using to watch video content and which social media they use frequently. The most commonly used video platform on a daily basis is Netflix (37%), followed by YouTube (32%), Cable TV (14%), Hulu (7%) and other streaming services (7%) . The question 'What is your favorite social media?' Includes Snapchat (41%), Instagram (35%), Twitter (6%), Facebook (6%) and Pinterest (1%) .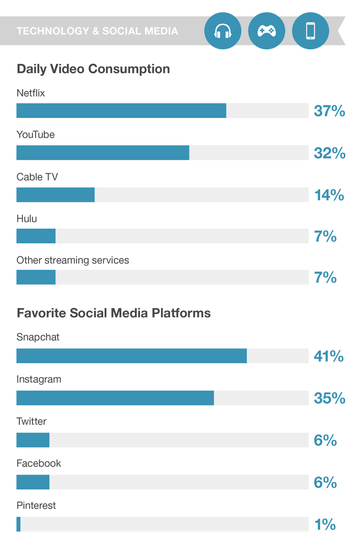 The most popular celebrities are, from top to bottom, Ariana Grande , Donald Trump , Lebron James , Kevin Hart , Dwayne Johnson . The most popular restaurants are Chick-fil-A (12%), Starbucks (10%), Chipotle Mexican Grill (8%), Dunkin Donuts (5%), McDonalds (3%).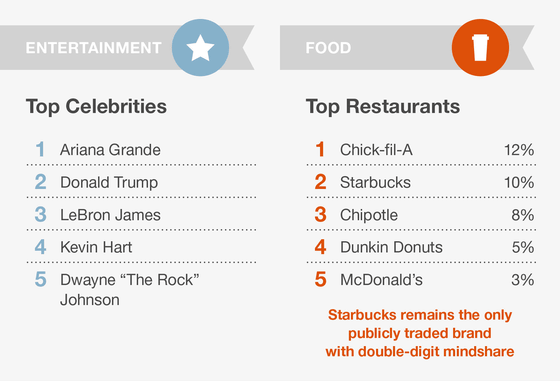 However, Piper Jaffray's survey also pointed out that 'the survey target is biased towards young people who spend a lot of money'.