Headline News for April 2, 2019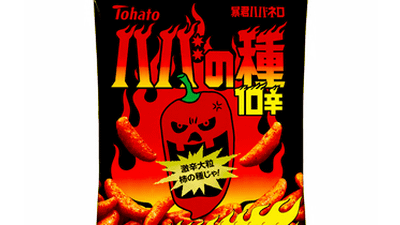 Tohato has announced that it will release the ' Tuner Habanero / Haba seed ', which has been turned into a ' Kanno seed ' on April 8, 2019, as a new product of the potato snack 'Haunter Habanero' series. Unlike the normal 'Haunter Habanero', the persimmon seeds are coated with soy sauce flavored pepper extract and finished with habanero puree. The level of severity is level 5 of the classic 'Haunter Habanero' and level 10 of this 'Haba seed'. 'Peep' is not peanuts, so it is a hot dish as you eat. The reference retail price is 141 yen excluding tax.

By the way, such an article was published on the same day in the past on the same day.

Findings that sugar can be used to treat wounds instead of antibiotics-GIGAZINE

Many graduate students are found to be mentally ill-GIGAZINE

Scientists say, 'I was deafened by the impact sound of dropping the lid of the toilet tank'-GIGAZINE

Lectures at prestigious Yale University, 'What brings happiness to life?'

What is the true character of the 'cracking' sound that squeaks fists and fingers? -GIGAZINE

'Evolve' to know what the logo of a famous company used to be in the past-GIGAZINE

What kind of thing is 'Production Committee'? What kind of work is done? On-site personnel told at roundtable of AnimeJapan 2015-GIGAZINE

I did a job at 'Ohitrisama BBQ Grill' to fulfill the thought 'I want to have a barbecue even though I'm alone'-GIGAZINE

◆ neta (memo, various other)

【Breaking news】 The new era is Showa # New Era # Remix pic.twitter.com/E7CiFYDFft

— Naoya Tashiro (@tashiron 2228) April 1, 2019
The building next to Kawai Haruna Station School was dismantled, and the story that it was revealed that it was a scam was too funny ... pic.twitter.com/Fm1xgMNik3

— Hanzo (@ hanzou_400) April 1, 2019


As a result of dismantling the building next to Kawai Haruna Station School, it is here that it has been revealed that the height was inflated and it has been built 'Contemporary billboard architecture'-Togetter


See you pic.twitter.com/sMkTTCk3UB

— Sawdust (@oga_kuz) April 1, 2019
Just put BGM of the Avengers logo on the new era announcement,
Because it feels so magnificent,
I want to recommend it to the official residence. pic.twitter.com/Sebyj5ZS8f

— Polunga @ American Comic (@Polunga_MARVEL) April 1, 2019
I made a year roulette. pic.twitter.com/3TwFpIpKld

— Pripri (@_KEN_ZEN_) April 1, 2019
April 1, 2019
April 1, 2019
O pic 令 和 sum pic.twitter.com/m320oPVjsG

— Мопуаi (@ddmonyai) April 1, 2019
Ms. Terada also became a teacher, pic.twitter.com/3ygMTo6XFa

— Yukata (@BBykt_) April 1, 2019
Oops, that's an afterimage. # New Era # New Year Announcement # Remix pic.twitter.com/FIdvg4Gu7y

— Taku ni Shim (@ Ntak246) April 1, 2019
Subtitled 'Rekazu' to a suitable night scene image suddenly makes it look like a near-field science-fiction movie pic.twitter.com/UI6xiiVtpC

— Sergeant Sergeant General (@ WANIGUNNSOU) April 1, 2019
I want to make T-shirts with afro that appear with fluorescence pic.twitter.com/lpysOzjIob

— Afromance (@afromance) April 1, 2019
Though it is a book, the book off
# This book is off, but this book is not here pic.twitter.com/MeadwKPMkw

— Ms. Edano's Fixed Tsui (@Edano_san) March 31, 2019
Kei Kogiso flying to pic.twitter.com/Jd3uySqxqw

— Sawdust (@oga_kuz) April 1, 2019
New era issue -oooooooooo AAAAE-AAIAU- JO-oooooooooooo AAE-OAAUUA- E-eee-ee-eee AAAAE-AEIEA- JO-ooo-oo-oo-oo EEEEO-A-AAA-AAAA pic.twitter.com/GtIXioMjOs

— Мопуаi (@ddmonyai) April 1, 2019
April 1, 2019
A cat is sunning in the sun. Tiny. pic.twitter.com/w0NdzZV3nB

— Iijima Motoha (@mochiunagi) March 31, 2019


◆ Science (Science, Learning, Technology)

I managed to achieve the miracle of holding the fireball together if I went to take a night cherry blossom somehow, so I will never remember in Heisei pic.twitter.com/53gUR1Yj0d

— Ayaman (@s_amayanyan) March 31, 2019


◆ Society, politics, economy (case, world news, business)
Nori, 46 years of major crop confirmed final 6 billion sheets expected in the first half of the forecast Impact on the industry-Food News

Regarding the official cancellation of the House of Councilors proportional candidate Yoji Ochiai-Constitutional Democratic Party

Four companies work together with electric bikes looking for leadership in international standards making | NHK News

Mayor Kawamura 'Everyone is concerned' Nagoya Castle Tenmon wooden tour around: Asahi Shimbun digital

【New issue】 Chinese-Korean response to many-leaf sources Chinese paper 'The traces of China do not disappear' Korean paper 'reflects the conservative color of Abe administration'-Sankei News

Workman amazing cost ratio 65% Manufacturing that can beat Amazon with fixed price: Nikkei cross trend

Foreign human resources Focus on urban areas? Challenges to Clear Local Concerns | NHK News

New Gen 6 issue all clear 'Riwa' devised is Nakanishi Susumu | NHK News

In the selection work of the new era, all the six drafts shown by the government were clarified, except for the "Deriwa" decided for the new era,
英 'Eiko' (Eiko),
久 "Kuuka",
広 'Koshi' (Koshi),
万 "Banna",
案 Five plans for "Banpo". The creator of "Rekazu" is considered to be Susumu Nakanishi, a national literary who specializes in Manyoshu, based on the stories of those involved.


About 30 years are necessary for the 'Reiwa' selection procedure to be disclosed 'Prime Minister Abe | NHK News

◆ Lifestyle (life, life, health)
A person who came to say hello saying 'I'm moving' suddenly changes ... Be careful even with the auto lock person! -Togetter


There is one funny child # Inokashira nature culture garden pic.twitter.com/oaa4NSgiNK

— Tominagakaori (@ _ tominagakaori) March 31, 2019
# The person who wrote and written the book is a person named Osamu Mozumi. I understand clearly, but this person is a person who is learning the written books of the Tang era well, and while taking advantage of the writing style of the Tang era, doing the two letters well in this space, doing at an extremely high level I I will explain it lightly because it is awkward. pic.twitter.com/kSpmJ6wJ50

— U39 (@Kazeyomimaaya) April 1, 2019
When 'Heisei' was used as a head, I made a character that would be 'Resumed'. # Ambigram # Heisei # resum # new era pic.twitter.com/IY5DbVXYUB

— Kazuyoshi Nomura Painter anbigram writer (@IsseiNomura) April 1, 2019
# I made the icing cookie in the image of the irrational pic.twitter.com/JjZc5qTJwN

— Asami Kamioka (@asami_kamioka) April 1, 2019
It is recommended that you take a drone to shoot the cherry blossoms of Meguro River, as it gives you a feeling of 'the flower path that suddenly appeared in the middle of the city.' # Sakura pic.twitter.com/JVv5SxVmL8

— Rei Hanada | Drone Photographer & Advertising Creator (@ 0hana613) March 31, 2019
Here are two books of supreme in my life, but the order of reading is important, and after reading 'Gingitzne' I read 'To buy a glove' and I would become a hat-friendly man who is kind to foxes in the future. Imagine heart-warming expansion.
If it is reverse, a little boy will become a gon in the future, Goo Oon! ! It is important to note. pic.twitter.com/uUiKPQFi9h

— A manga artist (@ 48skill) March 31, 2019
Excuse me…
Kodak's camera vending machine behind a cup noodle vending machine is a national treasure class vending machine ... pic.twitter.com/bc2fNgRxfP

— Sugul (@ kingsuguru96) April 1, 2019
Today is my birthday and my birthday ~ pic.twitter.com/g0HBr1YlD1

— Mook 【Mukku】 (@mukkuofficial) April 2, 2019
I would like to tell people who are repeating the process of drying and re-purchasing in a refrigerator with ginger and garlic out of use.

Ginger is soaked in vodka and garlic is soaked in oil and it will last for a year at room temperature.
The best thing to do is heat up the alcohol and enjoy the by-product ginger vodka and garlic oil. Pic.twitter.com/doF8AoMcRi

— Naoi Kawai (@ nano_723) April 2, 2019
I wonder why this is not even more famous ... I can not take it for about a week (I can take it off immediately if I want to take it) even if I just put off the sticker, so the soft tip can be adjusted with nail clippers and the length does not float from the nail. You can buy it for 1200 yen or so and there are various designs above all, so cute and not perfect? pic.twitter.com/uIyaS6bWn5

— Azuki (@ ___ Dreamoon) March 31, 2019
The land raising shop 'Nisshin Plan ・ ・ ・' has arrived. https://t.co/uXIuihvR2W

— KEISUI ART STUDIO (@keisuiart) April 1, 2019
When I searched for Edo Kiriko with cherry blossom motif, there was a nice gyoza bowl from Tashino Glass Processing Center. The pink colored glass called gold-red is lightly scraped off, and a beautiful gradation of cherry blossoms blooms on the bottom of the moth. It is a luxurious work that I would like to devote to at Hanami's seat. pic.twitter.com/Wg8QYMxvhJ

— Green Pepper (@ r2d2c3poacco) March 30, 2019


◆ IT · gadget (net, software, hardware, mobile)
New employees can not write e-mails and troubles from the basics | Nikkei xTECH (ク ロ ス テ ッ ク ッ ク)

Five good things to do when an engineer encounters a problem-Mitsuyuki.Shiiba

Don't stand up to a new culture-Masayoshi Son, Chairman and President of Softbank Group [From Heisei to Rekazu]-Yahoo! JAPAN

The Internet itself is at the end of the planting era, and has become a natural thing like the old-fashioned 'literacy abacus.' From now on, it is the age of harvest and harvest. It is AI (Artificial Intelligence) that is the key to greatly influence the harvest in the harvest period. That is, AI is also the key to brighten the era.
As I have no other projects other than AI, I am an AI by now. At the beginning of the Internet, Softbank's main business was wholesale and publication of PC software, and the income from the Internet was about 0.1% of sales, but I said, 'I am no longer interested in anything other than the Internet, I have PC work. 'It will come' completely shakes it off. I was rushing to 0.1% with 99% power.
Similarly, I am now 99% more focused on AI. Even with that much swing, it is a difficult game in the world.


The issue of the new era 'Rekazu' and character code (mainly Unicode)-Togetter

Fans acclaimed 'I was moved' and 'Cried' in the final episode of Kemo Fle 2-Togetter


If you look closely at this, you will be anxious that part of the "Red Adult" (each U + 7ACB U + 5927 U + 4EBA) is "K" ("U + 2F74 U + 2F24 U + 2F08") . I sometimes see it with other people's tweets. Twitter's problem? https://t.co/A2FahWFPQ3

— Haruhiko Okumura (@h_okumura) March 17, 2019


Visualizing connections Introduction to graph theory | S ⚡️ | note

'Pub' is closed on September 30 ~ A long-established service that allows anyone to create and sell e-books to end the service – HON.jp News Blog

【Important】 Notice of Pub Closing-Paboo | Paboo

The pub will be closed on September 30, 2019.
Thank you for your continued patronage since the opening of the store, from all staff members.
With the closing of the store, we will have a new work creation / publication, a professional version (paid plan) and new member registration on June 30, 2019 (Sunday).
We will stop selling all works and close the store as of September 30, 2019 (Mon), but the login function will continue until November 30, 2019 (Saturday). Please download it.


Organize the mechanism of Java GC-Qiita

◆ Anime · Games · Manga (Sub-Carl)
'I don't want to hurt, so I want to focus on defense.' Animation project in progress PV-YouTube


'Federation Air Force Air Magic Orchestra Luminus Witches' launched! PV-YouTube


TV Anime 'Sword Art Online-Arization-War of Underworld' Teaser PV / 2019. 10 On AIR-YouTube



Hanazawa Kana's personal clothes situation neta true grass # pop pro pic pic.twitter.com/VJmlh71HIY

— Giou Taro Trinity (@ heisei_rider_20) April 1, 2019
I made the theme song of [Regumi] wonderfully after the FF ,,,, pic.twitter.com/mDKXfoxCx8

— Oiga -taiga- / Keyboard (@funase_taiga) April 1, 2019
I made a cool song because the new era number 'Rekazu' is very cool pic.twitter.com/T7vOJwVWcj

— Kinafa | Composition (@kinaphar) April 1, 2019
[Sad news] Shinichi Kudo's dream, smashing pic.twitter.com/QppKZBNtm6

— Hideyoshi Kinoshita (@ kinoshitaja) April 1, 2019
Doraemon that you're carelessly disappointed before the announcement pic.twitter.com/NVKGDOZrCI

— Nameless Gonsuke (@nanashigonsuke) April 1, 2019
# Poptheppic
I have put together the voice actors who appeared in the table by Excle for each version. It is these 32 people (possibly) who played Popco and Pippi beauty. If you haven't seen it yet, but you've seen it once but want to see the other Ver, it will be nice if it is useful if you have voice actors out there but you don't know what to look at. pic.twitter.com/JPO8625JiJ

— Batsoon (@batuxon) April 1, 2019
If you know Gundam, it is twice as interesting as # Popthepic pic pic.

— Shio (@ sioyan_0to) April 1, 2019
Because Poptepi was SEED, 'I was like that,' I was surprised to see it flowing. pic.twitter.com/GZxKp4az2Q

— Sweets party @ (16/117) (@amatousyounen) April 1, 2019
As you die, Gundam W pic.twitter.com/5pQcxdhYBu

— Sasanari (@ ireizarvan) April 1, 2019
Have you enjoyed Poptepi OP? Mr. Ohhari said, 'Please do it because I'm doing it because it's doing Bali', so I tried to put it in the feeling of being as good as possible. However, Kore is the limit for myself now, please pardon it because I put a ear ball. # Popthepic pic pic.twitter.com/MlA1z19vBI

— Kotobuki Tsukasa (@t_kotobuki) April 1, 2019
Our dog is rival to human sister. pic.twitter.com/Q2wnE0Dvuy

— Atsushi Michiyuki @ Uchi no Toipu on sale (@michiyukiaporo) April 1, 2019
Sister pic.twitter.com/6pNcE0EBfI

— Minoru Asami (@asayaminoru) April 1, 2019
Story that I thought that was great while my mother # Parenting cartoon # Parenting picture diary # Mami mume diary pic.twitter.com/0eAvOAzpLw

— Mami (@aimika_mama) April 1, 2019
What is your favorite type? pic.twitter.com/Cik2NlJkKa

— Nelpce (@ Vqn1d4d) March 31, 2019
2019 'Is the Order a Rabbit?' 'It is the fifth anniversary of the TV series broadcast start! The 5th anniversary visual is also open with the feeling of appreciation to everyone who opened the 5th anniversary site! Please look forward to the follow-up on the 5th anniversary https://t.co/7u3GdXWR5O #gochiusa pic.twitter.com/fKVLvKbNtH

— TV anime 'Is your order a rabbit?' ? (@Usagi_anime) April 1, 2019
I recorded it because it was the best 8bit arrangement of Las Boss for those who can not see FGOQ ending ... pic.twitter.com/s6TFVHmWN2

— Yonezu @ 5/3 co 28b (@ moya 747) April 1, 2019
#April Fool

The story of a boy who has been deceived confessed to April Fool's Day. pic.twitter.com/cOVrGBzBn9

— White plum blossoms 4/24 black ha and rainbow set 2 (@siraume_nazuna) March 31, 2019
Please see fucking countdown before Alta # Popte pic pic pic.twitter.com/CsUybeCIS0

— We started SHAZHEE (VRCH) @ VRChat (@to_the_breeze) April 1, 2019
April 1, 2019
If your son wrote a letter to Nintendo, you will receive a nice reply and you will be delighted to use the Splatoon paper and thank you! I love Nintendo! pic.twitter.com/fP3kNaCBRZ

— 808 (@rabbitkicks) April 1, 2019
April 1, 2019
I tried to make a transition from Heisei # to a sumo with Lego. # New era pic.twitter.com/LzckHimxNT

— Mitsui Kohei / Jumpei Mitsui (@Jumpei_Mitsui) April 1, 2019
April Foolish girl trying to commit suicide 1/8 # creative lily # cartoon pic.twitter.com/NOM9u03Gj3

— Junsuke @ May Komitia (@ tettun0910) March 31, 2019
I wanted to smash the mark so much Kakemono Friends 2 # Kemono Friends 2 pic.twitter.com/SzrMRvmcoe

— Masamu (@ Masa_yume01) April 1, 2019
good evening everyone!

It is Masami Ohari of the Super Balizer (Okawa Bukubu-sensei designation). # Popte picky # Super validator # BARI is pic.twitter.com/61sOBq32uF

— Masaru Ohhari @ Masami Obari (@ G1_BARI) April 1, 2019


Previous "FAIRY TAIL" you can see in 3 minutes-YouTube


TV anime 'Dororo' opening theme ASIAN KUNG-FU GENERATION 'Dororo' OP non-credit video-YouTube


TV anime 'Takagi-san, Takagi-san 2' PV first installment-YouTube


TV Animation 'Mob Psycho 100 II' Complete New OVA Production Decision !!!!! Special CM-YouTube


Nintendo Switch 'Doraemon Nobita's Ranch Story' 1st PV-YouTube


'FINAL FANTASY XIV' FINAL FANTASY XIV: SHADOWBRINGERS Full Trailer-YouTube


'The Curse of Ouroboros -Broken Sword-' Promotional Video-YouTube



April 1, 2019
Two women only talk about work (following lip ) pic.twitter.com/hds5ZNucsZ

— Takanonno (@takanonnotakano) March 31, 2019
I like to draw a girl who is sleeping with a flower and I draw it well # I paste my masterpiece at the end of Heisei pic.twitter.com/hFJeWzdeOh

— Felt (@ meyochi0) March 31, 2019
If it is an illustration with deep feelings, it will be this ~ FGO holy night supper, notice picture at the time of implementation of Jizo, cover of the first art book, Halloween illustration of 2013 # Paste your own masterpiece to Heisei last pic.twitter.com/CIo0UK94ha

— Lack (@lalalalack) March 31, 2019
[Creative cartoon] Ice attribute boy and cool colleague girl 17 pic.twitter.com/Lkavlkoxr9

— Tomonoya (@ tonomyu) March 31, 2019
4P cartoon 'two people shine' pic.twitter.com/uqzeYQ0i2u

— Eki Comics on sale (@ekiaroll) March 31, 2019
Little birds and girls! pic.twitter.com/P0Tq3JSXAh

— Ichichi Wachi Versus Earth sequel being updated (@burningblossom) March 31, 2019
# Attach your representative work to the end of Heisei
A guy who got a reaction than I thought. pic.twitter.com/PIDP2dWTUR

— Morichika @ Mio general in series (@ marutar) March 30, 2019
Chief Cabinet Secretary # dot picture # edgetouch pic.twitter.com/va5hKsJKBS

— Green \ ('ω') / box (@ midori_box) March 30, 2019
# Attach your representative work to the end of Heisei
It was a consistent theme to draw daily and non-daily boundaries pic.twitter.com/syVnxGou5V

— Seiji Yoshida (@Yoshida_seiji) March 31, 2019
'Kaguya-sama wants to tell you' I participated in 12 episodes and the original picture!
Thank you very much! (* ^ _ ^ *) # Kaguya like pic.twitter.com/XinqaULaAT

— Makicha @ Komi 1 P16a (@sasurainopink) March 30, 2019
High school girls only eat curry udon manga pic.twitter.com/pUDO1ADEXU

— Toue Inoue (@tosazun) March 31, 2019
Animation 2 made as it is with late-night Nori pic.twitter.com/gTKScVICZa

— Imagination (@purinharumaki) March 31, 2019
I like this ratio after all pic.twitter.com/A0B2LSPIn5

— A Chiki (@atikix) March 30, 2019
Garden pic.twitter.com/9hzzENibGe

— ATDAN (@ Atdan86) March 31, 2019
Spring color pic.twitter.com/EDtnL2Rw0b

— Fujichoko (Fujiwara) (@fuzichoco) March 31, 2019
A child who dances joy (Oda Bako) pic.twitter.com/pedsVU2WDK

— Soichiro Yamamoto. Takagi 10 Tsubaki 2 (@udon 0531) March 31, 2019
# Post your representative work at the end of Heisei pic.twitter.com/niodgQasPE

— Shirabi (@shirabii) March 31, 2019
Fish-eye girl # Paste your own masterpiece at the end pic.twitter.com/n9MJcSSsQQ

— Guretsu Komi 1 / A 47a (@ mosu_g) March 31, 2019
Sakura # Sakura pic.twitter.com/okMWe5QRCcY

— Lin Yu (@ rin7914) March 30, 2019
Talk that a game-loving friend becomes a mom (provisional) # Talk to do various things with a game-loving friend pic.twitter.com/Mz1dlmOyqA

— Niichi (@niichi 021) March 31, 2019
Kaguya-sama pic.twitter.com/4QMG1twzhk

— Hitsu @ Kawaiikon (@hitsukuya) March 31, 2019
'Spring rain' # Sakura # Sakura # Spring Adobe illustration Festival pic.twitter.com/rD24vtQTjs

— Nobile (@ nobile1031) March 31, 2019
A girl who wants to sweeten pic.twitter.com/12pGGwVlDb

— Fumino (@ fuyumino_yw3) March 29, 2019
Pic 자랑 하기 pic pic.twitter.com/PuN7e3yyyk

— Kkyattyu (@ kkyattyu1) March 29, 2019
Bright and happy to pic.twitter.com/8eWp6Qt79D

— Kotobuki Tsukasa (@t_kotobuki) March 29, 2019
Glittering waist hell weird pic.twitter.com/eWkq1EvDaJ

— Rie Ato @ 2/1 book · Buzz if life changes (@ tanimikitakane) March 29, 2019
# SS SS_GRIDMAN pic.twitter.com/Lhv2g7o3Ik

— Kokoraya (@kme_me) March 29, 2019


◆ Sports, Entertainment, Music, Film (Entertainment)
September 6th (Fri) 'Kaguya-sama wants to tell you ~ Genius's love brain game ~' Special report-YouTube


Yakult Takanashi Nichi Ham Akiyoshi winwin trade www: swallow flash

What J PRIDE: Is it suspected that you have an eye disease at Ichiro? Doctor pointed out for several years ago

624,850 people in the third consecutive season, 34714 people per match on average! The number of professional baseball spectators increasing year after year: What kind of stadium @ what J summary

What J PRIDE: 【Signing 告】 Hoshi Hou · Hayashi long interview [Harushino high]

◆ New product (clothes, food, housing)
Launch of Starbucks Chilled Cup 'Strawberry Marble Cake Latte' | News Release | Suntory Foods International