The 'Ponshukan' has a machine for sake sake that is full of sake from Niigata Prefecture.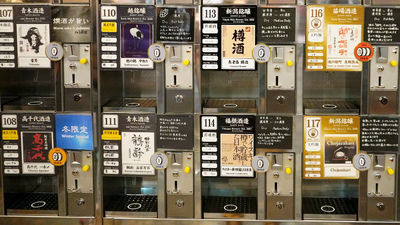 It may be a dreamy place for liquor lovers. Speaking of Niigata Prefecture, it is famous for rice from Uonuma Koshihikari. Therefore, the production of sake made from rice is also popular. Access from the metropolitan area is good, and JR Echigo Yuzawa Station, where many skiers gather in winter, has a shop called ' Ponshukan ' where you can fully enjoy sake. Sake baths are also famous, and there were bomb rice balls and Koshihikari ice, and it was already rice-making.

Hi, I'm
Takuya Saito, who is a biker around the world @ Charidaman
. I used to take a holiday in
Shirakawa-go
, where snow was piled up, and used the holiday of the New Year holidays, but I stopped by at Echigo Yuzawa Station in Niigata Prefecture. According to the information on the net, there was a mysterious liquor machine in the world.
◆ Echigo Yuzawa Station
Kawabata Yasukuni's
snow country
novel that begins with 'It was a snow country when it passed through a long tunnel at the border'. It is said that the place that became this stage is Yuzawa Onsen (Yuzawacho). I felt like another world as it was beyond Kanto from the mountain. Niigata Prefecture is not the Pacific Ocean but the Sea of Japan.
The world of snow country was expanding.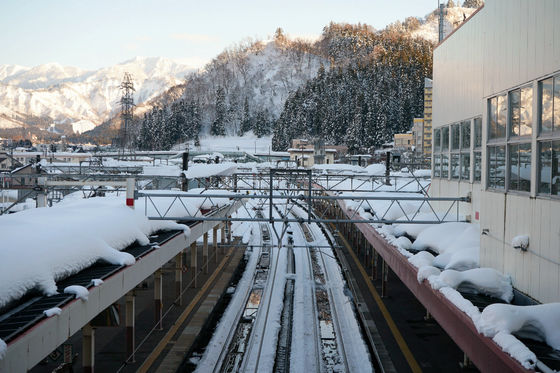 This Yuzawa town is, as the name suggests, an old spa town. And nowadays skiing is snowboarding in winter, and outdoor and sightseeing are popular in mountain climbing in summer. Naeba Ski Area, located in Yuzawa-machi, is also the venue for the Fuji Rock Festival, an outdoor music event.


Echigo Yuzawa Station
is the gateway to this Yuzawa town. The JR Joetsu Shinkansen, the Joetsu Line, and the Hokuetsu Express Hoku Hoku Line are used. 'Echigo' is attached because there is Yuzawa Station in Yuzawa City, Akita Prefecture.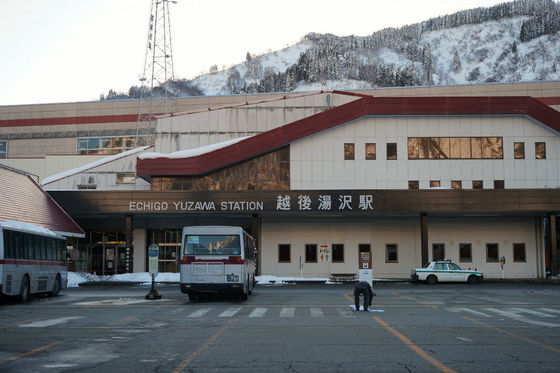 ◆ Ponshukan
There is a shopping area called
CoCoLo Yuzawa and Gangi Dori on
the premises of this Echigo Yuzawa Station, and 'Ponshukan' is included as a tenant.
Station Naka where souvenir shops gather.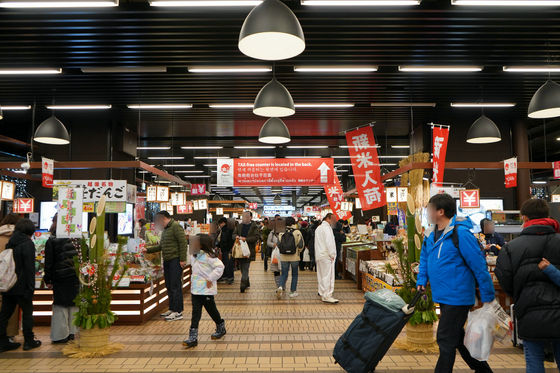 The 'Ponshukan', which is a liquor store with a distinctive sake machine, a restaurant with a bomb rice ball, a public bath that provides a liquor bath, and a souvenir shop that handles local specialties, is located in Niigata Prefecture. It was a place full of charm. The name 'Ponshu' is taken from the popular name of sake.

Ponshukan Echigo Yuzawa Coffee Store

https://www.ponshukan.com/
A display on the side of the entrance where the labels of sake from Niigata Prefecture are lined up with Zurat.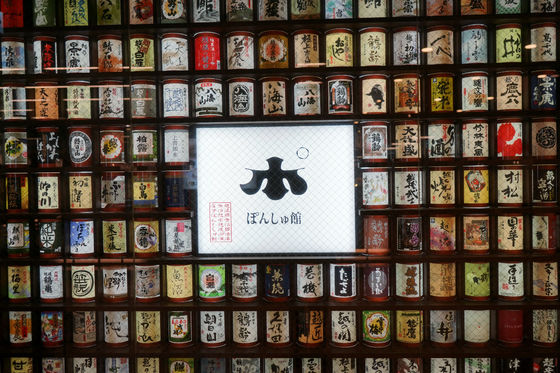 A healthy drunk object from the store.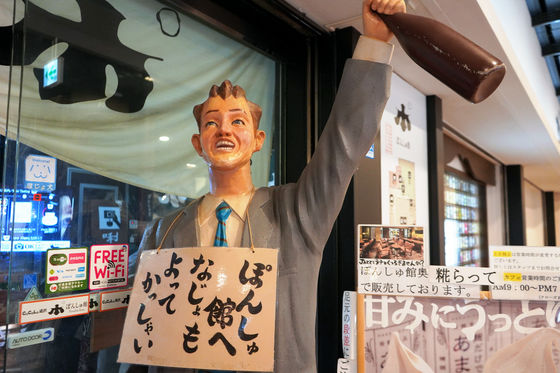 Even drunk drunks who have fallen asleep.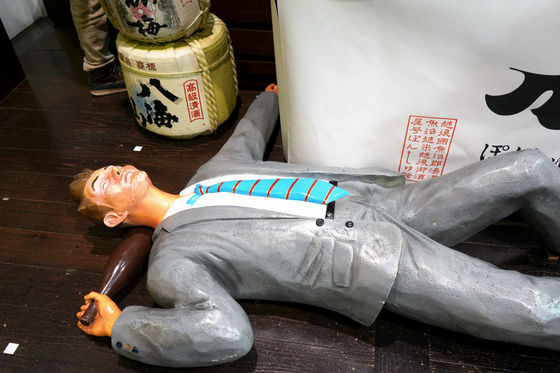 And here is the key sake machine. It seemed that there were a lot of troubles. As you can not drink underage, it is an adult's gacha that you can enjoy after the age of twenty.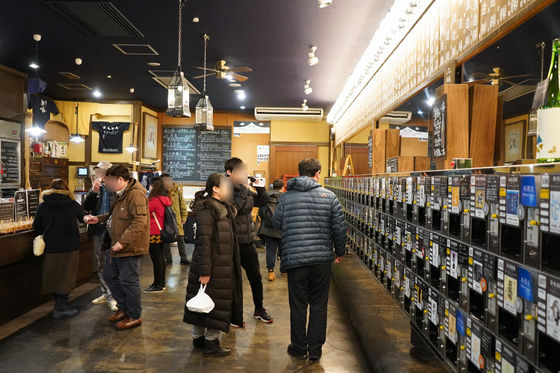 First of all, you pay 500 yen at the cash register to receive the entrance.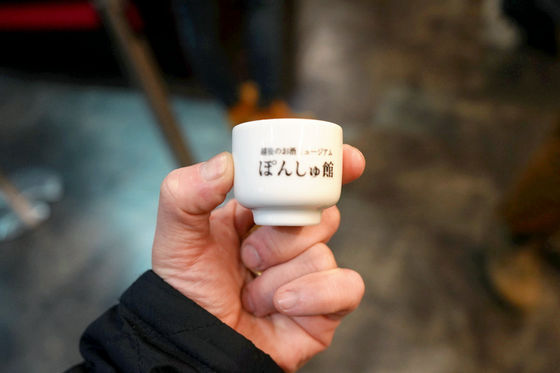 And five medals will be passed.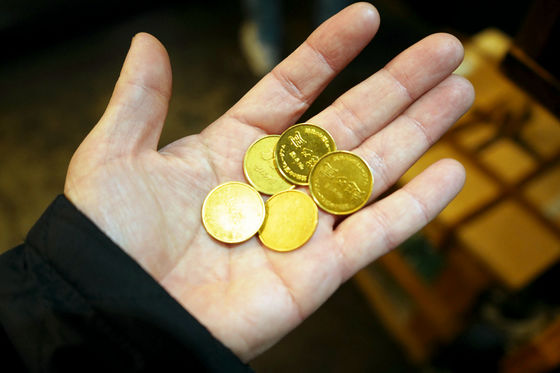 This medal is put on the sake machine.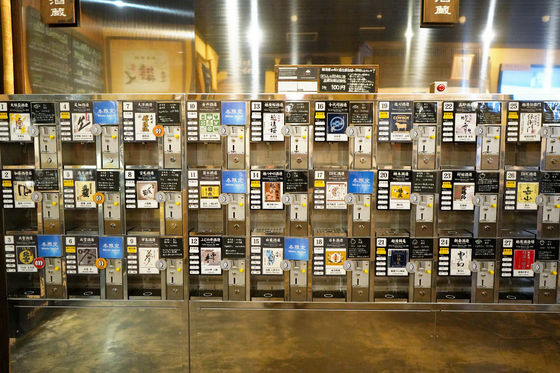 It was a mechanism that sake was poured into the entrance.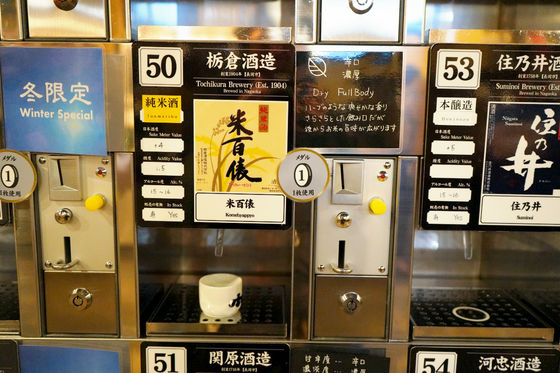 Depending on the brand, two or three medals are required.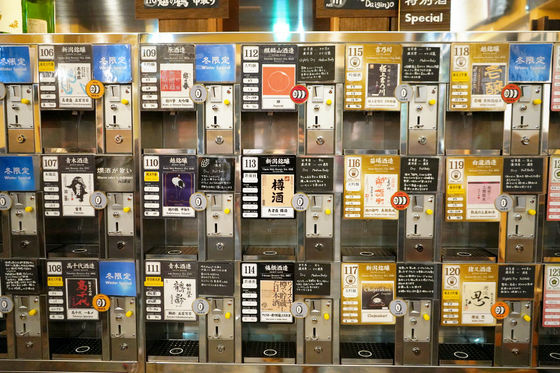 Kitesshu YK35 raw sake that had 3 medals.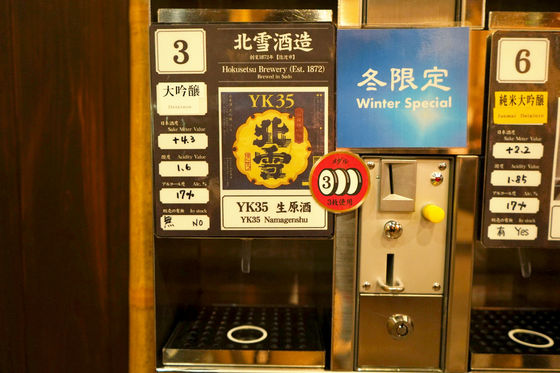 Not only sake but also plum wine, shochu and wine were put.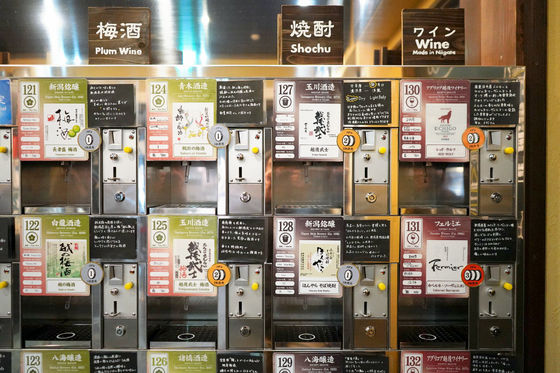 I have an unlimited choice of over 100 types of sake, but I do not know what is good for people who don't drink regularly. but it's okay. Such people should refer to the information in the store.

Recommended liquor is this.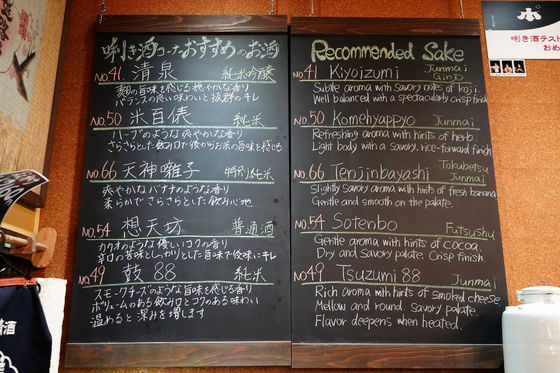 There is also a popularity ranking.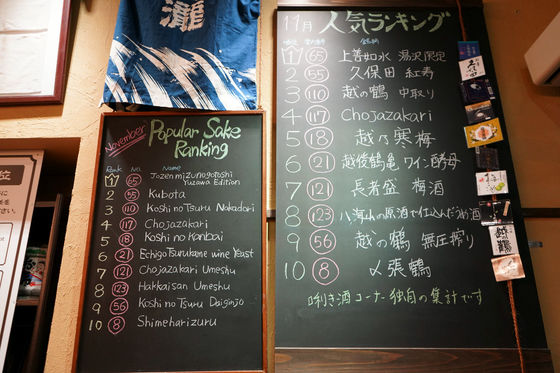 One push of the staff.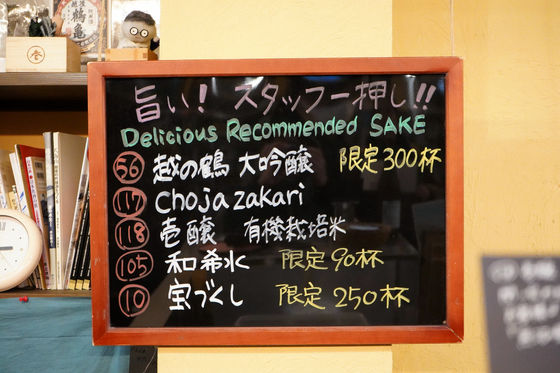 If you want to drink sake with luke or hot spring, please visit the self-meal corner.



You can also enjoy salt and snacks.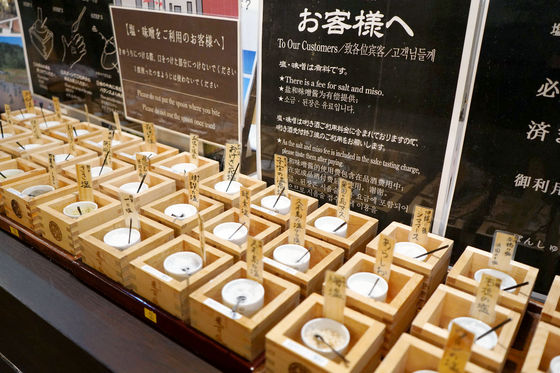 I received 5 cups for one cup of 100 yen. I can not comment cleverly because I don't like alcohol, but it is also a trigger for people who are interested in sake, from dry and crisp to sweet and soft-feeling brands. It also contains alcohol and is really good.

When you finish drinking it, you will return your mouth to the return mouth.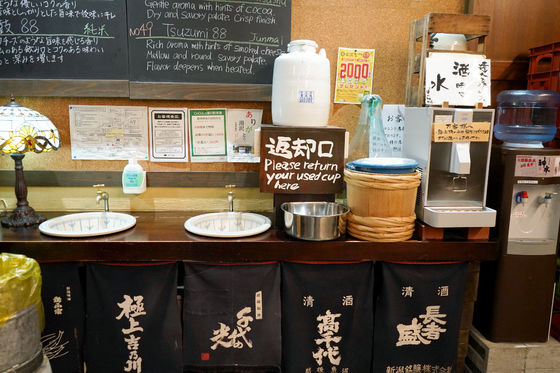 In addition, I decided to pass because of the time this time, but there is also a 'Sake Bath' where you can soak in a water bottle where sake is poured.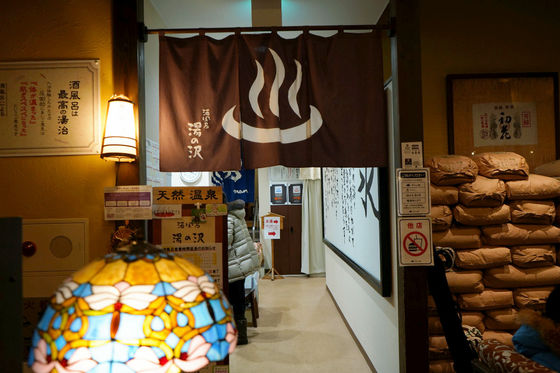 ◆ Bomb rice ball
This Ponshukan also has a special feature called 'bomb rice ball' using Koshihikari from Uonuma. It is a huge rice ball using rice 1 go (2 cups of teacup). This is a great challenge, so I tried.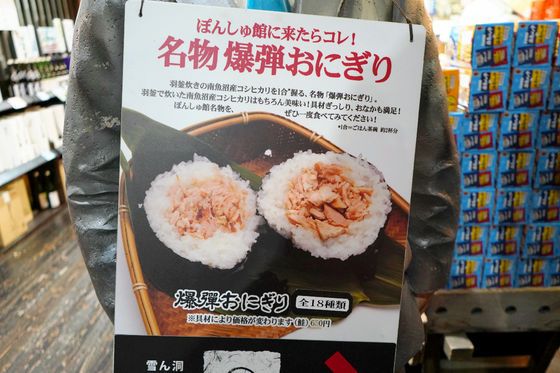 It was a restaurant with a warm atmosphere. You can eat and drink rice balls at the store, and you can take them out.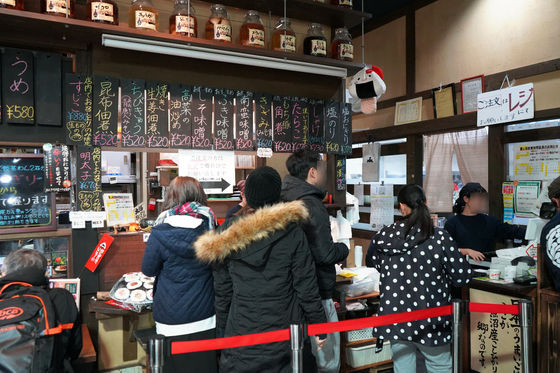 Various types of rice balls are available, ranging from classic rice ball, rice ball custard to various dishes such as simmered in rice, and nanban miso.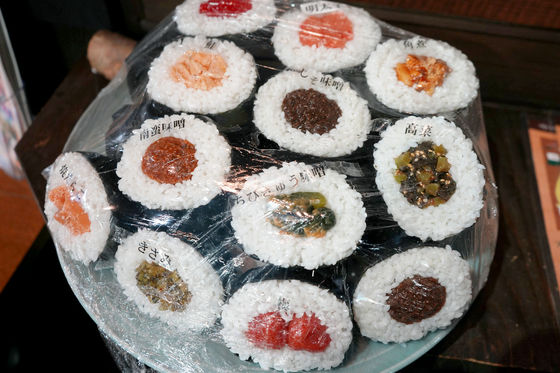 Here is the bomb rice ball. It seems that the lid does not close the pack of dishes instead .... Miso soup and pickles included.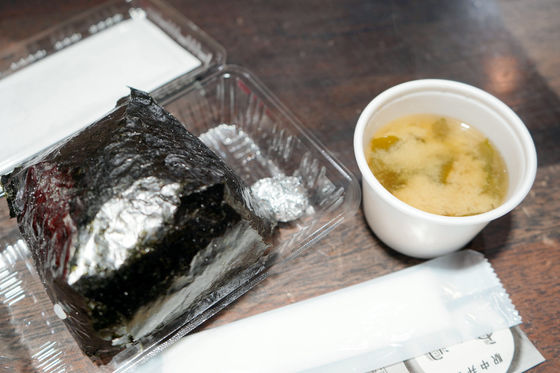 I grabbed it to convey its size, but it was broken, so it's a photo that just adds such a hand.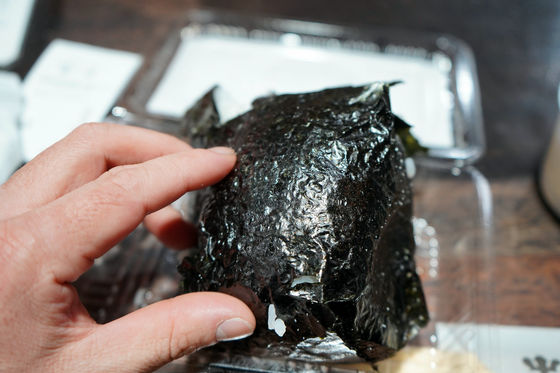 The ingredients are the standard plum. There is nothing to say about the fresh and slightly sweet plump rice. It was delicious rice than anywhere else. However, as a rice ball, I wanted saltiness a little more.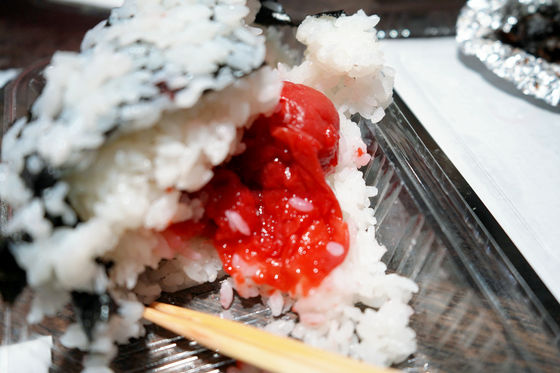 ◆ Koshihikari Ice
When your stomach is full, you want sweets for dessert. Thinking so, I walked through the hall and found Koshihikari ice that was not found in the previous Niigata expedition. Using 100% Koshihikari from Niigata Prefecture.

It was a plain ice cream.



Mysterious ice that rice grain comes out in the mouth while eating.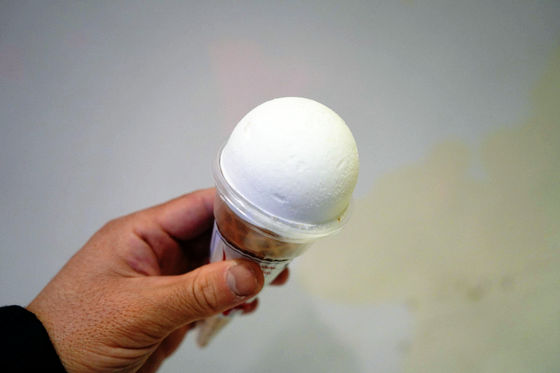 There are Ponshukan not only at Echigo Yuzawa Station but also at Nagaoka Station and Niigata Station. Set up sake machines at all three stores. If you visit Ponshukan where you can experience rice from Niigata and Niigata prefecture, why not take a trip.

( Statement / photo: Takuya Suto @ Charidaman
During the bicycle round the world coverage http://shuutak.com
Twitter @shuutak
Facebook page https://www.facebook.com/chariderman/
Instagram https://www.instagram.com/shuto.takuya/
DMM lecture request https://kouenirai.dmm.com/speaker/takuya-shuto/ )