Google announces its own cloud game service 'Stadia', details summary of the service that Google releases completely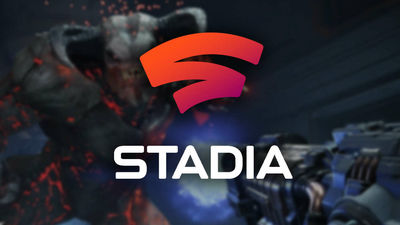 Google is promoting '
Project Stream
' for game streaming project, and has
applied
for
patent
for game
controller,
and it has been
rumored
to announce its own game streaming service, but finally PC, smartphone, etc. We announced cloud game service '
Stadia
' which can play game by streaming from tablet, TV.
Google unveils Stadia cloud gaming service at GDC 2019-The Verge
https://www.theverge.com/2019/3/19/18271702/google-stadia-cloud-gaming-service-announcement-gdc-2019
Google Stadia Hands-on Impressions From GDC 2019-GameSpot
https://www.gamespot.com/articles/google-stadia-hands-on-impressions-from-gdc-2019/110-64656594/
Stadia Official Reveal: The Future of Gaming from Google-YouTube
Introducing Stadia from Google-YouTube
Google announced 'Stadia', a cloud game service, at
GDC 2019
, a game developer conference held in San Francisco, USA. Google CEO Thunder Pichai talks about having ambition to allow Google to stream games on any platform, and Stadia is a service that can stream games from the cloud to Chrome browsers, Chromecasts, and Pixel devices. It will be. The service is scheduled to start in the whole of 2019, and will initially be offered in the United States, Canada, the United Kingdom, and Europe.
The role of Stadia is described by
Phil Harrison of
Google who worked for Sony and Microsoft. Google has already tested in January 2019 streaming '
Assassin's Creed Odyssey
' via Chrome via '
Project Stream
', working with the gamers who participated in these tests and YouTube to expand Stadia It is clear that it is a policy to
Google is showing a demonstration of Stadia on YouTube. The content was that by watching the live video of YouTuber's broadcast and pressing the 'Play Now' button displayed there, the game could be played immediately on Stadia. Harrison says 'Stadia will be playable soon,' and there is no need to download and install the game, and at the start of the service you can play the game freely between PC, TV, smartphone and tablet. It will be playable.
Stadia can be played with existing USB controllers, but we have also announced dedicated Stadia controllers to enhance the gaming experience. It is a very common key layout controller, but there is a button with Stadia logo between the two joysticks.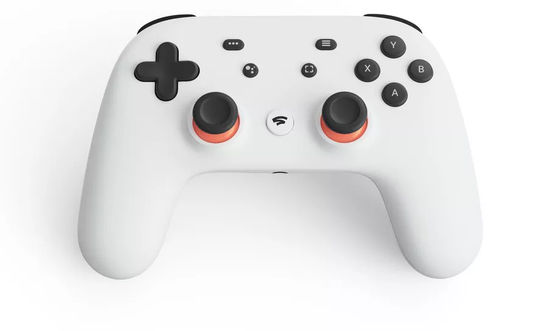 The dedicated controller will be connected directly with the use terminal and Wi-Fi to link with the cloud game session. Overseas media The Verge states that "This connection method seems to be useful when changing the terminal for playing latency and games to another terminal", and it is always anxious when playing a game by streaming It is likely to play a role in reducing the latency. In addition, with the dedicated controller, you can record the game play video with one button and share it on YouTube, or use another button to start the Google assistant.

In addition, Google leverages the global infrastructure of the data center to enhance the gaming experience at Stadia and is working to ensure that servers are as close as possible to game players around the world. To effectively stream the game over the internet you need to reduce latency, which is an important factor in playing the game comfortably on Stadia. To that end, Google has partnered with AMD to create a custom GPU for the data center, and this chip has a performance of 10.7
TFLOPS
, which exceeds the 4.2
TFLOPS of
GPU mounted on PS4 Pro and 6
TFLOPS of
Xbox One X And that. Also, each instance for Stadia will be equipped with a custom 2.7GHz x86 processor.
Google will support gameplay at up to 4K and 60 fps at Stadia's launch, and plans to support up to 8K and 120 fps in the future.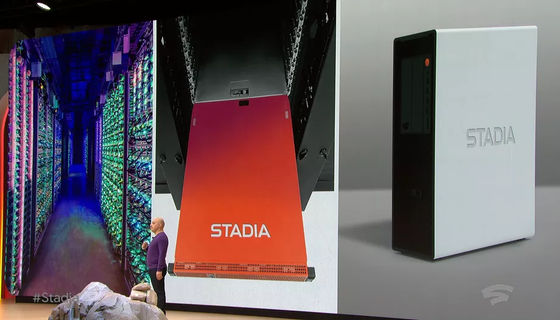 One of the first games released by Google's Stadia is 'Doom Eternal', which supports 4K, HDR, 60 fps gameplay. The release date of Doom Eternal has not been decided yet, but it will be playable on PC, Nintendo Switch, PS4 and Xbox One. Stadia also enables full cross platform play, allowing developers to adopt cross platform multiplayer modes and cloud save features.

Google also reveals that game developers can apply their own design style to game titles delivered on Stadia. This is a machine learning-based style transfer tool that makes it possible to easily imitate the style at each video frame of the game, as shown in the image below by Vincent van Gogh's It is also possible to apply the Starry Night style to the entire game.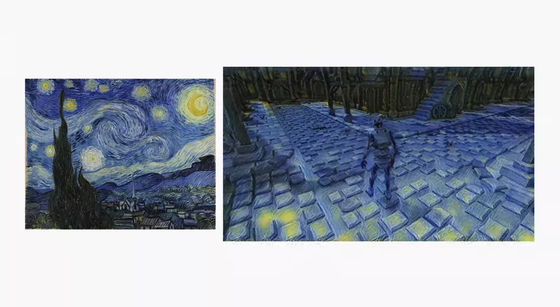 In addition, Google also offers what's called 'State Share,' which allows players to easily share the moment of the game, which can significantly change the way they share games so far It will be like that. Q-Games founder Dylan Cuthbert says that he is building the whole game around this 'State Share' feature.

Google understands that YouTube is the key to promoting Stadia. With over 50 billion hours of game-related content being watched on YouTube in 2018, Google has designed Stadia users to be able to easily upload game recordings and gameplay highlights to YouTube. In addition, it seems that Stadia's cloud play function includes a lobby system that enables matching with YouTube content creators.

In addition, Google has launched a new, unique game studio called Stadia Games and Entertainment to create Stadia's exclusive titles. Jade Raymond, a game industry veteran who has worked for companies such as Sony, Electronic Arts and Ubisoft, is promoting this project. Also, Google says that more than 100 game studios have already obtained development kits for Stadia, and more than 1000 creators and engineers are working on titles for Stadia.

However, Google has not stated at all when the Stadia service will start or the price.

You can see the keynote speech that Google presented with Stadia in GDC 2019 from the following movie.

Watch Google's Stadia Event In 5 Minutes-YouTube