Steven Spielberg claims to eliminate streaming work from the Academy Awards

by Charles ?????????

In the 91st Academy Awards, Alfonso · Cureon coach of "Green Book" awarded the work prize and "ROMA / Roma" director's prize was awarded. In addition to this, "ROMA / Roma" also won a foreign language film award and photography prize, but in response to this, formulation of a rule that Steven Spielberg will release the work to be released as streaming from the Academy Awards candidate It turned out that it was moving.

It's Spielberg vs. Netflix as the Post - Oscar Academy Wars Continue | IndieWire
https://www.indiewire.com/2019/02/steven-spielberg-vs-netflix-oscar-academy-wars-1202047846/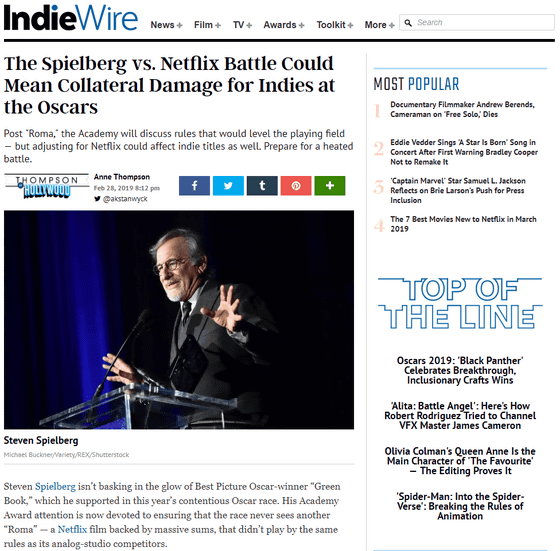 Director Spielberg admits the quality of the work to be released as streaming but is a different "television movie" from the theatrical release to the end. Even a wonderful work is not an Academy Award but an "Emmy Award" as a prize It is taking the position that it should be .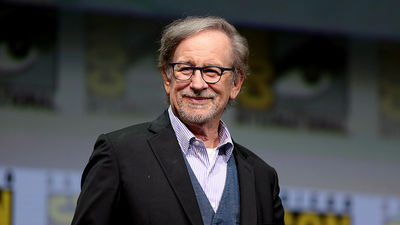 In the 2019 Academy Award, "ROMA / Roma" delivered by Netflix after short-term theatrical release won three awards, changing the rules of the Academy Award side and finally the streaming work It started moving in the direction to eliminate it.

According to the news site · IndieWire, there are the following six "complaints" from the standpoint of having the same opinion with Spielberg.
· Netflix is paying too much for the Academy Awards. , The theory that "ROMA / Roma" took over 50 million dollars (about 5.6 billion yen), while "Green Book" spent 5 million dollars (about 560 million yen).
· The strong "ROMA / Roma" push caused by this tormented off a distributor of foreign language movies. According to Sony Pictures Classics who was in charge of "Never Look Away" and "Capernaum" among works nominated for foreign language movie awards, almost no theater can be secured at the time of publication and most of the opportunities for an academy member who is eligible to vote are seen I could not make it.
· On the other hand, the theatrical release period of "ROMA / Roma" was only 3 weeks.
· Netflix does not disclose box office revenue.
· Netflix does not pay homage to "90 day theatrical release".
· Netflix public works are to be seen in 190 countries 7 days a week.

Among them, regarding the advertisement, the Netflix side argues that it is not a single piece but a budget for the entire marketing.

And on the official Twitter of Netflix Film, "We love movies, so that even people who do not have a movie theater or time will be able to reach it, everyone lives where they live To make movie makers share more works, these things are not mutually exclusive ", tweets are being made that claim the benefits of streaming publications to the limited space of movie theaters I will.

We love cinema. Here are some things we also love:

-Access for people who can not always afford, or live in towns without, theaters
-Letting everyone, everywhere enjoy releases at the same time
-Giving filmmakers more ways to share art

These things are not mutually exclusive.

- Netflix Film (@ NetflixFilm) March 4, 2019

Spielberg is planning to issue a plan to eliminate streaming to the board of directors to be held in April 2019, but not all movie directors are necessarily in line with Spielberg coach. Director Aiva Duvaney of "Glorie / march to morning" nominated for the 87th Academy Award Work Award and "13th - Constitutional amendment 13th" nominated for the 89th Academy Awards Documentary Film Award "Not all filmmakers are the same opinion, some people have objections like me," he insisted.

Dear AttoTheAcademy , This Is A Board Of Governors Meeting. And Regular Branch Members Can Not Be There. But I Hope If This Is True, That You'Ll Have Filmmakers In The Room Or Read Statements From Directors Like Me Who Feel Differently. Thanks, Ava DuVernay. Https://t.co/DFBLVWhiJj

- Ava DuVernay (@ava) March 1, 2019

Mr. Bruce Campbell starring Spirberg, who starred as a cult movie, said "Director of Spirberg" "ROMA / Roma" is not a television movie, it is a touching work anywhere, no longer a "platform" There is nothing to do with somewhere, please tweet "Please make a movie with Netflix."

Steven Spielberg is gunning to make sure Netflix never has another Oscars contender like Roma.

Platforms have become irrelevant. Make a movie with Netflix. Https://t.co/0 gvhlYhJs 7

- Bruce Campbell (@GroovyBruce) March 2, 2019