'GIGAZINE Manga Award' Started recruitment in March, 2019 & Top drawing making looks like this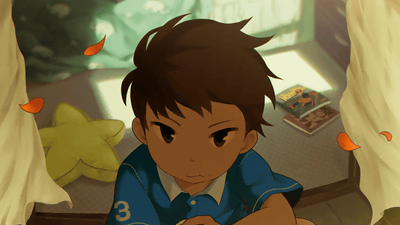 Including comfortable warmth, new life, tightening the chest and end and farewell, various seasons come. Even GIGAZINE seems to be able to deliver a new story to everyone. As fun and happiness come to many people as much as possible, the GIGAZINE Manga Award and GIGAZINE Manga will take another step again, so you can join us as a creators or as a reader I am glad.

The first story of a new full color comic "Mage Ordination Exchanged Diary" announced last year can be announced soon. I have kept you waiting very much, thank you again for your continued acceleration of the GIGAZINE label. We have already made pre-release to the GIGAZINE secret club (GSC) members, and we plan to deliver such items as pre-release and private release in the future. Be sure to become a GSC member on this occasion, enjoy the story as soon as possible, and participate as a GIGAZINE Manga Award winner. For details and registration of GSC from here .

◆ Click here for the "GIGAZINE Manga Award" guidelines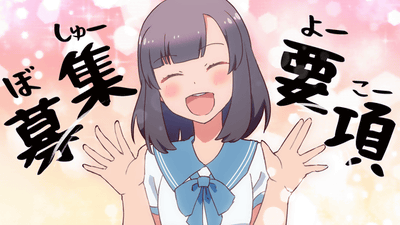 I have already read the application guidelines so I applied for it anyway! Please apply from the application form .

◆ Click here for original scenario application guidelines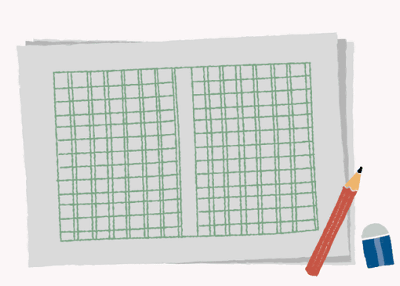 If you are planning to apply in a novel or screenplay format, please check the application guidelines from the link above.

◆ Top picture and illustration recruitment for the Grand Prize recruitment article - I am also looking for "Top picture" illustration of the "GIGAZINE Manga Award" published in this article. Click here for application guidelines




◆ March 2019 GIGAZINE Manga Awards Top Illustration
I got NOEYEBROW Mr. NOEYEBROW for illustration of the top picture in March, 2019. The atmosphere feeling warmth is very comfortable, yet it is a wonderful piece that feels nostalgic. What brought you a boy who came to see a sparrow?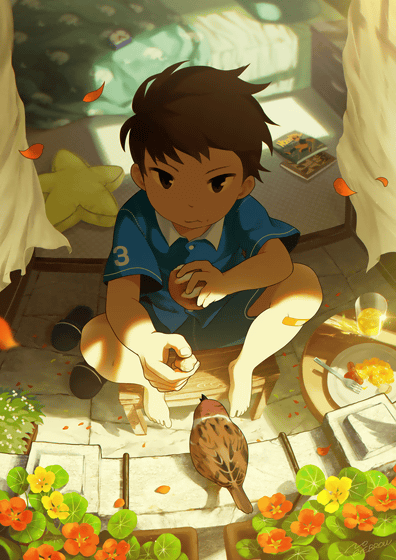 I got a comment from NOEYEBROW .

NOEYEBROW (No Eyebrow) who took charge of illustrations in March.
I draw illustrations focusing on boys.
I like the nostalgic scene that reminds me of my deeply remembered childhood memories.
As the warmer season comes soon, I expressed warmth with the theme of breakfast.


Below is the making of illustration.

NOEYEBROW "I will draw the image roughly in monochrome.The theme is determined to be" breakfast "" veranda. "Recently I like shooting a big shadow on the character and I like a weak wide-angle lens, so this time In such a constitution, a sunny veranda, a shadow falling sharply on the roof and a big shadow, a character and a background will assimilate with a shadow at that time, so put sunlight from the back window I gave an effect to compare my feeling. "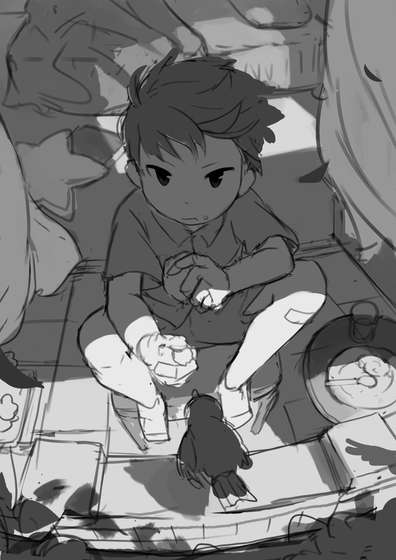 NOEYEBROW "Since the composition and light and darkness are decided, we add a temporary color and we will gradually ride the colors we have imaged, so we decide the color scheme based on the yellow which has a little greenness in the morning as it is time for breakfast. It seems that the pajamas are good, so it's blue, so the whole is yellowish so you can make color difference here and make the character stand out. "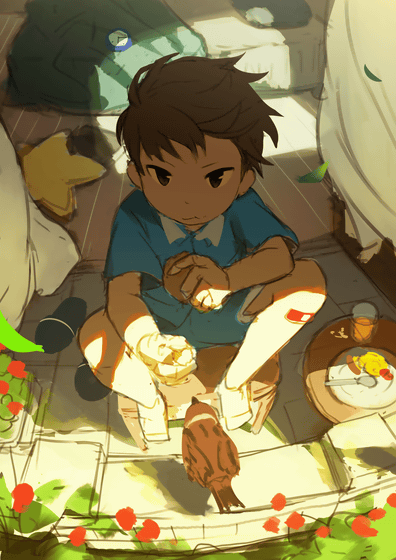 NOEYEBROW "Since I can arrange and composition most of the items, I will do a fair copy, I will draw in the decided part and add and scrape items while watching the balance.The perspective is also to some extent here I will fit it to be unnatural. "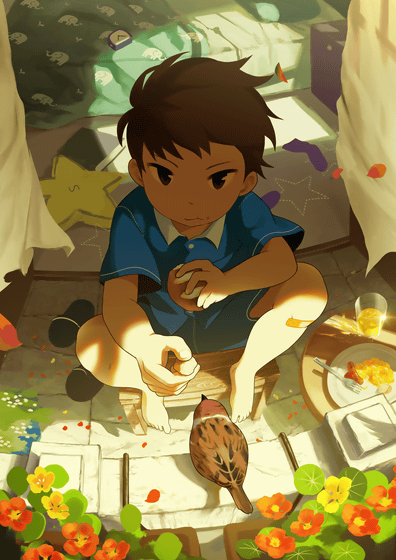 NOEYEBROW "I will arrange everything beautifully while paying attention to the size feeling and the purse.It will gradually raise the real feeling while using texture and brush for each texture etc. Finally it is completed by blurring the room in the back "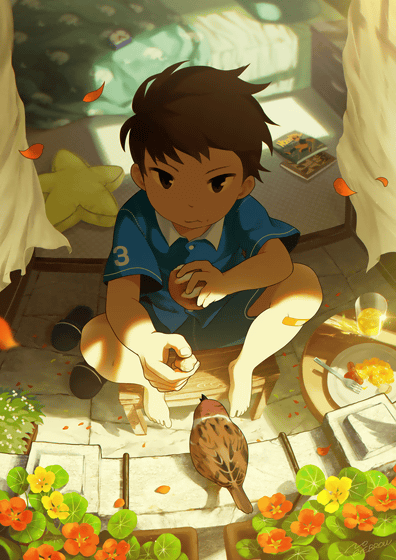 ◆ Top pictures / Illustrations of the Grand Prize Wanted Articles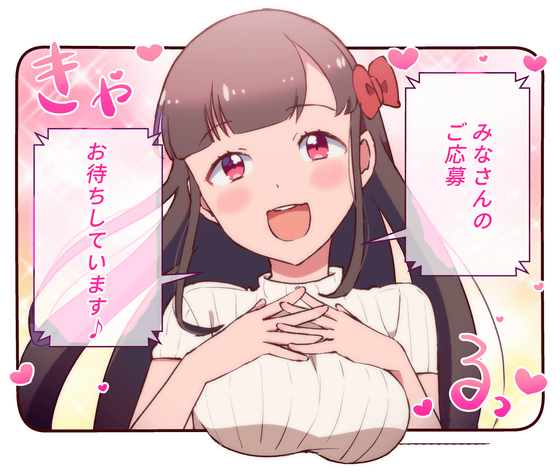 I'm looking for an illustration of "Top Painting" as published in this article. Please check the application guidelines of this article and contact us from the following self application form.

Click here (please select "Top picture / illustration of GIGAZINE Manga Grand Prize recruitment article" as the first option)

The top picture and making of past manga awards articles can be viewed from the following.

"GIGAZINE Manga Award" Started recruitment in January 2019 & top drawing making like this - GIGAZINE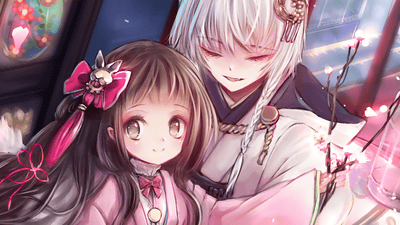 "GIGAZINE Manga Award" recruitment for February 2019 & Top drawing making looks like this - GIGAZINE



Illustrations of 2018 are collectively made into electronic books, so please have a look there as well.

GraphazinE top painting collection 2018 | GIGAZINE | Kindle store | Amazon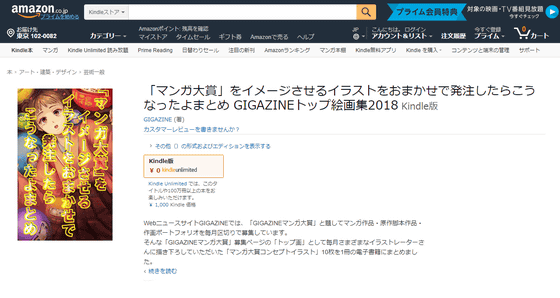 ◆ "GIGAZINE Manga Award" Guidelines for Application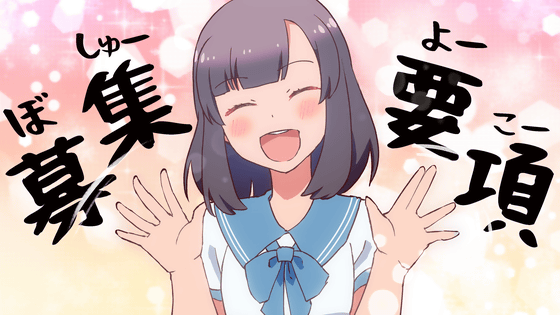 · Basic condition:
· Premise that even smartphones can read (open pears, vertical scroll standards)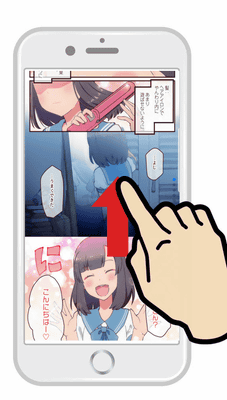 · Full color · Full digital (In case of black and white, it is treated as "Original")

· Completed manuscript of "First episode" freely in the genre and its making material . The making material includes character design, color setting, name, under drawing etc. Of course there are also applications from the first episode to the last episode.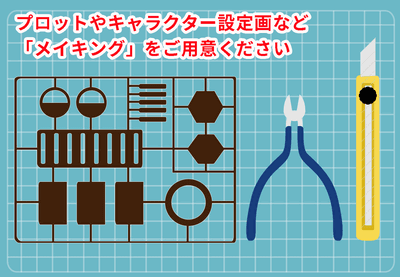 · Original format:
Please refer to " Princess and gamer " for aspect ratio, file size and resolution.

· Number of originals:
freedom. Any number of pages are OK.

· Others:
· No age restriction, underage procedures will be carried out so that minors can also clear under awards

· Primary creation already published by other media and platform by myself OK

· Although it was posted in a magazine, it was OK but it was OK or it was canceled with no circumstances on the way. Please do not give up.

· "Only drawing" is OK if you can show the URL of the portfolio and collection of works. For the passing through the 1st stage examination, we will actually draw on the trial original in the 2nd stage examination and we will go to the final stage of the ballot review after passing.

·The deadline:
Sunday, 31 March 2019, 23:59 59 seconds

· Review process: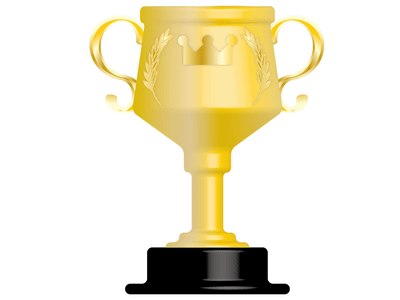 After the first selection by the editorial department, the following review process is scheduled.

Phase 1: Evaluation by closed environment that only GIGAZINE secret club members can view + Evaluation including making materials by editorial department ↓
Phase 2: Requests such as "plot to the final story" are additionally created, after review by the editor-in-chief. Looking at the potential of being able to draw until the end, if it can be determined that it will run to the end, it will be the final stage advancement.
↓
Final stage: posted on GIGAZINE, score evaluation from access analysis result by GIGAZINE reader + score evaluation by GIGAZINE secret club member + score by the editorial team to determine a grand prize winner

· Prize money: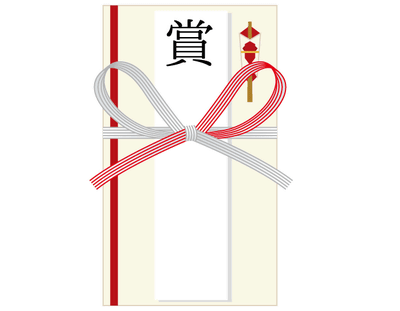 First of all, we received a prize of 10,000 yen for all incentives that passed through the first examination and were selected as the first stage.

Next, a prize of 20,000 yen was awarded as an incentive to all the members selected in the second stage.

And when it was selected as a prize winning work at the final stage, we awarded a prize of 100,000 yen.

※ Total amount of prize money is included in category not taxable, so minors should be okay, you can win. Even if there is no bank account, we will manage.

· Flow after winning
After publishing in serialized format at GIGAZINE, it will be converted into electronic books and sold on Amazon. We will pay the prescribed manuscript fee and royalties, respectively. GIGAZINE is responsible for selling and promoting e-books.

· Question reception form:
If you have any doubts about applying, please click here to contact us if you have any questions. If similar questions continue, we will summarize it as a FAQ, so please understand and cooperate.

· Manga Awards Application Form:

Click here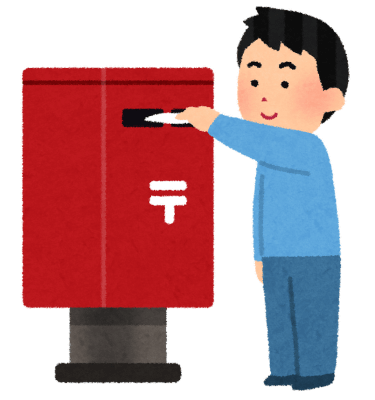 ◆ Original Writing Guidelines

· In addition to the first episode manuscript , prepare plots from the first episode to the last episode .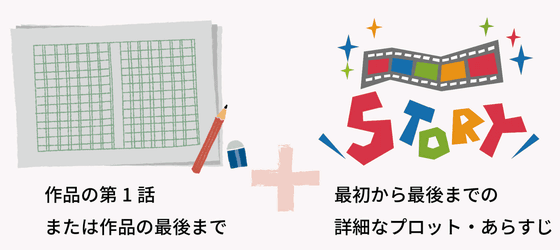 · In the first judging we will see the fun of a simple story and the completeness of one story. In the case of proceeding from the second judging to the final judging, we will judge "whether you can constantly create a script of the story until the last story" that was conscious of actually creating the original manga.

· In case of "only original" entry, please paste the text in Google Doc and then post the address of the shared link on the application form. In that case, please do not edit the document after the application.

Click here for application form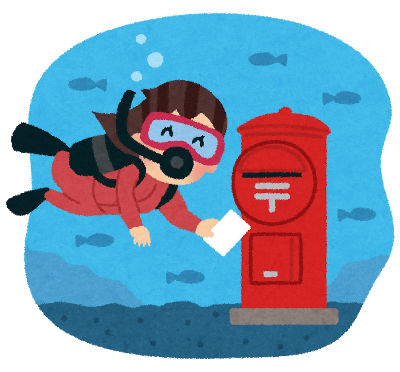 There is "GIGAZINE secret club (GSC) · closed review" in the selection flow of the manga award. Those who are members of the GSC members, of course not members yet, please take this opportunity to become a member of the GSC and witness the birth of future masterpieces. Register to GIGAZINE secret club from here .

Well then, we are waiting for the creators' entries from the bottom of my heart. Thank you.