'Twitch Plays Pokemon', which thousands of people celebrating the 5th anniversary play Pokemon at the same time, said Twitch's director took a major change in the live delivery Twitch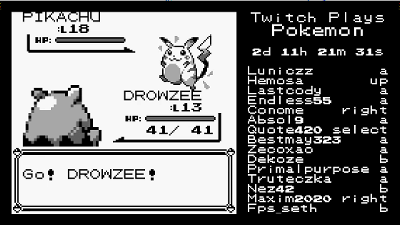 " Twitch Plays Pokemon " which started in February 2014 is that thousands of viewers play Pokemon at the same time on Twitch of the game live broadcast. Celebrating "Twitch Plays Pokemon" celebrating the fifth anniversary, Marcus Graham Twitch Studios ' director 'djWHEAT' is tweeted and Twitch Plays Pokemon sent the greatest tribute to Twitch It is.

djWHEAT (@ djWHEAT) | Twitter
https://twitter.com/djWHEAT

Twitch Plays Pokemon began five years ago - Polygon
https://www.polygon.com/2019/2/12/18221792/twitch-plays-pokemon-anniversary

"Twitch Plays Pokémon" uses thousands of players to play one Pokemon at the same time using Twitch bots. Based on the command entered in the chat, Pokemon Red is played, thousands of people send different instructions at the same time, so game play which can only be expressed as chaos is no longer expressed, attracting the attention of many users It was. Twitch Plays If you read the following article you can see how Pokémon just started gameplay was.

Thousands of players can simultaneously play "Pokemon" thousands of players playing together, playing death fight with Matisse - GIGAZINE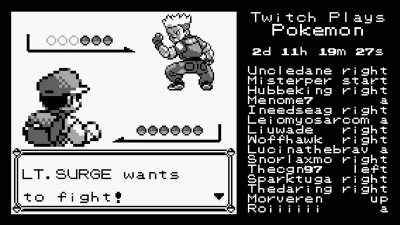 At one time Twitch Plays Pokémon that the number of simultaneous viewers exceeds 120,000 people will finally enter the Hall of Fame at last in about 16 days of play.

Pokemon which thousands of people were playing at the same time finally finished all the creatures, last battle of the masterpiece - GIGAZINE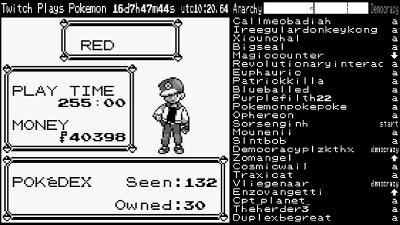 In addition, I got Mewtwo to fully complete the Pokemon picture book.

Thousands of "Pokemon" captures Mewtwo with simultaneous play and achieves complete species of miracles - GIGAZINE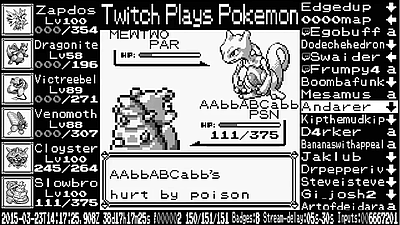 It is clear that Twitch Plays Pokémon was obviously different from other content delivered on Twitch. Technical efforts to improve the functionality of the chat bot by accelerating acquisition of many users also accelerate. However, as the number of viewers increased, it became increasingly difficult to judge "which buttons the bot should press", so in the distribution, the viewer's comments will be reflected in the game in real time "disordered state ( Anarchy "or" democracy (democracy) "that reflects the most frequently posted commands within a certain period of time. The two playing styles, Anarchy and Democracy, will have a dramatic effect on the interactivity of content and viewers on Twitch.

About Twitch Plays Pokémon like this, Tweet Studios director djWHEAT tweets as follows.

"Twitch was a completely different place just five years ago, why? Because until February 12, 2014 there was no small delivery called Twitch Plays Pokémon (TPP) that would break the world record in 2014 This delivery redefined the interaction, where a disorderly state and a democratic confrontation occurred, please never forget that TPP changed Twitch, "TPP said that Twitch's He said that it became quite impressive to change her way of thinking.

A Thread. Exactly 5 years ago, @ Twitch was a different place. Why? Well it was not until February 12th, 2014 when a little stream / twitchplayspokemon broke world records, redefined interaction, and pit Anarchy vs Democracy. Never forget that TPP changed Twitch forever. Pic.twitter.com/4tc04K1Y5D

- djWHEAT (@ djWHEAT) February 12, 2019

In addition, "TPP has not only influenced Pokemon fans but also had a direct impact on Twitch, TPP has already shown that Twitch's media is already ripe for innovation and interactive It proved to be a new and exciting way to create content, "he asserted that the viewer created a new innovation called distributed content that can interactively work.

TPP not only inspired an entire generation of Pokemon fans, but it directly inspired Twitch wash (and still is) ripe for innovation, and that there are new and excited ways to create interactive content that has never been done before.

- djWHEAT (@ djWHEAT) February 12, 2019

In addition, I have tweeted that interactive distribution is required in the same way after the appearance of TPP.

For months after TPP happened, everyone wanted "the TwitchPlaysPokemon experience". This course is easier said than done, "Do Ninja / Drake again", this is not a moment that you just recreate. In fact, I've personally seen many fall to that trap.

- djWHEAT (@ djWHEAT) February 12, 2019

"TPP has created exercise, it has changed the way users think about" content that can be created on Twitch. "Furthermore, it changes the idea of" viewer's impact on experience on Twitch " So Twitch has defeated the game so far as we made impossible possible, "says the greatest tribute.

It changed the way they changed the way they changed the way they changed the way they were thought about the impact that a viewer could have on an experience. It also made the impossible seem possible, Twitch beat the game.

- djWHEAT (@ djWHEAT) February 12, 2019

Twitch Plays Pokémon is operated according to the seasonal schedule at the time of article creation, and already almost all the Pokemon related games have already been played. There seems to be a riot that anonymous authors who started Twitch Plays Pokémon abused some members and left the community in 2017, but after that another group managed the stream and managed to operate well A pattern that is going.

Also, as of the creation of the article Twitch Plays Pokémon is playing on Pocket Monster Fire Red 's modified version " Pokémon Burning FireRed ". You can actually participate in the play from the following URL.

TwitchPlaysPokemon - Twitch
https://www.twitch.tv/