AMD announces the world's first 7-nm process GPU 'Radeon VII', plenty of NVIDIA RTX 2080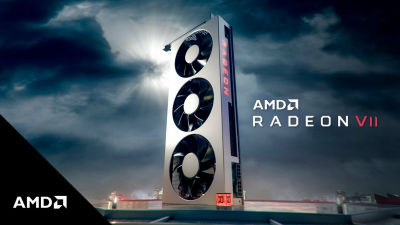 At the CES 2019 held in Las Vegas, USA, AMD 's Lisa Su was the keynote speaker. Among them, we announced the 7- nm process-manufactured GPU " Radeon VII (Radeon 7) " adopting the second-generation "Vega" architecture. Radeon VII has performance equivalent to rival NVIDIA's GeForce RTX 2080.

AMD President and CEO Dr. Lisa Su Reveals Coming High-Performance Computing Inflection Point in CES 2019 Keynote | AMD
https://www.amd.com/en/press-releases/2019-01-09-amd-president-and-ceo-dr-lisa-su-reveals-coming-high-performance

Radeon VII | AMD
https://www.amd.com/en/products/graphics/radeon-vii

The state that the GPU "Radeon VII" adopting the 2nd generation Vega in the keynote by Lisa Su of CES 2019 was announced can be confirmed after 53 minutes of the following movie.

AMD at CES 2019 - YouTube


Sue CEO who emphasized "AMD loves high-end games" has the new graphic board adopted by the 2nd generation Vega.



Like the conventional high-end model " Radeon RX Vega " series, the aluminum case is adopted, but the fan has been strengthened to 3 series.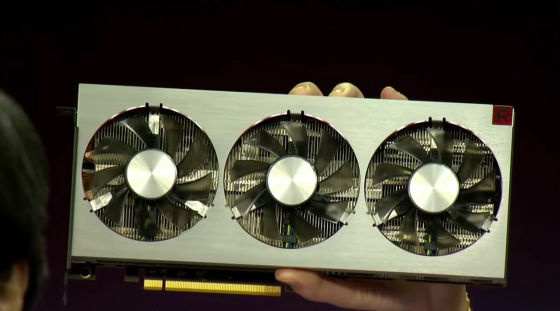 A new GPU manufactured in the world's first 7 nm process adopted a new name "Radeon VII". This is considered to be "VII" which is not only "GPU's first 7 nm process product" but also the second generation Vega's " V ega II ".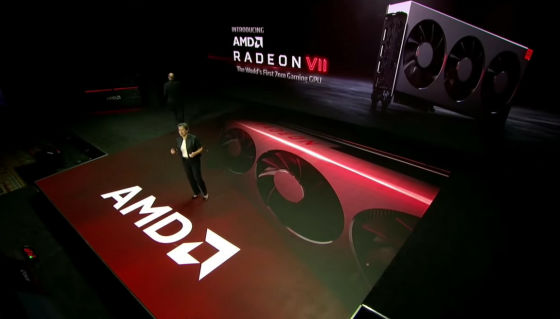 Radeon VII is equipped with 60 Compute Units, and the performance is improved by 25% with the same power compared with the 1st generation Vega architecture. Luxuriously equipped with 16 GB of HBM (High Bandwidth Memory) to achieve 1 TB / s memory bandwidth.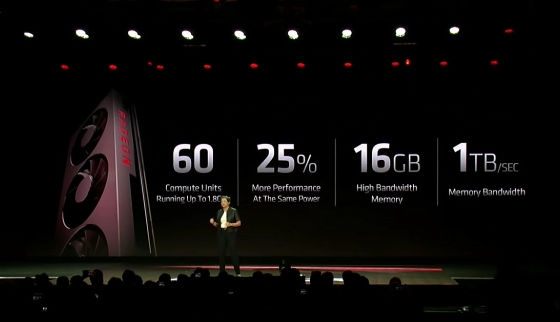 It is showing an improving performance as compared with "RX Vega 64" adopted by the 1st generation Vega.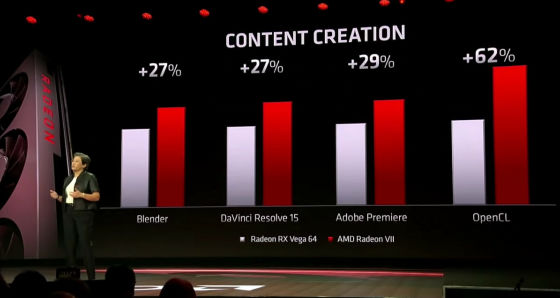 Gaming performance is also improved.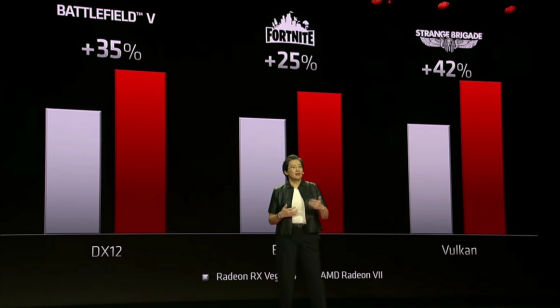 In addition, Radeon VII's assumed rival is that NVIDIA's Geforce RTX 2080.4 K resolution shows that the score of major games will be equal to or better than that of rivals.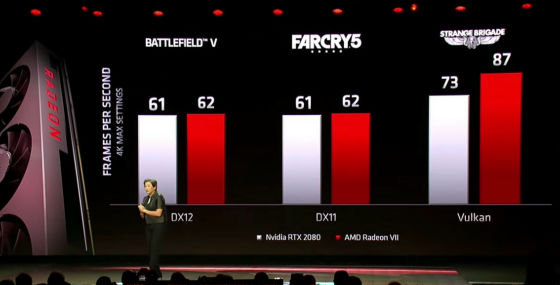 A game demo that combined Radeon VII with " 3rd generation Ryzen " also announced at keynote speech was also held.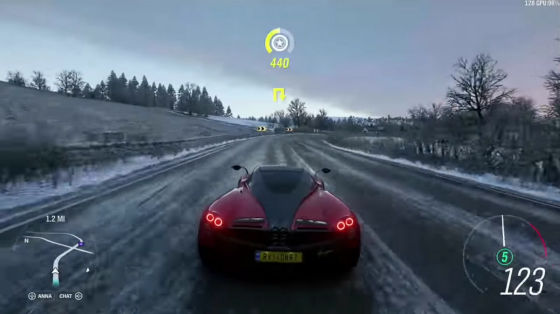 Radeon VII is scheduled to be released on February 7, 2019, with a price of 699 dollars (approx. 77,000 yen) and RTX 2080. It is about 700 dollars released on the 7th, and I can feel the commitment to "VII" here as well.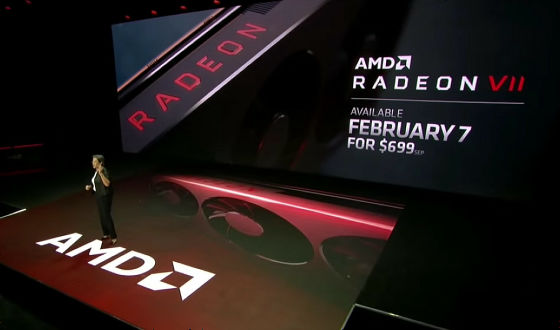 In addition, on the official page of Radeon VII, a movie showing chilla of the internal structure of the graphic board is also released.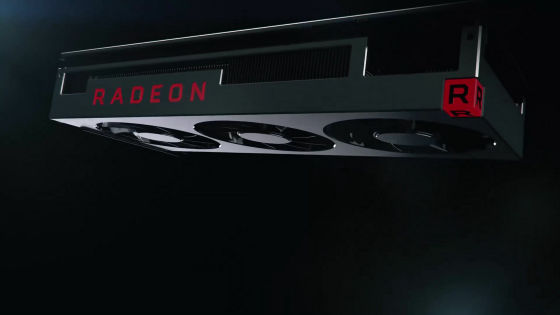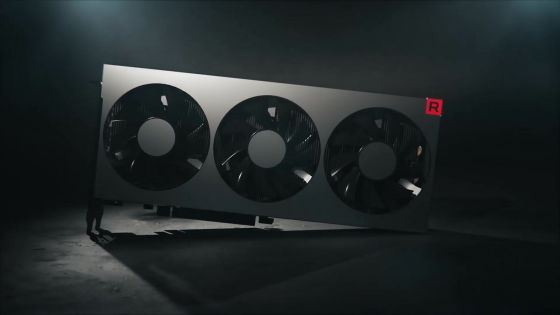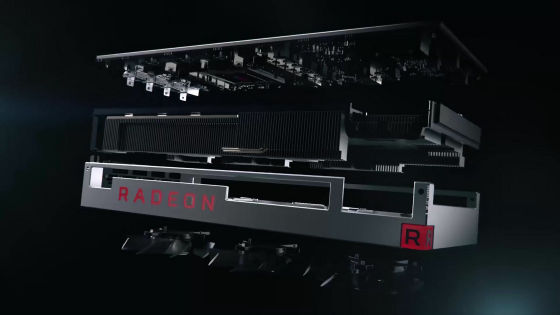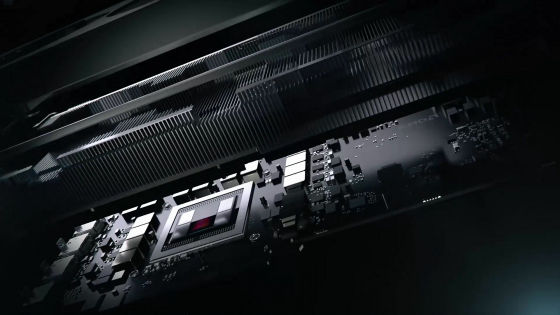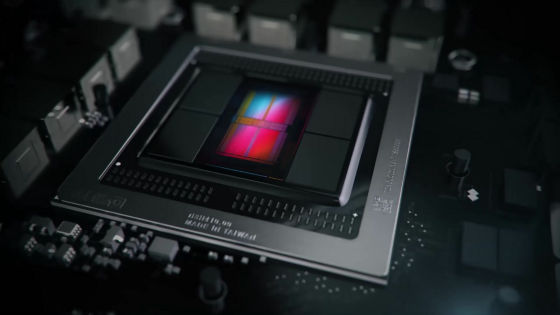 AMD plans to launch a campaign in which game software "Resident Evil 2", "Devil May Cry 5" and "Tom Clancy's The Division 2" will be bundled free for a certain period of time after release from Radeon VII.

AMD Radeon ™ VII: World's First 7 nm Gaming GPU - YouTube