Approximately 30% of goods sold at online shopping are being returned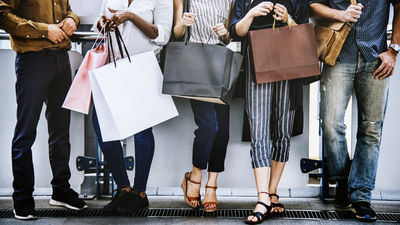 by rawpixel

Amazon received the largest order ever in the 2018 holiday season. According to research firm eMarketer, online sales for the holiday season were $ 123.39 billion (about 13.7 billion yen). However, on the other hand, it is said that about 30% of these items, that is, 37 billion dollars (about 4 billion yen) worth of items are returned items.

Returned goods are a problem for retailers, resellers are cashing in
https://www.cnbc.com/2018/12/13/returned-goods-are-a-problem-for-retailers-resellers-are-cashing-in.html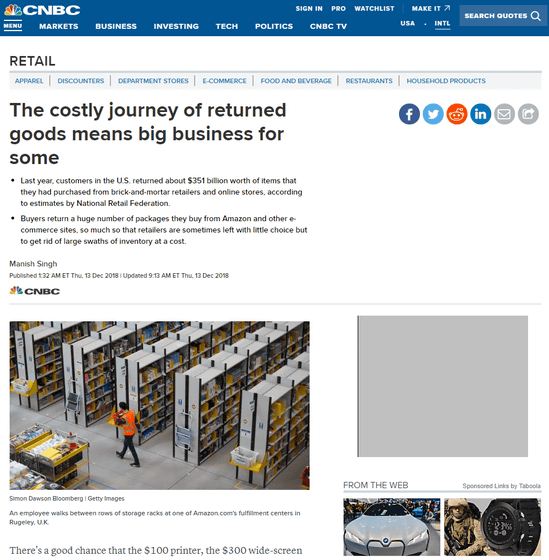 According to estimates by the National Retail Industry Association (NRF), the total amount of items "returned" in the United States in 2017 is $ 351 billion (about 38.8 billion yen). Mr. Jason Del Ray, familiar with Amazon and e-commerce, said Revolve, which is selling clothing online, had net sales of $ 400 million (about 44 million yen) in 2017, Has reached $ 385 million (about 42 million yen).

Want to know how operating an online store can be expensive as physical retail?

(Thx to my friendly tipster) pic.twitter.com/dcY3RYHi 3k (Thx to my friendly tipster)

- Jason Del Rey (@ Del Rey) October 5, 2018

If there is a return in online mail order, retailers need to arrange variously, it will cost money and time and effort. In order to offset this cost, retailers are working with resellers and handling returned goods and so on.

In the case of a reseller · B-stock which is one example, the number of items to be handled is 70 million. Mr. Howard Rosenberg, the founder of the company, has a long history as a general manager of corporate business on eBay.

In addition, Optoro, headquartered in Washington, DC, is a provider of services to regain retailers' return losses, and Blinq.com, which directly sells returned "second-hand goods" for consumers, We operate Bulq.com which conducts transactions. In the case of Blinq.com, there are cases where used Apple products are sold at a price of 86% off the list price.

These problems are spread not only in the United States but also in other countries such as India. According to Jordan Kilburn who began retailing at Amazon from 2017, the second-hand market is expanding over the past two years, especially Amazon and eBay. Mr. Kilburn did not show concrete figures, but says that many people trying to sell on Amazon and eBay purchased by influence of viral videos on YouTube.