About the outflow of 'Kingdom Hearts III' picture / video Tetsuya Nomura Director calls attention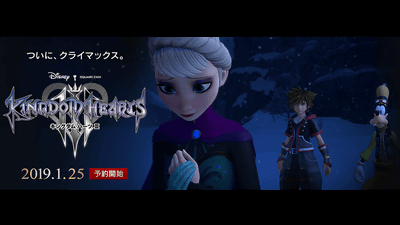 Towards the release of Friday, January 25, 2019, just as the opening movie trailer just released the game " KINGDOM HEARTS III (KINGDOM HEARTS III) ", there was a leakage of images and images from the official A call to "Do not share information" is being done.


Hello. Although it may be surprised with a sudden comment, since there was malicious activity abroad, I will comment. Thanks to those who already know, I have kept you waiting due to uneasy thoughts but thank you for reading my blog @ Nomura # _ KH pic.twitter.com/MJKwAaN 4 LW

- Kingdom Hearts (@ _ KINGDOMHEARTS) December 16, 2018
An important message for # KingdomHearts III from Director Tetsuya Nomura: pic.twitter.com/j9aVRFTS5B

- KINGDOM HEARTS (@ KINGDOMHEARTS) December 16, 2018

The official statement is the director Tetsuya Nomura's name. The circumstances and circumstances that Kingdom Hearts III that is supposed to be before the release is circling on the net have already been grasped already, and a call is made that we want you not to share this leaked image and video.

According to the statement, since epilogue and secret are distributed at a later date, it is said that there is nothing to be revealed before the launch, this point can be said to be a wonderful preparation.

According to overseas net users, this time there seems to be someone who steals the software itself from the distribution route, not the outflow of the form "data was extracted". This person got about 30 books and said it is selling for 100 dollars (about 11,000 yen) at Facebook Marketplace.

Full version of Kingdom Hearts III appear to leak out into the wild 1.5 months before release: Games
https://www.reddit.com/r/Games/comments/a6fcwi/full_version_of_kingdom_hearts_iii_appears_to/

People who are upgrading packages for Xbox One and images during installation.

Heads up, Kingdom Hearts fans:

The full version (!) Of KH 3 appears to be out in the wild (some screenshots and videos exist that I will not share here)

But yeah, be careful on both social media and YouTube pic.twitter.com/6QKhu31IaZ

- Nibel (@ Nibellion) December 15, 2018

It is revealed to Nomura Director himself that development has already been completed as of November 20 (Tue) 2018. Because it was completed earlier, there is something that can not be said to have drained out quickly.

Good evening. It is already a long version of a trailer which is already flowing in movie theaters overseas so we will release it this time, so it is an English voice. It is under construction separately for Japan. Actually the development work has already been completed. It would be greatly appreciated if you could play 1.5 + 2.5 and 2.8 before release. See you next month @ Nomura https://t.co/yuRCM1KAE2 # _ KH pic.twitter.com/zON67LMJn7

- Kingdom Hearts (@ _ KINGDOMHEARTS) November 20, 2018

The release date of Kingdom Hearts III is ' January 25, 2019 (Fri) '. Please bear with me for another one and a half months.
in Game, Posted by logc_nt