Google's Hangouts chat tool 'Google Hangouts' plans to move to 'Hangout Chat' and 'Hangout Meet'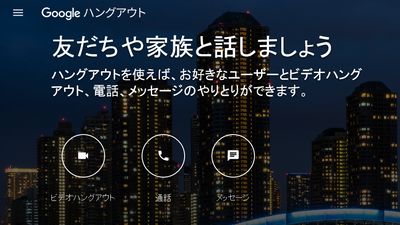 9to 5 Google, a media that sends information about Google about Google Hangouts , Google's free communications application, reported that "Google Hangout will end in 2020". Scott Johnston , product leader of Google Hangouts for this report, argues that "Google Hangouts services are not completely closed".

Source: Google Hangouts is shutting down in 2020 - 9to5 Google
https://9to5google.com/2018/12/02/google-hangouts-shutting-down/

9to5 The content reported by Google is that Google Hangouts will end in 2020 and become one of the many services Google has abandoned. In response, Mr. Johnston said, "This news report is not a decision to end Hangouts, and existing Google Hangouts users are either" Google Hangouts Chat "or" Google Hangout Meet " We will upgrade to "on Twitter."

https://t.co/QgYfj03ADn

You can do better. You can do better. Hey @ hallstephenj , I run Hangouts and this is pretty shoddy reporting. No decisions made by about Hangouts will be shut down. Hangouts users will be upgraded to Hangouts Chat and Hangouts Meet. Your source is severely misinformed.

- Scott Johnston (@happyinwater) December 1, 2018

"Hangout Chat" and "Hangout Meet" are services in Google's business-improvement productivity tool " G Suite ". Hangout Chat is a service that provides a messaging platform for teams, each chat room supporting up to 8000 members. Meanwhile, Hangout Meet is a business-use conferencing tool that allows you to make video conferences with a member in a remote location.

According to Johnstone 's remarks, Steven Hall , Editor - in - Chief of 9to 5Google said, "We've been using Hangouts that have been used for regular users in Hangouts Chat and Hangout Meet for enterprise products that have distinct needs How do you migrate? "Asked more detailed explanation on Twitter.

Hey Scott, will update my report, but I stand by my sourcing. Would you be able to elaborate on exactly how legacy Hangouts users will be "upgraded" to Hangouts Chat and Meet, since those are entirely separate enterprise products that fill different needs?

- Stephen Hall (@ hallstephenj) December 1, 2018

In response, Mr. Johnston calls Hangouts Classic as "Hangout Classic", "Although it will definitely end Hangout Classic, it will not support features such as product messages and video calling There is nothing. "

2 / So while that will result in the eventual shut down of Hangouts classic (as we now call it), it does not imply we are ending support for the supported case supported by the product: messaging and meetings.

- Scott Johnston (@happyinwater) December 1, 2018

Also, "Your comment that Hangout Classic has a distinct needs from Hangout Chat and Hangout Meet represents a poor understanding of the product," said a user of Hangout Classic Mr. Johnstone seems to think that there is no major problem even if you are going to immigrate to Hangout Chat or Hangout Meet.

3 / As per your comment about the products being "entirely separate enterprise products," this apps are used, consumers, enterprises, schools, governments, and the like.

- Scott Johnston (@happyinwater) December 1, 2018

However, at the end of the tweet, Johnston acknowledged that his claim can not be completely objective, "Hangout is my product and my argument is strongly biased." It is. And he said that he is not Hall or Johnstone, but a user of Hangouts to make a final decision on a series of events.

Everything else is just talk. / FIN It's my end, neither you, nor I will make this judgment.

- Scott Johnston (@happyinwater) December 1, 2018