How to avoid getting your iPhone low speed unintentionally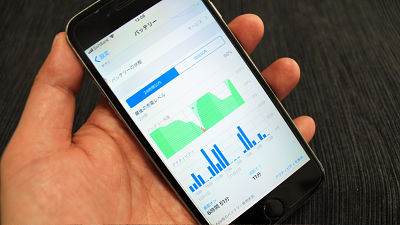 The topic of "The iPhone has its processing speed falling from the stage of falling one year " which became clear in 2017 attracted a lot of people's interest. This was a measure to prevent the terminal from shutting down suddenly due to deterioration of the battery's performance, but it became clear that intentional performance degradation also occurred in the iPhone X / 8/8 Plus which appeared in 2017 On the iPhone other than the latest model, the day will come down to lower speed. This speed reduction can be disabled in the setting menu.

It goes without saying that a power supply is necessary for the iPhone to operate, but the built-in lithium ion battery gradually deteriorates performance while continuing to use. As described in the following Apple page, "As the battery deteriorates, the change also appears in the performance of the iPhone due to the influence," As you said, as you continue to use the weak battery with aged deterioration, The battery may not correspond to the increase of consumption, and the terminal may shut down.

In order to avoid that problem, Apple adopts a way to lower the performance peak by deliberately slowing terminal performance. This feature was released as a beta version on iOS 11.3 and was officially adopted in iOS 12.1. At the time of the official release, this function is incorporated in iPhone 6/6 Plus, iPhone 6s / 6s Plus, iPhone SE, iPhone 7/7 Plus, iPhone 8/8 Plus, iPhone X.

iPhone battery and performance - Apple support
https://support.apple.com/en-US/HT208387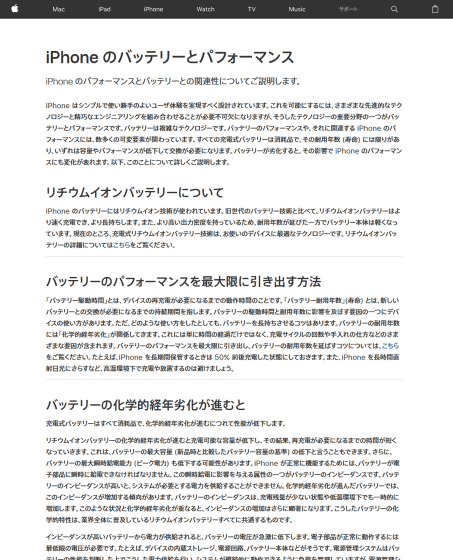 In the iPhone 6, iPhone 6 Plus, iPhone 6s, iPhone 6s Plus, iPhone SE, iPhone 7, iPhone 7 Plus, iOS dynamically manages the instantaneous peak of performance to make it possible to continue using iPhone , It is designed to prevent sudden shutdown. By the way, this performance management function is specific to iPhone and does not apply to other Apple products. In iOS 12.1 and later, this feature is built into iPhone 8, iPhone 8 Plus, iPhone X, but these models are more advanced in terms of both hardware and software, so the impact of performance management It may be inconspicuous.

The low speed is one of the criteria as to how much deterioration has progressed from the initial state battery capacity. For terminals with a maximum capacity of 100%, it says "Your battery currently supports the standard peak performance" as follows ... ...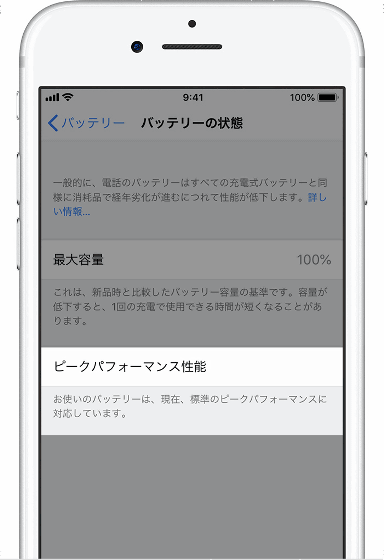 For terminals that have suffered a sudden shutdown in the past due to reduced capacity, "Performance management has been applied" is displayed as below, and low speed is enabled.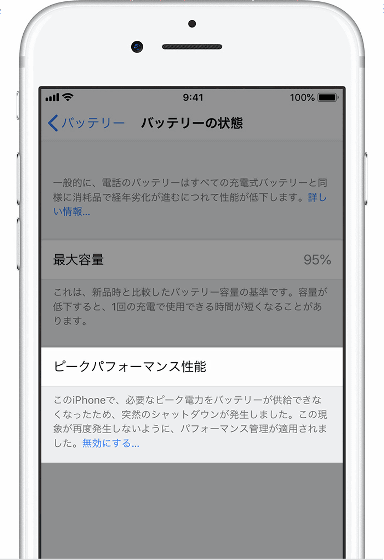 In addition, if the capacity is lowered, a message urging the battery exchange will be displayed as below.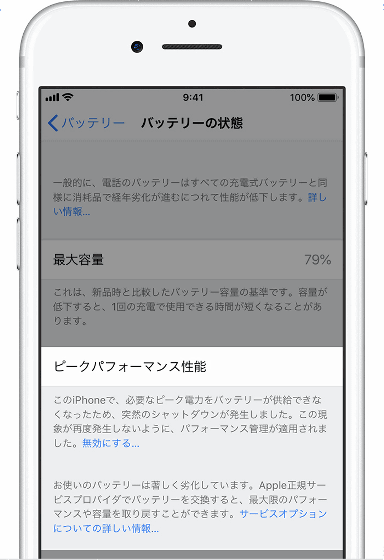 I actually found the iPhone 6s with the iOS 11.4.1 installed, when I looked for the corresponding model in the editing department. If you want to disable this function, you can turn it off from the setting menu. To actually turn off, first tap "Battery" from "Setting" menu.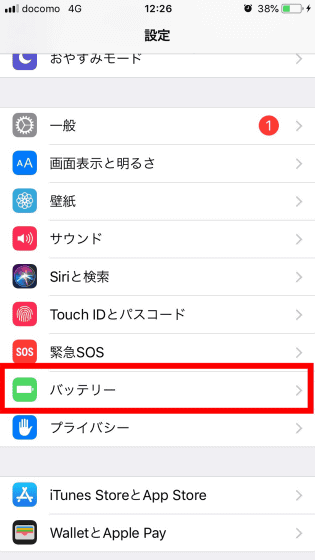 Then tap "Battery condition". As mentioned earlier, since iOS is an older version, it says "(beta)".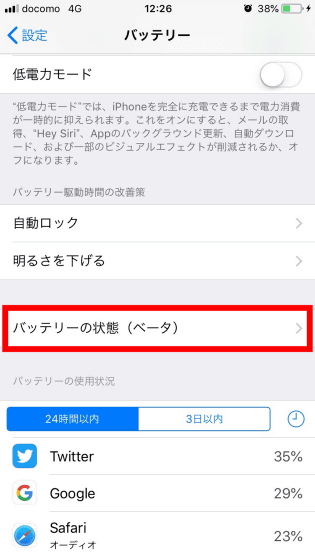 Tap "disable" displayed in the "peak performance performance" part ... ...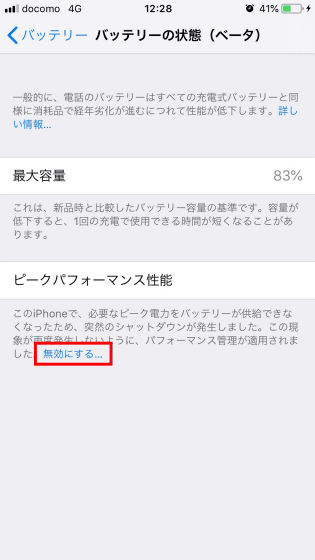 Since a confirmation dialog is displayed, you can disable speed reduction by tapping "Disable".



As also noted by Apple, this function is a measure to make the terminal stable. Therefore, it is necessary to understand well that there is a possibility that disadvantage such as shutdown increases by manually disabling the function.