Spotify announces all-time vest and the best of the past so far to commemorate 10th anniversary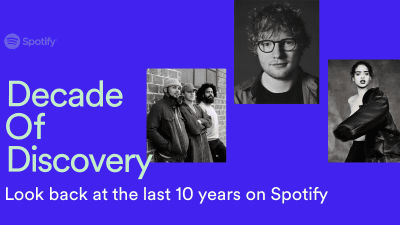 Spotify, celebrating its 10th anniversary in October 2018, announced the top 10 songs and artists most rebuilt in the past decade.

Celebrating a Decade of Discovery on Spotify - Spotify
https://newsroom.spotify.com/2018-10-10/celebrating-a-decade-of-discovery-on-spotify/

Spotify's annotated infographic shows the songs played the most by the year in the past 10 years and the top ten songs and top ten artists for the decade.



◆ Songs played most frequently each year



2008: The Killers "Human"
2009: Black Eyed Peas 'I Gotta Feeling'
2010: Eminem feat. Rihanna "Love The Way You Lie"
2011: Don Omar feat. Lucentozo "Danza Kuduro"
2012: Gotier, Kimbra "Somebody That I Used To Know"
2013: McMullmore & Ryan Lewis "Can not Hold Us (feat. Ray Dalton)"
2014: Farrel Williams "Happy"
2015: Major Lazer & MØ feat. DJ Snake "Lean On"
2016: Drake "One Dance"
2017: Ed Sheeran "Shape of You"

◆ 10 years total music ranking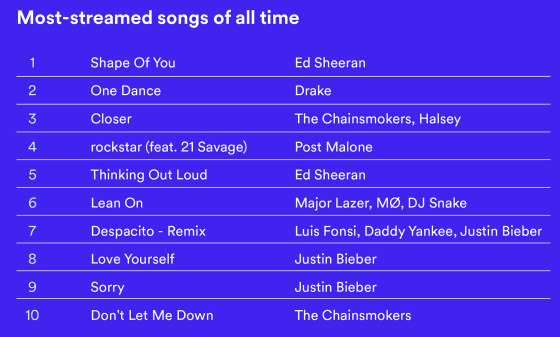 1st place: Ed Sheeran "Shape Of You"
2nd place: Drake "One Dance"
3rd place: The Chain Smokers "Closer (feat. Halsey)"
4th place: Post-Malone "rockstar (feat. 21 Savage)"
5th: Ed Sheeran "Thinking Out Loud"
6th: Major Lazer & MØ feat. DJ Snake "Lean On"
7th place: Luis Fonsi, Daddy Yankee "Despacito - Remix (ft. Justin Bieber)"
8th place: Drake "One Dance"
9th: Justin Bieber "Sorry"
10th: The Chain Smokers "Do not Let Me Down"

◆ 10 years aggregated artist rankings
1st place: Drake, 2nd: Ed Sea Ran, 3rd: Eminem, 4th: The Weekend, 5th: Rihanna, 6th: Kanye West, 7th: Coldplay, 8th: Justin Bieber, 9 Rank: Calvin Harris, 10th: Ariana Grande



As of August 31, 2018 Spotify can listen to more than 40 million songs, the created playlists are over 3 billion, and the total playback time of songs played on Spotify is actually 16.85 million 8080 It is equivalent to minutes.




Part of the song that entered the ranking can be watched with the following playlist.


Also, although it is not included in infographic graphics, Spotify also announces the following rankings.

Top 10 artists who have reached 1 billion views
First place: Rihanna (2013)
Second place: Geta (2013)
3rd place: Eminem (2013)
4th place: Kanye West (2014)
5th place: Avicie (2014)
6th place: Coldplay (2014)
7th place: JAY Z (2014)
8th: Katy Perry (2014)
9th place: Drake (2014)
10th place: Pitbull (2014)

◆ The world's most streaming played album
1st place: Ed Sheeran "÷"
Second place: Justin Bieber "Purpose"
3rd place: Drake "Views"
4th: Ed Sheeran "x"
5th place: Post-Malone "beerbongs & bentleys"
6th: The Weekend "Starboy"
7th place: Drake "Scorpion"
8th: The Weekend "Beauty Behind The Madness"
9th: Post-Malone "Stoney"
10th place: Kendrick Lamar "DAMN."

◆ Female artists streamed most in the whole world
1st place: Rihanna
Second place: Ariana Grande
3rd place: Shia
4th: Beyonce
5th place: Nicky · Mineage
6th place: Adel
7th place: Taylor Swift
8th place: Selena Gomez
9th: Katy Perry
10th place: Shakira

◆ Data of 2008 when Spotify began <br> Songs played most streamed: Coldplay "Viva La Vida"
Most streamed played artists: Lady Gaga Most streamed played albums: Coldplay "Viva La Vida Or Death And All His Friends"