Short movie sharing What is the reason why SNS 'TikTok' achieved great success?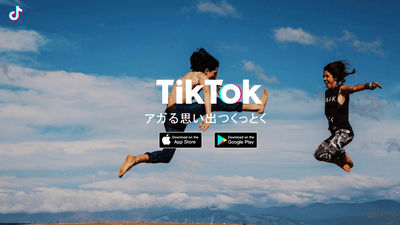 " TikTok " is an SNS that can share short movies of 5 to 15 seconds. TikTok became the most downloaded application in the world in the first quarter of 2018, and in June 2018, it recorded 150 million active users, mainly exploding in Asian region youth It boasts popularity. About the reason why such TikTok succeeded, the content analyzed by Mr. Sean Wang who is a Facebook engineer is released.

A Close Look into TikTok - Sean Wang - Medium
https://medium.com/@seanzhiyangwangsk/a-look-into-tik-toks-success-6c12ebae 572c

The movie posted on TikTok is 5 to 15 seconds in length, and music is flowing in the back of the picture. While movies may have hash tags, many viewers do not search for hashtags for other movies. The TikTok application has a function to view movies posted on TikTok, as well as a function to capture and edit movies for posting on TikTok.

Most of the movies to be posted are strong jokes, aimed at making people laugh. According to a survey actually conducted for TikTok users, 82.3% of users are using TikTok to see "funny movies", 56% of "a celebrity movie" is aimed at, " It is said that the target user is 54.1% for "other users' daily movies".

In order to post a movie to TikTok, you need to set the music that flows in the background. To make movies that entertain users for as long as 5 to 15 seconds, it is important to make maximum use of music to complement the fun of movies. Mr. Wang says "Music is a soul, it functions as a script and a template in TikTok", and the following movies, which are posted on TikTok and are becoming popular, are a good example.

trouble


In this movie, singing with the tune " I Knew You Were Trouble " by Taylor Swift , the aunt screams as he watches a banknote in accordance with the timing of the treble which is close to the scream of "Ah". The cut changes according to the timing of the scream, gradually the amount of money the aunt has decreases and it is also the point that it is becoming small change last.

Also, background music is effectively used in the following movies.

kid


In this movie, a certification photograph of a child is reflected without any movement for a while, but as the music changes in 10 seconds and the finger that holds the photo is shifted, a smart peasant is seen and a laugh I will invite you. In this way, music is playing an effective role in the popular movie on TikTok.

According to the survey, 77.8% of the users said that "users want to actually post movies" are "as if they wanted to make movies by watching funny movies" as TikTok said is. A user who wants to make a movie can search music to use for his movie in the application of TikTok. Also, you can see the movie clip produced using that music, so you can refer to "Are there many people who are using this music to make such movies?"

Many users often make movies with similar concepts in certain popular songs, "Musical and movie combinations are templating," Mr. Wang points out. When a user sees an interesting movie, he tends to try to produce a movie that managed the movie even by himself, and compared with making a new movie from 0, it is easy for a user to post a movie It seems to be attractive.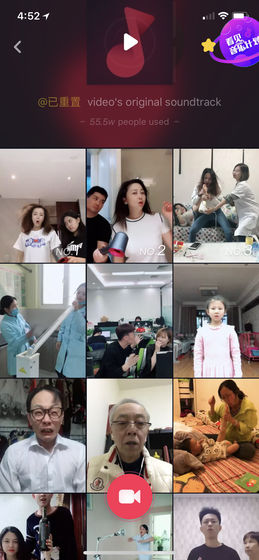 Also, many users have posted a movie on TikTok and have reported that they posted a movie to TikTok on other SNS. This means that TikTok is not limited to a community that has been completed in a narrow range, and users connecting with other SNSs will lead to the action of downloading a new TikTok application. 56% of users who actually downloaded TikTok replied to the investigation that "Because other people connected by SNS shared the TikTok movie, I also installed TikTok".

According to Mr. One's hypothesis, many TikTok users posting movies take TikTok as a "pool of movies" and are not trying to have many connections within TikTok. Many users want to share a movie among friends to the last, Mr. Wang thinks that there is not much obsession in terms of how famous it is in TikTok, what kind of account to follow in TikTok .

The specification of the TikTok application itself is becoming more interested in movies of accounts that have the power to appeal to more people than to follow a specific account that the user personally closely relates to. When you open the TikTok application, the first thing you see is the page on which "Recommended Movie" is displayed, not your own account page. The frequency with which the user who opens the app jumps to the individual account page is not so frequent.

Because the movie to be posted is very short, the TikTok user can open the app in a fraction of the free time such as 1-2 minutes and see a few movies on the first recommended page. That is, many TikTok users consume a lot of movies posted by distant users who have never seen their faces displayed on the recommendation page, and there is no need to follow a specific account in order to enjoy TikTok That's why.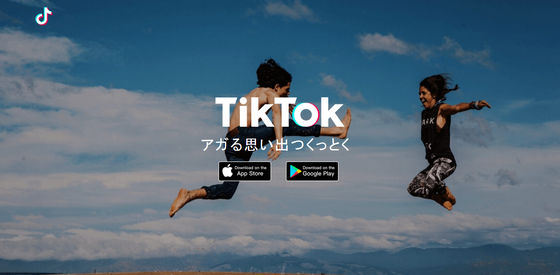 In the TikTok, the operation team first confirms the movie the user posted. The operation team not only checks whether the movie contains violence / sexual elements or not violate other contracts, but also checks "whether the movie is creative and diffusive" It is. Therefore, if the operation team judges that "this movie is interesting and influential," it seems that "boost" will take place that makes it easier to display on the recommendation page. Next, machine learning algorithms analyze the spreading situation and the user's attention afterwards, decide whether to increase the degree of further recommendation, to continue the current situation, or to reduce the exposure.

In other words, TikTok recommends a lot of diffusing movies by judging by human's hand whether the first exposure becomes large, and then leaving it to the algorithm. For machine learning, judgment of items such as "fun", "stylishness" and "creativity" of movies is difficult at the time when there is no user's viewing data, so human beings compensate for the sensory part which is a weak point of machine learning It is said that the role of machine learning is responsible for detailed analysis on the work.

Mr. Wang says, "Movie viewing is very easy and can be consumed in a short time" "Enhancement of templates that want to manage" "Influx from other SNSs" "Recommend an interesting movie even if there is no connection to the user Policy "," Recommendation system that combines analysis of human intuition and machine learning ", TikTok gained popularity. In addition, he says that TikTok's example can be used to teach the lesson that "consuming content by users will lead to creation of content by users".