I have eaten a new morning 'Tamagoyaki burger' of simple taste sandwiching thick-baked eggs with fluffy soup in Lotteria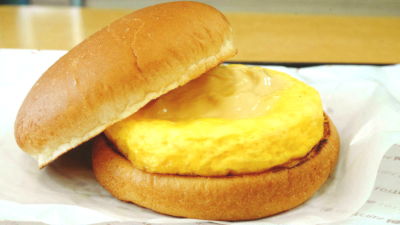 " Tamagoyaki burger " of the new menu was added to Lotteria's morning. It is a new burger that is perfect for the morning, sandwiched by the buns for hamburger sushi bread of fluffy pre-fried eggs like thick-baked egg sandwiches, together with the newly appearing " BOSS SHAKE " in the morning, Lotteria I ate with.

~ A new lineup is added to Lotteria's Morning new! ! ~ "Tamagoyaki Yaki Burger" released from Fri August 31, 2018! | News Releases | Lotteria
https://www.lotteria.jp/news/000210/

~ Lotteria × Suntory Coffee 'BOSS' First Collaboration Product New Appearance! ! ~ "BOSS SHAKE" Limited time sale from August 31st (Fri) in 2018! | Campaign | Lotteria
https://www.lotteria.jp/campaign/000242/

That's why I came to Lotteria. Please note that the "Tamagoyaki burger" for your purpose is only a morning menu, so you can order only at the Lotteria Morning Store . The Lotteria Morning Menu is provided from 10:30 am to 10:30 pm.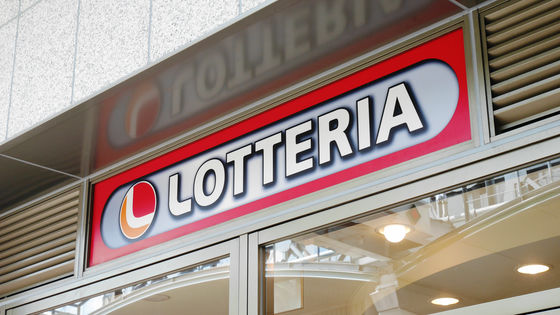 At the shop front of the morning service store, a poster of the following morning menu was posted, and in the meantime we found "Tamagoyaki burger".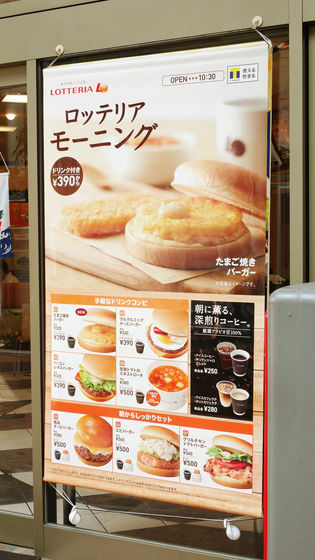 "Tamagoyaki burger" is a single item and tax included 320 yen, if it is a drink combination, 390 yen including tax. It was said that the drink combination also included shakes, so we ordered a new shake "BOSS SHAKE" together.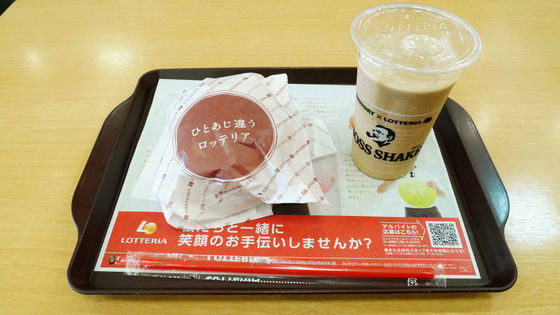 This is "Tamagoyaki burger".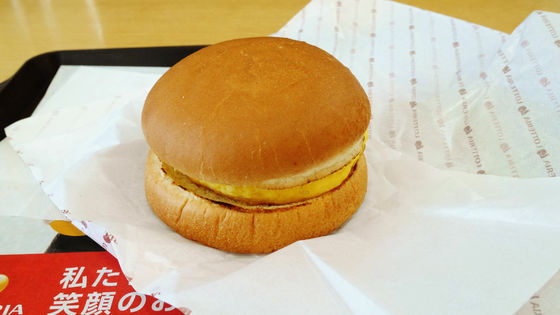 Tamagoyaki emerges from the bottom when shifting the buns.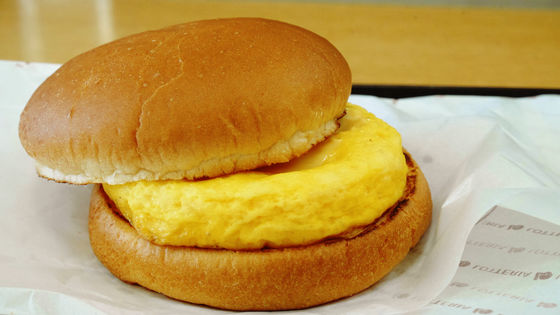 It is like this when you turn the buns. The simple ingredients are simple egg-baked only, the simplicity that only canonic sauce mayonnaise is used.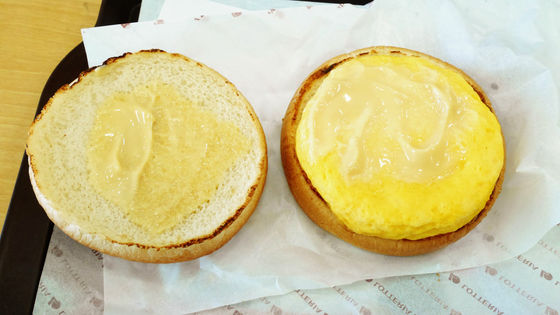 Tamagoyaki is a cylindrical shape with a low height like a patty.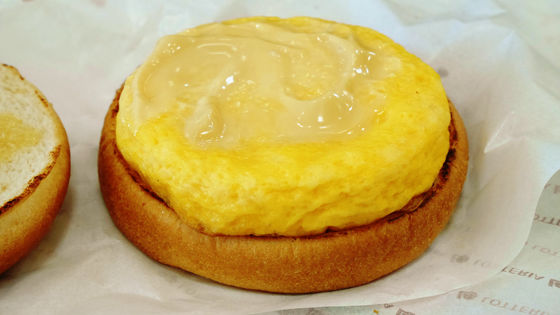 So, I try to eat it with Gaburi like a hamburger.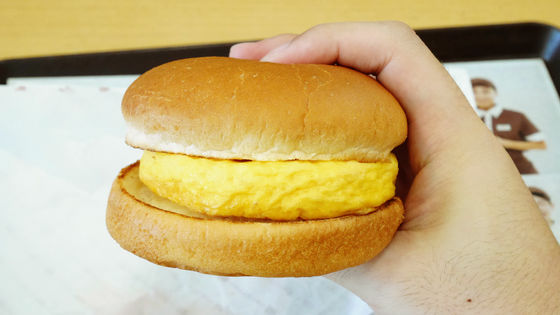 It is said that soup stock using the bonito made from Yaizu is added to eggs, but since the flavor of soup stock spreads firmly in the mouth surely, it is finished in a Japanese style flavor by no means than a bad Rice burger . Since the flavor of the soup stock is steady, there is no possibility that the taste is thin or not enough even if there is no needle sauce mayonnaise. Fast food is not easy to understand and easy to taste, exactly right for the morning menu. Until I tried to eat, I did not have any idea what it would be like "a hamburger only with eggs?", But when I bought it, I understood well that I arranged a thick-baked egg sandwich in a hamburger style.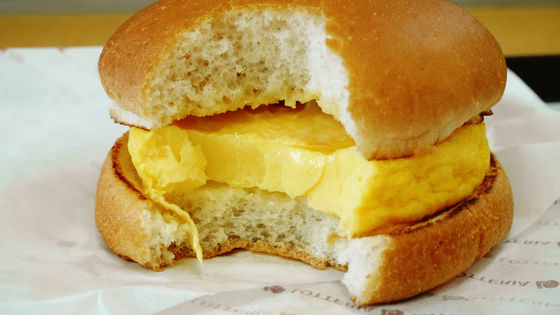 As you can see from the cross section of the egg baked, most of the air is not contained in the inside, and it is finished with a texture that is plump rather than fluffy. Also, as you go forward to eat towards the center, you will be able to feel the flavor of the topping sauce soy sauce mayonnaise firmly. There was almost no spicy stuff, it gently improved the salty of soy sauce of mayonnaise and mayonnaise.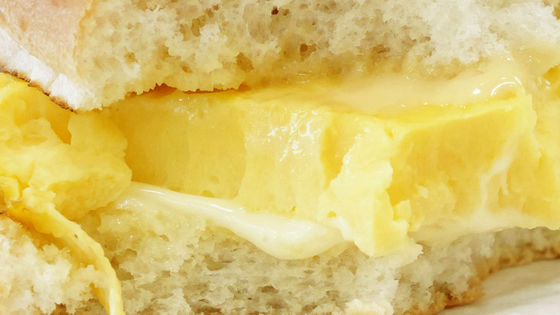 I will also drink the BOSS shake I ordered together. The BOSS shake was born in collaboration with Suntory 's canned coffee series' BOSS', and it is finished in a shake for adults using BOSS coffee using coffee beans from Indonesia and Ethiopia And that.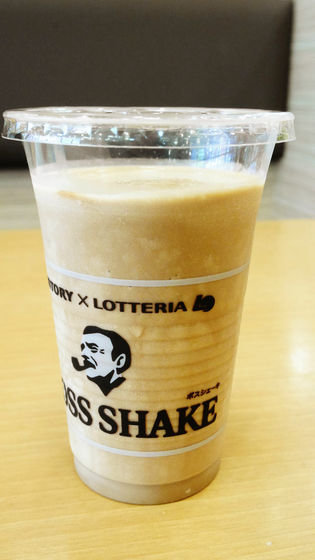 The sweetness is considerably modest when drinking, but the sense of milk of coffee and shakes is solid and the feeling of dessert is firmly felt. I do not feel the acidity and bitterness peculiar to coffee, so rather than "for coffee lovers" it is like "for coffee candy lovers." People who can not drink ordinary coffee or finished in a shake deliciously drinking with small children.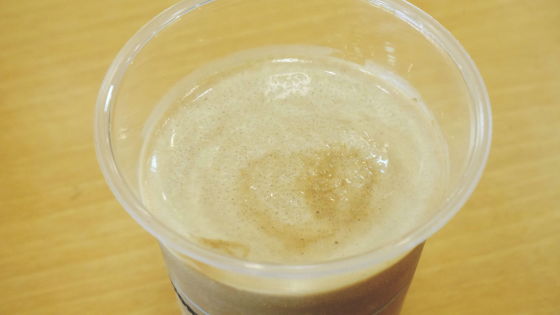 "Tamagoyaki Yaki Burger" is added to the Morning Menu from August 31, 2018, separately provided for 320 yen including tax, drink combination with 390 yen including tax, provided only at Lotteria Morning Store . Please note that the morning menu is only available until 10:30 since opening hours. "BOSS SHAKE" is limited-time sale from August 31, 2018 to late October, each item is 240 yen including tax. Please note that the BOSS shake is not offered at Saitama Super Arena store, Ueno Park Rueno FS store, Ginza Crystal building store, Hakkeijima Seaside Oasis FS store, Kobe Harborland store, ZOZO Marine Stadium store.