'Human vsAI' online game 3rd game is the first match, the human team win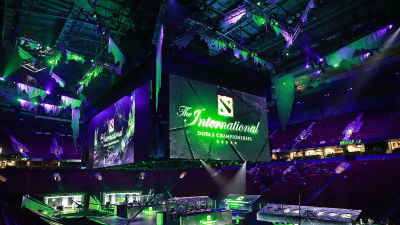 A game where a human being's game player and evolving AI (artificial intelligence) compete for the strength of the strategy game "Dota 2" was held at the event "The Internasional" held in Vancouver, Canada. AI developed by "OpenAI" established by Mr. Eilon Mask et al. And the third game by mankind has started with the victory of the humanity team.

Humans grab victory in first of three Dota 2 matches against OpenAI - The Verge
https://www.theverge.com/2018/8/23/17772376/openai-dota-2-pain-game-human-victory-ai

The Internasional is the official world event of Dota 2 to be held by Valve Corporation, the developer of Dota 2. It is a tournament where e-sports professional teams from all over the world compete, the winning prize is over 11 million dollars (about 1.2 billion yen) and the total prize money exceeds 25 million dollars (about 2.8 billion yen).

Dota 2 - The International
http://www.dota2.com/international/overview/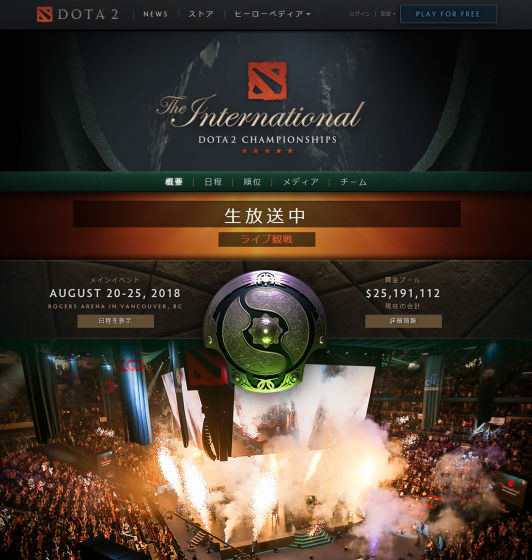 In this event, it is the 3rd game of Open AI team "OpenAI Five" and South African pro gamer team "Pain Gaming". In this battle each team is formed by five members, and we will decide sex in group fight. By the way, OpenAI Five had a battle with humans as of June 2018, but at this time various restrictions were imposed on the system in the game. This battle has become a battle after removing those restrictions.

OpenAI artificial intelligence "OpenAI Five" wins the human team with 5 to 5 battle of Dota 2 - GIGAZINE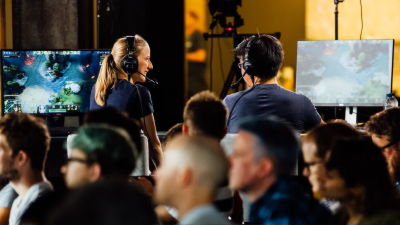 In the first leg that took place on 22nd August 2018 in local time, PI gaming won as a result of AI and human being fighting while competing for game leadership victory. It is said that the content of the game was suitable for calling "close battle", but on the other hand, there were some questions left in the AI ​​team's strategy. For example, a huge monster called " Roshan " appears in Dota 2, but AI said there was a scene to stick to defeat this Russian.

Roshan is strong enough that five heroes (warriors) can not be defeated unless it is bundled, but there is a privilege that you can get strong items so that you can change the flow of the game if you defeat it. Therefore, defeating Roshan is one of the strategies, but if you persist, your own defense will be ineffective. The human team seems to have won a victory by striking the weak point of that AI.

If you look only here, you may think that "AI is still too", but on the other hand, there were scenes where the AI ​​team showed high strategy. When a hero is about to be knocked down, the human team often goes to help his hero, but that attempt often ends in failure and may result in a strategic negative. However, the AI ​​team said that although it said it would make it easier to judge "to abandon its view" there was also a strategy of bringing the situation favorably as a result. AI game researcher Mike Cook looks back on the battle, "Bot (AI) seems to be more aggressive than before" "Although the bot is very good at every moment's decision, It seems that it is not very good with respect to the decision of "It is tweeted.

# OAI Snap thoughts:
They feel worse than the previous exhibition, I think (but still, amazing).
The bots are still very good at moment-to-moment, but they seem bad at macro-level decisions. I have more to say on this!

- mike cook (@ mtrc) August 23, 2018

OpenAI co-founder and chief researcher Greg Blockman said that after the employee's internal voting, before the matchup, the result that the probability of winning was less than 50% was given to The Verge I am clarifying it. But it is obvious that not only humans but also AI will lead to further strength by conducting new learning from the result of battle. The interests of stakeholders and gamers gather together as to what results the two remaining races will have and whether AI will again exceed humanity.