The original original of 'Magic: The Gathering' that has only one in the world is bidding for 8 million yen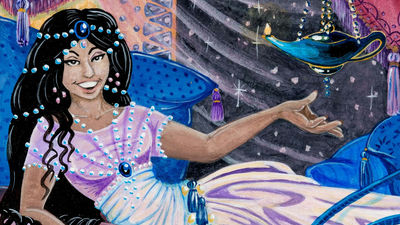 The world's first trading card game (TCG) "Magic: The Gathering" released in 1993 has a population of over 20 million people, it is as popular as Guinness World Record as TCG being the most played in the world there is. The original original picture of the illustration used for this "Magic: The Gathering" card was sent to the auction and bidding for $ 72,000 (about 8 million yen).

Original Magic: The Gathering Card Art Sells For $ 72,000
https://kotaku.com/original-magic-the-gathering-card-art-sells-for-72-00-1827793733

Kaja Foglio Magic: The Gathering: Arabian Nights "Shahrazad" Card | Lot # 14061 | Heritage Auctions
https://comics.ha.com/itm/a/121829-14061.s

The card of Shahrazad was recorded in "Arabian Night" which is the first expansion pack of "Magic: The Gathering". Because it is a card with quite a special effect , Shahrazad has become a prohibited card which can not be used at all in official game. Still, there are things that can not be readily available now, Shahrazad is an item that may take more than 2 to 30,000 yen per piece.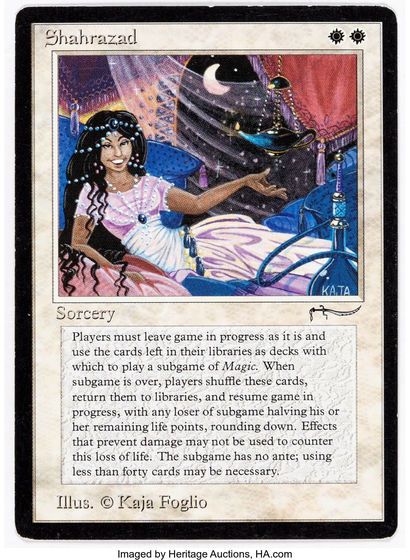 Mr. Kaja Foglio of artist and painter who drew the original picture of hahrazad . The original picture is an oil painting drawn on an illustration board of about 18 cm × about 14 cm, and it is filled with Mr. Fogrio's autograph. Of course, since it is original original picture, it is precious thing which has only this one in the world. In addition, the authentic card of Shahrazad's card is included as a set. Shahrazad's original picture set was auctioned on July 22, 2018 and was bidding for a high price of about 8 million yen.



Fans of "Magic: The Gathering" often have many collectors, and related items are often traded at a ridiculous high price. In the past, Mr. Masaaki Satake who is also a fighter and a fan of "Magic: The Gathering" requested a set of nine rare cards called " Power 9 " as a prize for " Sekiguchi Hiroshi Tokyo Friend Park II " , There is also an episode that it has become a price exceeding Mitsubishi's car · Pajero which was a featured prize, and 9 crying weeps were reduced to two. Especially the original picture of the card is popular, about two months before the original set of Shahrazad's bid is awarded it is about 45,000 dollars (about 5 million yen ) in the original picture of the card called " Arcbound Revager " ) Has been awarded .

In 2018, "Magic: The Gathering" celebrating its 25th birthday crossover with popular table talk RPG " Dungeons & Dragons " has been announced. Also, in commemoration of the 25th birthday of "Magic: The Gathering", "25th Anniversary Magic: The Gathering Exhibition" will be held in Luminezero in Shinjuku from 11th to 17th September 2018 It has been. More information will be lifted in the future, and if you are interested please check the link below.

25th Anniversary Magic: The Gathering Exhibition