"It is sold for 45 million yen in Japan in Japan with only one hard rare Yu-Gi-O card in the world" as a topic abroad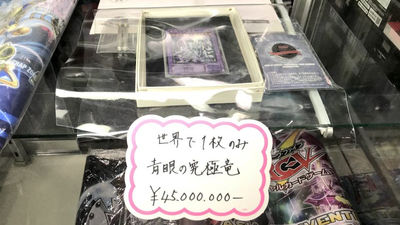 Manga that was serialized in the weekly jump "Yu-Gi-Oh!"The motif of the card game appears in the birth, now is a popular trading card game globally"Yu-Gi-Oh Official Card GameOne of the cards of "I am sold in Tokyo for over 400 thousand dollars (about 44 million yen)!" Is calling me a topic abroad.

One-Of-A-Kind Yu-Gi-Oh! Card Yours For Only $ 400,000
https://kotaku.com/one-of-a-kind-yu-gi-oh-card-yours-for-only-400-000-1822147353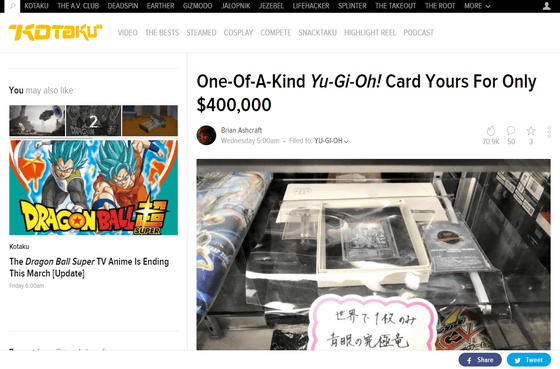 This rare Yu-Gi-Oh! Card is on sale in Tokyo for over $ 400,000 - The Verge
https://www.theverge.com/2018/1/20/16909756/blue-eyes-ultimate-dragon-rare-yu-gi-oh-card-tokyo-sale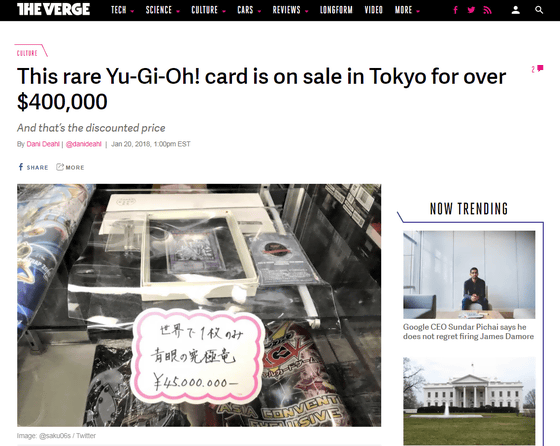 This Blue-Eyes Ultimate Dragon Yu-Gi-Oh Card is "One-of-a-Kind" - Interest - Anime News Network
https://www.animenewsnetwork.com/interest/2018-01-15/this-blue-eyes-ultimate-dragon-yu-gi-oh-card-is-one-of-a-kind/.126454

"Yu-Gi-Oh King" is a manga by Mr. Kazuki Takahashi, which began serialization at the Weekly Shonen Jump in 1996. Although the original cartoon is completed in 2004, the animation which tied up with "Yu-Gi-Oh Official Card Game" which was made with the card game "Magic & Wizards" that appeared in the work is still in 2018 "Yu-Gi-Oh! VRAINSBroadcasting continues as ".

"Yu-Gi-Oh Official Card Game" should have experienced Duel as a fighter (duelist) once as an original reader. Some cards are traded in units of hundreds of thousands of yen, but this time I found "The ultimate dragon of the blue eyes (Blue Eyes / Ultimate Dragon)"Is an ordered value of 45 million yen, which is an order of magnitude.

The card of "blue eyed ultimate dragon" attached with the price of 45 million yen is one which is made as the winning prize of "KONAMI Yu-Gi-Oh! OCG Asia Championship" held in 2001, there is only one in the world. past,It has been confirmed twice that it was placed on an auction, 1,200,000 yen in November 2005, 1,600,000 yen in May 2011, and they are bidding for them, respectively. Twitter ID "saku 06s" was holding the card as of August 2016.

【Get the ultimate dragon T3-01 of the blue eye! ︎
It is a genuine Asian championship championship prize version! A

Only competition prizes are sealed in "custom-made case", there is only one point in the world in the world! A

Mr. Kazuki Takahashi signed
Available at ¥ 99.9 billionpic.twitter.com/pkJJsTlcvS

- Hagaku - TCG (@ saku 06s)20th August 2016

It seems that I got it with the intention of "stocking".

Thank you! I was going to buy it, but it was so cool that I could not release it ...! A

- Hagaku - TCG (@ saku 06s)20th August 2016

After that, since January 2018, it was placed in the card shop "Tokyo Park" in Tokyo / Akihabara, and the value of 45 million yen was attached to 4500 which is the offensive power.

【Ultimate Dragon T3】
Mr. Purple who is always indebted@ card_spiralTo
I put the ultimate dragon with a case that exists only one point in the world!

The price is 45 million for attack power! !
If you want to see it raw, please stop by Akihabara! !pic.twitter.com/krzc9zb4Nf

- Hagaku - TCG (@ saku 06s)January 9, 2018

Originally "saku 06s" originally valued 99.9 billion yen, The Verge of the news site wrote that "There is a big discount!" In addition, the stainless steel "Chaos Soldier" card sent to the winner of the official event "Yu-Gi-Oh! Duel Monsters National Games" held in 1999 was the winner winning the auction, There is a record that it was made a successful bid for yen. Though there are even more expensive items only with pricing, even though the market price is high, it is considered to be one million yen unit.

Even in Twitter's moment, "The ☆ ☆ ☆ ☆ King's rare card is higher than the Lamborghini" has become a hot topic.

This rare Yu-Gi-Oh! Card costs more than a Lamborghini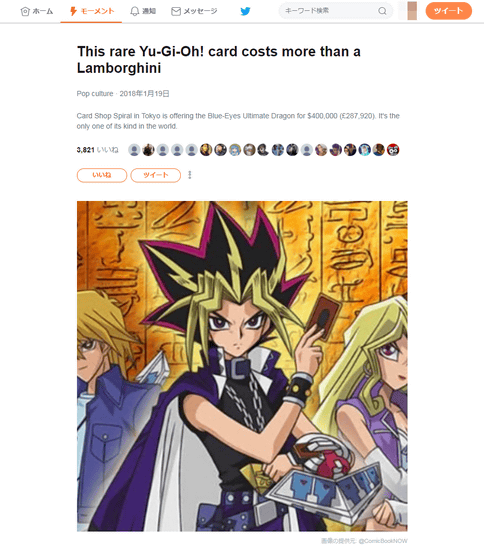 The card of "the ultimate dragon of blue eyes" can be summoned by fusing "blue eyes white dragon", and in the manga of the original it is used by Kaiba Seta who is a hero's rival. This Kaiba Seta is the president of a large company, purchasing cards with a lot of money and buying cards or by breaking one of the four "blue eyed white dragons" in the world to destroy one other than "blue eyes It is also a character with a tremendous adherence to "blue eyes white dragon" to make it impossible to possess a card of "White Dragon".

Therefore, some users abroad murmuring that "It is really a card that can only be purchased by Kaiba Seta."

Truly a card only Seto Kaiba could afford.# YuGiOhhttps://t.co/vIXWbksSNB

- Marc Antony (@ MarcAntony 91)January 17, 2018

Besides, some people murmuring, "Because Yu-Gi-Oh rare cards have not yet been thrown away, sometime these cards will make me rich".

I'm never throwing my collection of rare yugioh cards away. Someday they're gonna make me richhttps://t.co/A3bjP2q3Iq

- rebel rebel (@ HeavymetalLver)January 16, 2018

According to The Verge, if there is $ 400,000 (about 44 million yen)Private IslandYou can buy it.
in Game, Posted by logu_ii