Google's fight for EU antitrust violation amounting to 570 billion yen, Google's CEO suggests that Android will no longer be free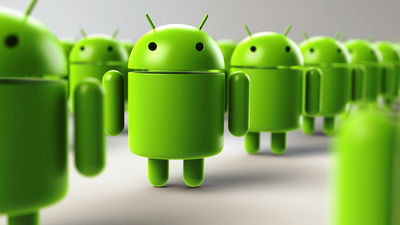 by Rob Bulmahn

On 18th July 2018, the European Commission (EC) compelled Google to bundle Android with mobile devices and said that it violated the European Union Competition Act (Antitrust Law), which is 4.34 billion euros (about 570 billion yen We will impose a fine of. According to this, Google CEO Thunder Pichai said that the business model free distribution of Android's platform may change in the future, and the idea to contest in the court against the decision of the European Commission I suggest that.

European Commission - PRESS RELEASES - Press release - Antitrust: Commission fines Google 4.34 billion Euro for illegal practices concerning Android mobile devices to strengthen dominance of Google's search engine
http://europa.eu/rapid/press-release_IP-18-4581_en.htm

EC stated that Google requested manufacturers to preinstall the Google Search app and Chrome as a license condition for the Google Play Store, "" Requesting a specific major device manufacturer and a mobile network operator to use the Google Search app We paid money under the condition that it pre-installs on the terminal "and" I banned manufacturers to sell Android fork-equipped terminals that excluded Android's applications and used only the base ", Google He points out that it is strengthening the control power of the engine. We are pleased to announce that we are paying 530 billion yen, which is the highest amount of penalties for Google, as being in violation of the European Union's Antitrust Act, the European Union Competition Law, or Google's parent company, Alphabet, I order you to pay up to 5% of average sales.

Competition policy member Margrette Vestagar, member of the European Commission, said, "Today, the majority of the world's Internet traffic is from mobile devices, mobile devices have transformed the lives of millions of Europeans, Google Is forcing manufacturers and network operators of Android devices to traffic their mobile devices to Google's search engine, which is a violation of the EU Anti-Monopoly Act. "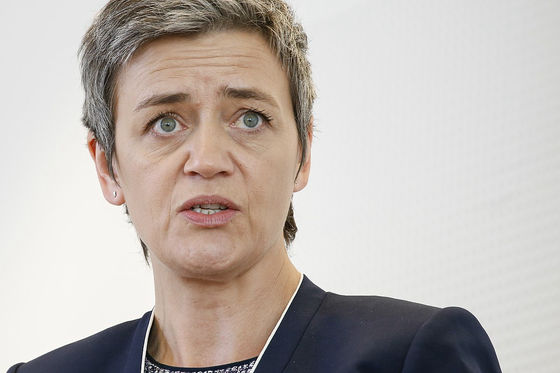 by Friends of Europe

In response, Mr. Thunder Pichai, Google CEO, has announced the statement "Android has been created more choice, not less (Android has produced more choices more than a few)".

Android has created more choice, not less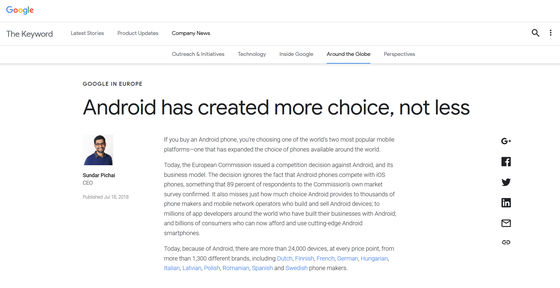 Mr. Pichai said in a statement that this decision by the European Commission completely ignores the fact that Android and iOS are in conflict and how much Android is to Android device manufacturers and network operators We are protesting that we have forgotten or are offering many choices.

Also, Mr. Pichai said: "Building Android is costly, and Google has invested hundreds of millions of yen in the past decade, but Google still has to offer mobile device manufacturers and network operators the Android platform and Google The application suite for free has been distributed for free because it is not only efficient for mobile terminal manufacturers and network operators but also for developers and consumers.This EU decision is based on Andoird It loses the balance of the ecosystem and denies the business model that supports Android. " This suggests that the current business model of providing Android platforms free of charge to manufacturers may be impossible due to fines of 570 billion yen. Furthermore, "We are going to appeal to the courtroom", and Google is showing a stance of fighting to the European Commission in full.

This is not the first time Google will be subject to penalties from the EU in violation of the European Union Competition Law. In June 2017, "Google Shopping search results are anticompetitive behavior that always appears on search results of Google, which boasts an overwhelming share" is estimated as 2,422 million euros (about 300 billion It is subject to penalty of yen).

Google will be punished by approximately 300 billion yen in violation of the EU competition law (Antitrust Law) - GIGAZINE