Interview with producer Yuuma Takahashi of an anthropomorphic animation cell 'Hataraku cell', and what is behind the scenes that make interesting measures such as 'Listen first episode with blood donation'?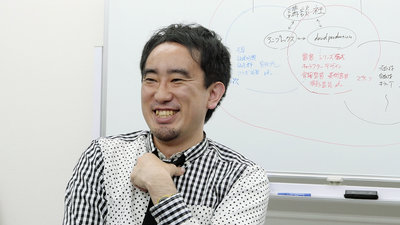 Beginning July 7, 2018, broadcasting of TV animation " Hataraku Cells " will be started, where anthropomorphized cells play an active part. Many things have been anthropomorphicized, but the subject of this time is a story of our "Body of the body" that we do not know unexpectedly. I have been talking to producer Yuumi Takahashi, producer, how he decided to animate the popular work of the monthly boy Sirius serial.

TV anime "Hataraku Cell" Official Website | 2018.7.7 (Saturday) Broadcasting Started!
http://hataraku-saibou.com/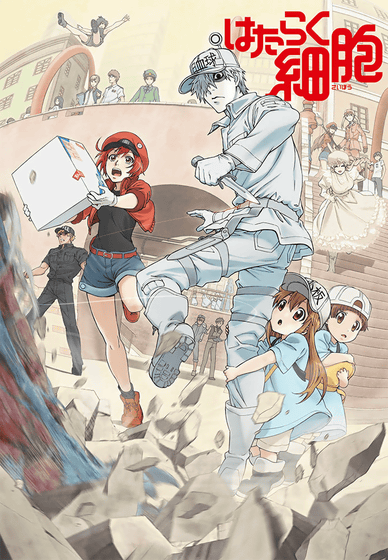 © Akane Shimizu / Kodansha · Aniplex · davidproduction

Actually Takahashi appeared several times in GIGAZINE. For example, as an advertisement man for Aniplex, we produced and exhibited "Excalibur" made by shaving iron with an animation event · Machi ★ Asobi held at Tokushima, or write a novel and sell it as a doujinshi , Or as an event producer of "AnimeJapan 2014 " which developed and integrated "Tokyo International Anime Fair" and "Anime Content Expo", you may know some people. This work is a work that Mr. Takahashi launched his own project for the first time.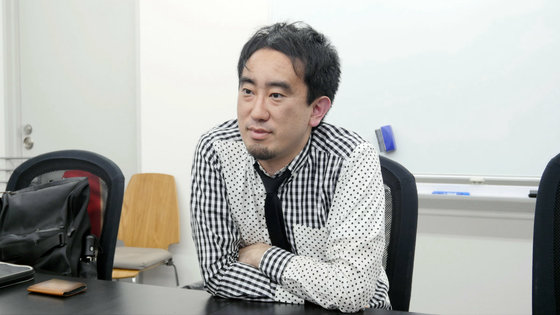 ◆ "How to Work" History of animation realization
GIGAZINE (hereinafter referred to as G):
In animating "working cell", Takahashi producer actually reads manga and wrote a memorandum for making animation, but when I read the "working cell", what was the trigger Is that?

Aniplex Yuuma Takahashi Producer (Takahashi):
It was my first encounter to read comics in 2015. From the moment I read it was super fun and I thought this was amazing. At that time I was "an advertising producer" of animation, but I was in a situation where I was doing a little production work, so I first contacted Kodansha first.

G:
Do you read on a book shop or something like that?

Takahashi:
I agree. When I saw it, I thought "It's an interesting title" and I took it. The title is a cute impression, but the content was a gorgeous entertainment, so it was also affected by its surprising nature.

G:
I think that I wrote a proposal etc. when bringing the story of wanting to animate, but what sort of things did you make?

Takahashi:
If it is a comic or a novel, I will first contact the publisher, but at that time I would like to say "I can make it to a production company named XX" or "I can do this business like business" There was no back shield at all. So the first thing I made is simple, "I think this work is very interesting, I think it would be nice to be like this!", It was like an adolescent love letter (laugh)

G:
(Lol) It was a project plan at that stage.

Takahashi:
"It was interesting as a work if you made this kind of work with such a development, and if you enlarge the project like this," it was content that seems to be dreaming.

G:
Is there such a way often with Aniplex?

Takahashi:
There is nothing, but everyone is doing a bit better right (laugh). There are already many "combinations" made, for example, with a studio and a pair of tags to the publisher talking to the story "Why do not you leave this work for us?" On the contrary, if you have already kept the original, and the studio says, "I have such a work, do you want to do it together?"

G:
In this case, you first contacted Kodansha. How was the response when showing the proposal?

Takahashi:
The first proposal received an adult reaction in various ways, "It is interesting to realize". When I think back, I heard that he was very kind (laugh). But then it was a bit unusual flow.

G:
What do you say?

Takahashi:
David production who was supposed to be in charge of production this time had a chance to know Kenta- san as a studio by chance, that we were offered an offer saying "I will make it at home".

G:
Oh, it is not related to Aniplex?

Takahashi:
That's right. So, it was not that we had a studio, and david production did not have a maker's partner. As I understood that, I contacted each other, confirmed the situation and so on, and it became a story "Let's assemble tags," and thanks to that, "We are going to do a series of" JoJo's Bizarre Adventure " It will be produced by david production who is doing business. "After updating other business aspects, I was able to offer again. david production and our company have been together with the work called " Inu x Boku SS " before, so it was a very good project so it is inclusive. After that, the fact that Kodansha chooses us from various proposals is the start to the present.

G:
It's amazing, is not it? What was the reason why the production became david production, I thought it was because it was an action, too.

Takahashi:
Of course, that part of the video production was very much, is not it.

G:
Notation of "production" of the official website has changed slightly, is not it the name of the production committee because the names of three companies are aligned with "animiplex · Kodansha · david production".

Takahashi:
That is what we respect and respect in ourselves. Previously, the <story> series I was in charge of advertising was similarly written as "Aniplex · Kodansha · Shaft". Producer Atsuhiro Iwagami (now President of Aniplex) said, "I will try to challenge with certain kind of preparedness by telling the fact that the inscribed company will do its best with responsibility," daringly Although I thought that it was nice at that time, it was said that it was the same Kodansha company, I made that notation. As the mechanism is at the Production Committee, these three companies have invested, but since only three companies are proceeding with the project close to each other, it is very interesting.

G:
Indeed, that was the reason. In fact, how was it when planning was OK?

Takahashi:
It was my first visit to the publisher by TV anime, and it was my first time to launch the project, so I was glad. About 3 years after offering, we finally started broadcasting.

◆ The role of producer in progress of animation project
G:
As a producer, I think whether there is a role not only to set up a project but also to decide various things ahead. As a matter of fact, what place does the producer decide about the work?

Takahashi:
It may be slightly different from the image of "Producer" of the people of the world, but if it expresses simply, it is a feeling that "one who has one vote".

G:
Is "1 vote"?

Takahashi:
Aniplex is greatly involved in the work as a managing company, but Kodansha, the publishing company, and david production in charge of production, each have "one vote" in the same way. And the number of people who gradually have votes in the project will increase. Although it is not a majority vote even if it says one vote.

G:
How does it increase?

Takahashi:
I will draw a little figure and explain.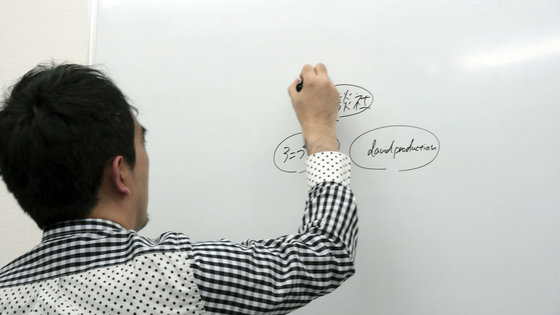 Takahashi:
First of all, there are three members of the production committee, Kodansha, Aniplex and david production.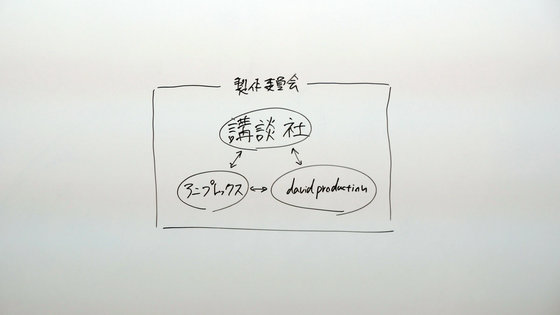 G:
This time, there are three names in line.

Takahashi:
Those three people will first consider the production staff. Director, series composition, character design, others are the main staff of various sections. Among them, first of all, in order to proceed with video production you have to decide the manager.



G:
I agree.

Takahashi:
The manager is the chef who is responsible for the film, for example, a restaurant that owns the production committee and thinks what kind of dish to serve. I will play a part, such as how to structure the course, what kind of content is to be made for each article. In the case of this work, consulting with david production who is in charge of production "Do you have a director suitable for this work?", When you consulted with Kenichi Suzuki who was in charge of the series director at "JoJo's Bizarre Adventure" I was given a suggestion. That is why I met with him and Kodansha was also "nice", firstly Mr. Suzuki was the coach.

This will add a new director to the project. Next will be the story "Who should make the series composition?", But this time, Kodansha, Aniplex, Director Suzuki also joined david production and decided by four people.

G:
That's why "people with votes increase". Is there something to decide from outside the manager?

Takahashi:
Although it is not there, I think that there are many from the director because the film steering role is the director. In the same way, "Who is character design to who?" "Other staff ... ..." will proceed. Of course, not all of them are decided by the consultation of everyone, but in particular, the four of "original", "manufacturer", "production" and "director" will participate in various discussions.

On the other hand, once the staff is decided, we will decide business development mainly about Aniplex. When is the broadcasting time, what does the broadcasting frame do, what kind of items to put out, and other business as a whole? Especially regarding the broadcasting time, it will be involved in the whole project, so we will talk with the committee.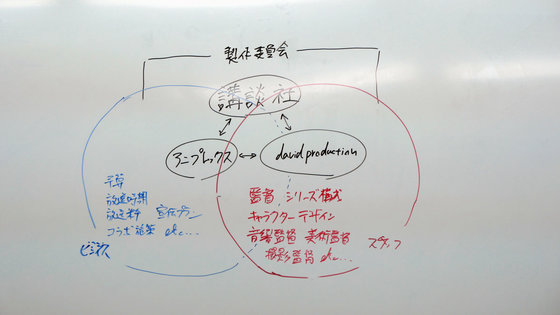 Casting is done around the same time. In this work, for example, there are various kinds of roles such as red blood cells, white blood cells, killer T cells ...... It is decided by being an audition or nomination.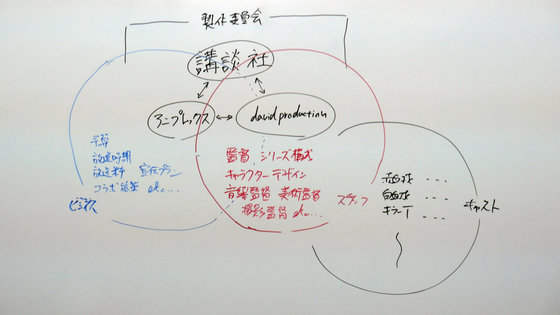 G:
I go forward one by one.

Takahashi:
Among them, producers are not "great", they serve to arrange mechanisms and arrangements and to put out one of the opinions. Since the director of the film is a director, I will do so if the director says "I want to do this", and I think what to do to make it happen. I think that it depends on people, but the base is the owner of the shop, but I think that it is not a feeling to talk so much about cooking. Of course it is a premise that the dish looks delicious.

G:
Not everything is decided by dictatorship by the shop owner. There is also a part that I do not understand well about the production committee from the outside, but I also see a discourse saying "The company that is giving the most money is great so I can pass that opinion", but that's not the case, As it is moving.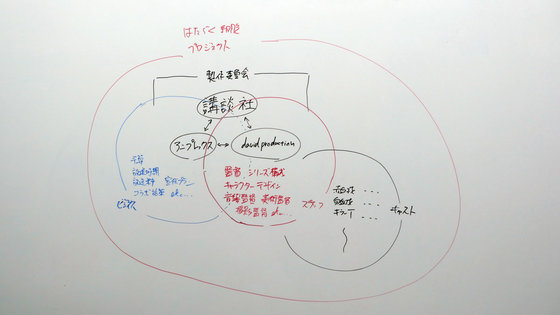 Takahashi:
It is totally "1 vote" to the last. We can not draw a storyboard, I can not draw original drawings and I can not play a voice. They believe and trust professionals, and we can do it by saying, "I think this project is interesting, so why do not you do it together?" And in the part of "Shikigami carrying" to realize that All there are shrimp shrimps. It is not a position of being "great" by any means. Of course, we are advancing while making various consultations every time every time.

G:
So far I was involved in the work as "Advertisement" and "Producer Producer", but what about having felt "This is different" by being involved as a producer?

Takahashi:
I feel the difference like "work making fireworks" and "work launching fireworks." Each ball of a fireworks fireworks is made by accumulating processes one by one and finely adjusting it, accumulating processes every day. Work making is similar, launched a project, decided on staff, repeated weekly screenwriting meetings every week ... .... In truly "little by little", suddenly all of the script went up, character design and music did not come out with a bag, stacking one step at a time, in the present work it takes only a little over three years to complete one thing . Since it is in the position of publicity, since participating in the project is formed to a certain extent, how will everyone see if fireworks balls made by producers are to be launched, how to collect people in the fireworks venue in the first place It is like how to tell how beautiful and beautiful the fireworks are. Even though moving toward the same "fireworks launch", I think that the way of engagement is quite different.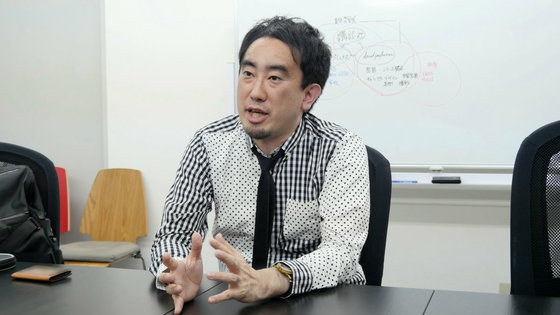 G:
Indeed, the fireworks analogy sounds good when you are listening certainly. In that case, we will have the launch soon, but how are you feeling now?

Takahashi:
When I was doing publicity, it was 100% exciting. I told fireworks and said, "This is a wonderful thing," and how many people gathered there was also a part like an instantaneous game. This time, it has been 70% exciting because I've been involved in the work for a long time since I have been involved in the work and have been involved in considerable amount determination, but the remaining 30% is a sense of responsibility ... No, 5 : It may be about 5 (haha)

G:
(Lol)

Takahashi:
I am convinced that the staff is making a wonderful thing, so I am not worried at all about it, but there is also the industry adage that "thanks to the director, if the seller can not sell, the responsibility of the producer" Because I want to reward people involved with hits, responsibility and pressure are strong. For that, I would like many people to see and enjoy. Such excitement and excitement are mixed.

G:
I see. By the way, are you not in charge of publicity this time?

Takahashi:
Advertising producer Sayaki Saya stands in our company, she is advancing. However, since I have a long propaganda experience, I always talk about the idea of ​​"Let's do this." As one of the measures born out there, there is a case that the preliminary screening of the first episode is often carried out in the movie theater, but since this work is a work called personification of the cells in the body, if you donate blood in the donation room, the first episode It is decided to implement the measures to see.

【INFO】 Japan Red Cross Society x TV anime "Hataraku Cells" The first episode of the preliminary viewing campaign decision decided! - NEWS | TV anime "Hataraku Cells" Official Site
https://hataraku-saibou.com/news/?id=47587

【News】 Starting June 30 (Sat), the Japanese Red Cross Society x working cellular first episode of the pre-watching campaign is decided to start! During the period, I will distribute illustration cards with serial cords that allow you to view the first episode in advance for those who have donated blood at the blood donation venue nationwide! For details ⇒ https://t.co/4YuHtjPHOZ
(Advertising Officer) # Working Cell pic.twitter.com/enZsPGEePP

- "Working Cells" Official (@ hataraku_saibou) June 27, 2018

G:
We are responsible for several projects that flew in the past, such as " Real 765 Pro " and " Hidamari sketch TV shopping " that we can rework to "Idol Master" characters in reality, but this time also shocking things It is coming out.
Do you feel something like "a unique difficulty unique to producers" that was not on publicity?

Takahashi:
Well ... Is it the "responsibility that is engaged in the decision" that I feel the most? In the first place, it is myself who raised hands in animation of "working cell", and as for the work such as who will make the staff and cast, what to do with the broadcast development, etc. "1 to 10" About 1 to 6 or 7 "is great to be involved. Even during the production process, I participated in the screenwriting conference held over about a year, decided to engage in decisions, engage in smaller designs, character design, arts, music and much more to decide on various things, and staff members I saw with my own eyes that I was just struggling ... .... Again, I think that I'd like to make the work smile for everyone involved, as the work will be enjoyed by the customers and will be rewarded by the creator who struggled with hitting on it. I am frank with the difference in the depth of involvement that the visible scenery will change so much. Simply put, it means "I want to sell" (laugh). However, there is luck in hit, so I will do my best without hesitation.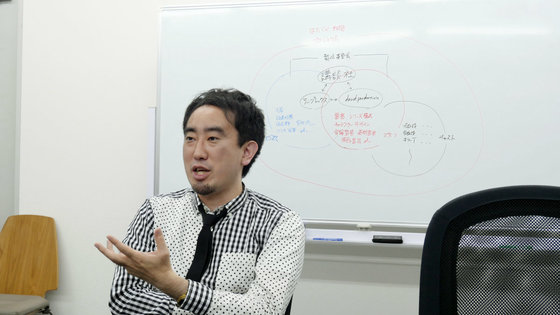 G:
Even listening just has a lot of pressure. By the way, how are the response to what they have accumulated?

Takahashi:
It is obediently "funny!" I think that it is happy to be able to deliver what you feel like from the bottom to the customers, and I think I should do my best.

G:
I get the impression that it is a project that is going well overall, is there anything like a part of it that failed a bit, or did you struggle but managed to recover somehow?

Takahashi:
Ah, um ... ... That's right ............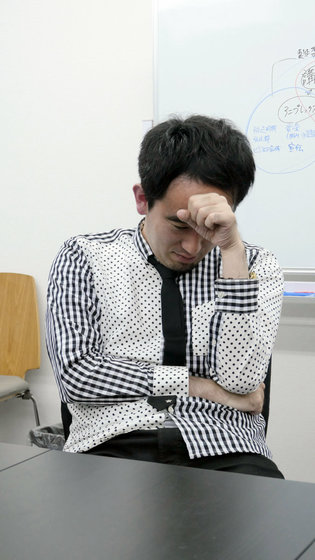 G:
Sorry for the mean question.

Takahashi:
No, it's ok. With that in mind ... ... It might be something by yourself, but it is already said that advertising expenses have bottomed out ......

G:
Well (lol)

Takahashi:
In "Working Cells", one minute of PV is released in June 2017. Although it is not time to announce animation yet, it is PV for PR that matches 5 volumes of release booklet, but the animation project has already advanced, so this animation production team made it.

【Official】 "Working Cell" Special Animation Image (Full Size ver.) ~ Popular Cellular Anthropomorphic Manga Breakthrough 1 Million - - YouTube


G:
That's right, it's time to say that animation production is already in progress.

Takahashi:
So I spend about a third of advertising expenses ......

G:
Suddenly so much ......

Takahashi:
From there, one third of PV and sales promotion creation after the announcement of animation, various measures, 1/3 of the remaining, budget for holding events in the country after broadcasting, allocation of budget to various gimmicks being advanced Has been done ...... Before broadcasting and after broadcasting, as a result of stepping on accelerator with full throttle, it is "no more".

G:
Is that that the production committee knows that "not"?

Takahashi:
To a certain extent……

G:
Is not it an exposure of shock? (Laugh)

Takahashi:
Born was a propaganda man, "tend to use advertising expenses" what .... However, what I think becoming a producer is that advertising expenses are expenses, so it is negative on a budget. If I do not use it, I will not reduce profits by that amount. However, if you do not advertise it will not be known and it is difficult.

G:
Is there something usually "run out at this timing?"

Takahashi:
Approximately half before using the broadcast, about half of the distribution during broadcasting?

G:
If you are afraid of using up and leaving it to be left behind, chances of getting to know the work in advance will decrease. It was surprising that that first PV appeared from the advertising expenses of animation.

Takahashi:
Common awareness was born among us among the things we made and there were things I noticed when trying, and what I gained was great. I heard many voices of knowing the work in that picture, so it was nice to really do. Aside from money (haha).

◆ How to make a work as a producer
G:
Recently, the net distribution has increased, and even in this work, the names of various services are lined up as distribution information a lot. When Takahashi started advertisement, I think that there was hardly any Internet distribution, but how do you see the change in this situation?

Takahashi:
I am very friendly as individuals. There are quite a few people who talk to recent employees "I do not watch much TV". "I will watch animation with a smartphone." I also use both TV and distribution, and at first I watch it on television, but some people say "there is no TV at home in the first place."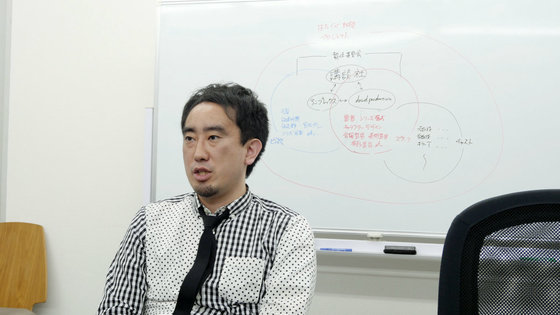 G:
Oh, I see ... ....

Takahashi:
The number of viewable platforms is increasing, and I think it is a very good thing. Even as a work side, there are various options such as exclusive distribution by one company, simultaneous delivery by two or more companies, but thinking that there is a possibility of "working cell" to "expand viewing subjects and opportunities", the latter I chose. I think most of the delivery services that customers touch when viewing anime are one, at most two three. If you are delivered by the service you are registering as a member, you will see it, if you do not deliver it you will not see it. So, as for the net "Omnidirectional", because there are registrants for each service, try to think about adding.

G:
Certainly, it is not because we are registering for all of our distribution services ...

Takahashi:
Regarding broadcasting, we also connected TOKYO MX, BS11, tochi, Gunma, Hokkaido, Aichi, Osaka, Fukuoka, so-called "Tomei Hako Bakufu". Recently there are few patterns of broadcasting stations. Tokyo, Osaka, BS, or less, Tokyo and BS only.

G:
Works without terrestrial broadcasting in Osaka, has increased.

Takahashi:
Since expanding broadcasting area expands more money, the correct answer is different for each work as to which balance is chosen, but the "working cell" happens to be "when you turn on the TV", "you are doing" and " It will expand the possibility of making it state that it can be seen even at home ". It is also from that idea that the names of distribution services are arranged side by side.

G:
How is overseas deployment done?

Takahashi:
For overseas this work is "omnidirectional diplomacy" thinking.

G:
"Omni diplomacy", it is a good word.

Takahashi:
Although it is "omnidirectional" in Japan, trying to broaden the reach also overseas anyway. In overseas deployment, there are options to be distributed worldwide from delivery services that are deployed worldwide, but this time, we selected a partner company that selects a partner company and includes localization for each area . It is a way to deliver it in each of the regions such as North America, English-speaking countries, Europe, Asia, China, etc. in each form.

G:
In the story of deployment, the second PV announced the other day contained information that three spin-off works will be released almost simultaneously. Will the Production Committee decide such development? Or is it decided by Kodansha?

【Official】 TV anime "Hataraku Cell" 2nd PV | 2018.7.7 (Saturday) Broadcasting started! - YouTube


Takahashi:
This was decided by Kodansha, and it is amazing that related books will be published in collaboration within publishers. We listened to the report that "We will develop like this as a Kodansha" at a regular meeting and I was surprised as "Maju, Kodansha san's ski!"

G:
(Laugh) By the way, this 2nd PV was released on 18th June, was it an announcement tailored to something?

Takahashi:
It is the form that it was three weeks before the broadcast, because it was the timing that distribution information can be output just so it was put out together. Regarding PV, although the balance of picture and music comes to balance, much of the presentation of information on animation is determined by the trigger of something. It is easy to understand that since the release date of the animation magazine is 10th of every month, new information will be posted in the magazine so that information will be issued at that timing, or it will be in line with holding a new comic book or preview event.

G:
PV was released at the preview event, it was released on the net at the end of the event ... ....

Takahashi:
It seems so. In the case of this animation made announcement, it was the release date of the monthly boy Sirius serializing the original. "Why do you want to announce it in conjunction with what?"

G:
So in the end ...... To be honest, how much do you think you will hit?

Takahashi:
That's another word, "I think I will win absolutely."

G:
Oh!

Takahashi:
Of course there is more to this, so please do not just cut it there (laugh). I have not experienced as a producer yet, but I thought of myself in less experiences, the producer who has made various decisions by looking at the production process is the only one who truly believes is involved in the making process I think that it is one of the attitude of being sincere to people. That's why I'm not keenly proud of "absolutely hitting", but thinking that my work is 100% interesting, that's why I have to think that I'm hit 100%. It's kind of Zen questioning. It is likely to be said that "It is also strange to say that again" when only a part is cut off, but (laugh)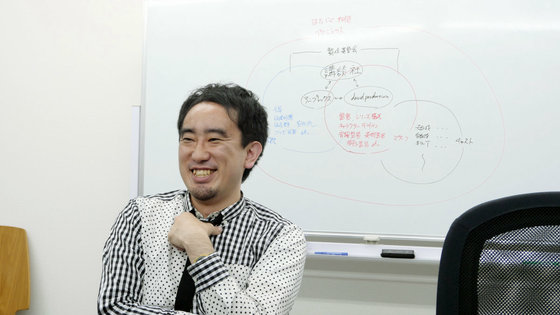 G:
(Laugh) However, it must be such a feeling.

Takahashi:
In the first place, why I thought about making animation was because it was "It was fun to read", so the feeling at that time has not changed even when it comes to animation.

G:
I see.

Takahashi:
As personal wishes on that, through this work, I think that the world should be a bit healthier than it is now. The most familiar and the most unknown "thing about me" is a theme, so it should be sent to many people by becoming an animation, it is good that you can tell that my body is amazing. It will be great if you get healthy as well as your body.

G:
I see ... I'm looking forward to the broadcast. Thank you for everything today.

Mr. Maeno Tomoaki, role of macrophage, Mr. Makio Inoue, Mr. Noriaki Inogami, Plaque role · Mari Naganawa, Role of pneumococcus, Hiroyuki Yoshino from June 29, 2018 (Fri) on the interview posting day 21:00 Before the performance of the premiere, the special number " Naruto Cell Research Laboratory Nico Studies Strategy Office " will be delivered so please take a closer look in order to know the work deeply.

【Maeno Tomoaki, Inoue Kikuko, Nagamasa Maria, Yoshino Hiroyuki live acting】 Cell Research Institute Nico Nico Strategy Office - 2018/06/29 21:00 start - NicoNico Live broadcast
http://live.nicovideo.jp/gate/lv313539497