Intel announces that it will release discrete GPUs in 2020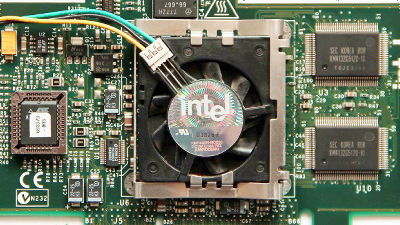 ByVGA Legacy MK III

IntelMany CPUs are installed in many PCs and servers, Intel is in the position of the de facto standard in this field. About GPU, however, the company is not active in development,Intel HD GraphicsAlthough it provides GPU with built-in CPU with built-in CPU, higher performance independent GPU (discrete GPU) was not provided. Intel CEO Brian Kruzanich announced that it will release Intel's discrete GPU in 2020 and revealed that the company will enter the field of discrete GPUs.

Intel makes it a three-way race with AMD and Nvidia on graphics chips - MarketWatch
https://www.marketwatch.com/story/intel-makes-it-a-three-way-race-with-amd-and-nvidia-on-graphics-chips-2018-06-12

Intel announced on 8th November 2017AMDAnnounced that Mr. Raja Kodri, who had led the GPU department, joined the company. Since this announcement "Is not Intel serious about developing discrete GPUs?"It came to be rumored to be.

And this rumor becomes a reality on June 12, 2018 about 7 months after Mr. Kodri joined. Mr. Kurzanich said,Intel's Twitter accountAnnounced that "Intel's first discrete GPU will appear in 2020," acknowledging Intel's emphasis on GPU development and revealing that it will enter the field of discrete GPUs from 2020.

Intel's first discrete GPU coming in 2020:https://t.co/s9EPeFifBppic.twitter.com/n5zmUY2Mc2

- Intel News (@ intelnews)June 12, 2018

According to Navin Shenoyi who is vice president at Intel, although detailed information such as what purpose Intel GPU is developed in this announcement is not disclosed, according to AI and game , It is supposed to be used for development purposes.

There is no doubt that Intel's development capability is high considering the achievements of CPU development, but in development of discrete GPUs, both achievement and know-howNVIDIA, It is the fact that AMD precedes it, Intel is largely drained. It is drawing attention to how Intel fills this difference and overtakes it.