Summary of SEO technique to increase site revenue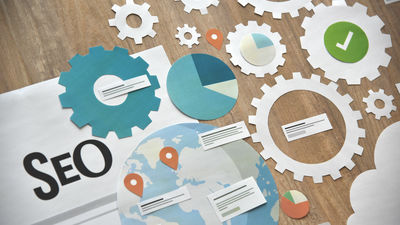 SEOMeans "Search Engine Optimization", which means optimization for search engines, for publishers to make their sites more visible to the top of the search results and also to encourage users to access You should always be careful. SEO strategist Robin Rozhon has published techniques to become the foundation of such SEO on his blog.

Crawling & amp; Indexing: Technical SEO Basics That Drive Revenue (Case Study) | Robin Rozhon
https://rozhon.com/blog/crawling-indexing-technical-seo-basics-that-drive-revenue/

◆ Revenue is most important
Rozhon said "crawlImprove the speed of, improve similar indicators, meetings and SEOPodcastIt is good to be popular atEC siteThe most important thing in profit is earnings. " Mr. Rozhon focused on in 2017,Organic trafficInstead of relying on Google to increase revenue, crawl on your ownindexIt was to manage.

We start with early spring in technical changes, and we can see from the graph below that results are obtained in the summer of that year. EspeciallyPreferred landing pageIn organic traffic earnings increased by 23.5% than in the same period last year. As the year goes further, the revenue will rise, and in the end it has succeeded in increasing it by 54.9%, and in the first week of 2018 we have succeeded in achieving more than 70% of the previous year.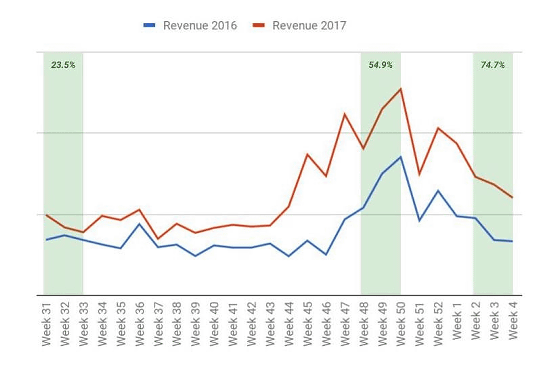 ◆ Manage crawling and index as well as content
At the beginning of 2017 indexed URLs exceeded 500,000, Rozhon decided to exclude more than 400,000 URLs (mainly category pages) from indexing within the year, and at the end of the year Has succeeded in reducing the actually indexed URL to about 100,000.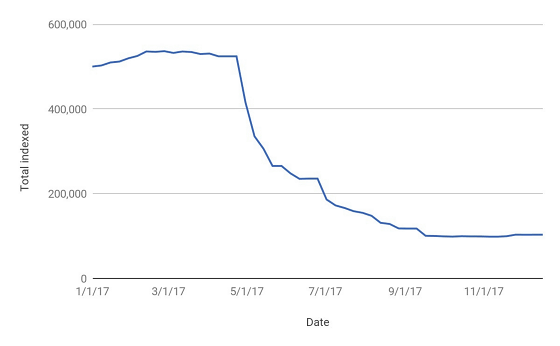 According to Rozhon, the reason why the entire 80% of the URLs were removed from the index was because "the search engine indexed a lot of unnecessary categories of URLs", and by doing this work It seems that he wanted to help the search engine understand the composition of the site. By the way, when doing this work before you remove the URL from the index targetGoogle AnalyticsYou should look at them and see if their URLs are increasing organic traffic.

On the site dealt with by Rozhon, only 8.55% of the indexed URLs counted at least once in a month, which is a fatally low figure, but for several months of effort As a result, it seems that we were able to grow the ratio up to 49.7%.

According to Mr. Rozhon, "There still remains things to be done, but it has reached 60% of the target.This website is strongly influenced by the season, and the tendency of the page seen by the user changes in summer and winter It seems that it will not reach 90%, but for businesses that are not affected by the season, we can target 80% to 90%. "

◆ Query string
As Rozhon's site handles all EC sites as wellURL parametersWas used extensively. When analyzing that site with Google Analytics, it seems that there are 58 unique URLs in the category page. Also, most of them were ready to crawl and index, but they said they did not do so with a clear strategy.

So Rozhon decided to collect all the parameters used on the site.Google Search Console, Google Analytics, log files,Screaming FrogWe extracted as many parameters as possible from all the parameters, extracted all the parameters, and spent time with developers to write down the function of each parameter, as a result, we found about 150 URL parameters.




next,"Does this parameter change the display of content as seen from the user?By asking the question, I will judge whether the parameter is necessary or unnecessary and classify it.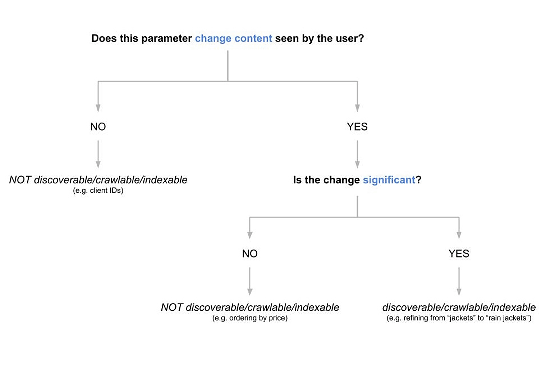 Once mapping and categorization is complete, Google Search ConsoleBing Webmaster ToolsUse to set all URL parameters. Although these tools are powerful, you can immediately send clear instructions to the search engine, but in order to solve it in a shorter term it is recommended to process directly on the site's code.

However, if there is no solution that fits all the circumstances, and there are many parameterized URLs that are already indexed, instead of limiting crawling,noindexTag "and"canonicalIt seems better to consider using tags.

◆ faceted navigation
Faceted navigationIs a trouble maker often encountered at EC site handled by Rozhon. All facet and filter combinations generate unique URLs, which has the advantage that you can create lots of landing pages at once. However, it seems to be a disadvantage because it creates minor landing pages that no one should care about.

By applying facets and filters to category pages, you can easily generate thousands of URLs. For example, there are four types of "seven brands", "four kinds of gender (male, female, boys and girls)", "five types of evaluations (one star to five stars)" and "ten kinds of colors" If you prepare the facet of 1, 400 URLs (7 x 4 x 5 x 10) will be generated by this alone.

So Rozhon decided to use the facility or filter to narrow down the product using the following tree.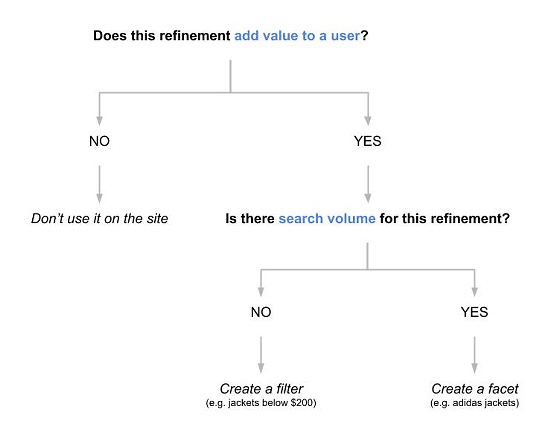 Also, it turned out that the URL generated by the facet and filter was adversely affected by being indexed to the search engine, Rozhon made facet and filter treat differently as follows.

【Facet】
· Only search engines that can crawl and index are displayed in search results
· Including self-referenced canonical tag
· You can not search if multiple items are selected from the same facet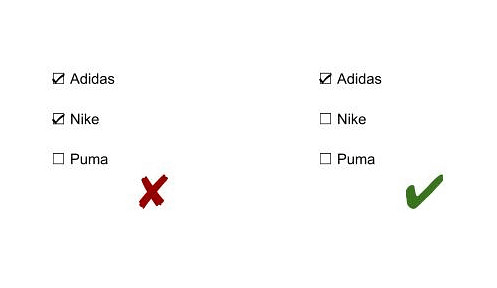 【filter】
· Do not display in search results
· Including "noindex" tag
· Use URL parameters set in Google Search Console and Bing Webmaster Tools

Originally I tried using a "canonical" tag that refers to a category rather than a self-referenced "canonical" tag, but since another problem occurred related to the "canonical" tag and Google passed through those problems He said that he did not work well. Also, since the site had thousands of already indexed filtered URLs, it can not prevent crawling to those URLs, and also uses the "noindex" tag to prevent search engines from indexing I heard that the search engine could not detect the "noindex" tag.

"There are many websites that are trying to apply more sophisticated SEO techniques, but first you should try to understand the basics correctly, not rocket science, and structured dataRankBrain, It's not as cool as things like voice search, but eliminating duplicate pages and integrating the signal into one correct URL is a great way to improve ranking, traffic, and ultimately improve your revenue. " Mr. Rozhon says.


In addition, GIGAZINE is doing the same measures, and by doing article creation / site operation making full use of the above knowledge and skills, it becomes easy to access a lot from the search result.

In other words, by ordering article advertisement on GIGAZINE, it becomes possible to easily apply the technology as we have seen, making it easier to earn money.

If you inquire from the form below, the person in charge will respond with haste, so please feel free to contact us first.
If the form above is not displayed or can not be sent, please do the link below.
Ad Inquiry - GIGAZINE -
https://gigazine.biz/inquiry/