"Bun Gow Mail" review delivered in an e-mail that can be read in three minutes a day in Aozora Bunko masterpieces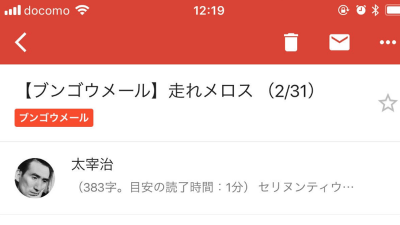 The service that the masterpieces of Aozora Bunko are sent in small increments every day every day as if mail arrives as if from the Bunraku is "Bungou Mail"is. As it was said that it is a new form of reading experience for people who "have no time to read books" and "who knows only names but not much classics" I tried using it.

Bungow E-mail | E-mail arrives every morning from Bunka, a new reading experience
https://bungomail.notsobad.jp/

To register BungOum Mail, click the button labeled "Email address registration (free)" on the top page.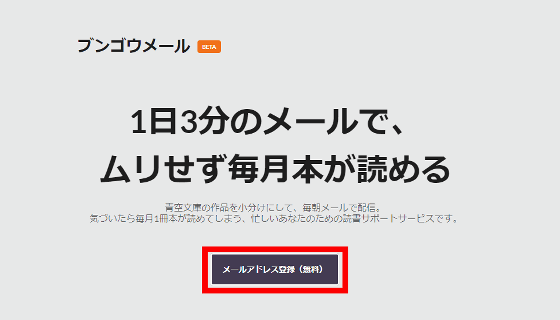 A registration form like this will appear, so please enter your e-mail address on the text form and click "send". Please note that if you are using Gmail or mobile carrier address, it may get caught by the filter and may not reach it. In that casefrom hereI can find a solution.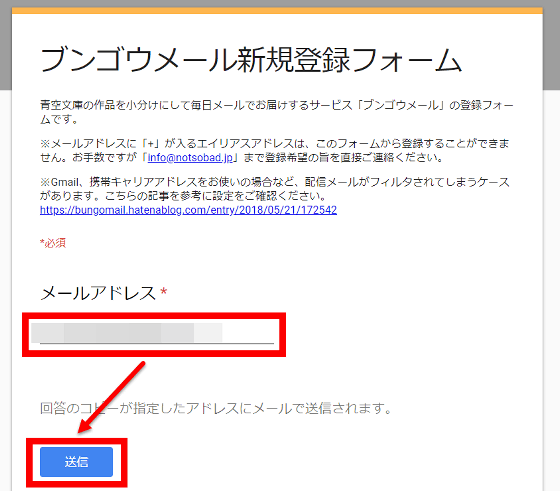 Then, every day for a month, the mail arrived like this at 9 o'clock in the morning like this. In May 2018 Dazai 's "Running Meros" was delivered, but when checking with Gmail the icon of the sender of the e - mail is a picture of Dazai, it is as if the mail arrived from Dazai . The delivery time which was around 9 o'clock from June 2018 will be around 7 o'clock in the morning.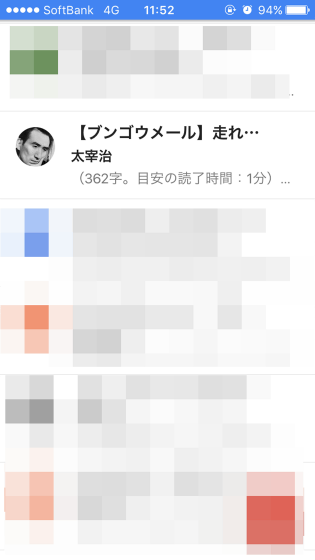 When I opened the e-mail, the number of characters and the standard of reading time were written. Running Meros is a short novel, so the content per mail is the amount of sentences that can be read in about one minute.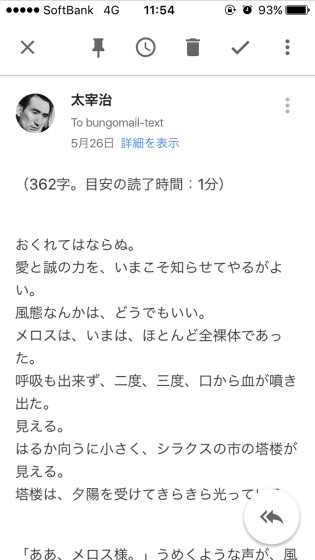 For example, on May 1st, Bun Gow Mail looks like the following. The number of characters is 400 words, so on Twitter it is about 3 tweets. If it is about this amount, you can quickly read through without thinking "there is no time."


Meros was furious.
I definitely decided that I should exclude the king of Kanno violence (jibachi).
Meros does not understand politics.
Meros is a shepherd of the village.
I blew a whistle, and I lived playing with the sheep.
But against evil, he was more sensitive to humor.
Today Moros departs from the village, crosses the field and crosses over the mountain, and to the city of Shirax where the ten thrown became.
Meros has neither a father nor a mother.
There is no wife either.
I live with my sixteen shy sister.
This younger sister was supposed to welcome a certain shepherd in the village as a bridegroom (Hanamuko) soon.
The wedding ceremony is close, too.
Melos, therefore, came all the way to the city to buy brides' costumes and feast treats.
First, I bought the items, then walked around the big street of the city.
Meros had a friend of stilts.

May 17th is like this. Basically, the sentence is interrupted at a place where the break is good, but sometimes it can be separated in the middle of the dialogue, and the next day "What kind of flow is ... ...?" And reading the e-mail of the previous day.


With the power of fullness in his arms, swaying the swirling dragging flow, scratching the scroll like this, what is it that the God was pitiful at the sight of the lonesome lonely pumpkin, finally pity He dropped me.
While being swept away, I was able to cling to the trunk of a splendid, opposite shore tree.
I appreciate it.
Meros, like a horse, had a big shiver and quickly hurried.
Even so, it can not be wasted.
The sun is already leaning to the west.
When I was relieved when I climbed the mountain passing up at the top of the pass while at the age of rough breathing, suddenly a group of bandits jumped out in front of my eyes.


"wait."

"What to do, I have to go to the royal castel before the sun goes down, please let go."

"I will not let it go.

The time it took to run again after the loss of motivation by Meros attacked by the bandits was 5 days in Bungou E - mail conversion. When I read it separately every day, "Meros, are you still alright? ..." I am amazed.


There was no heart in breaking the promise.
God also looked at me, I have tried to do everything.
I ran until I could not move.
I am not a distrustor.
Oh, if I can, I will cut my breast and want to see the heart of crimson.
I want to show this heart moving only with the blood of love and faith.
However, I was exhausted at the time of this precaution.
I am a good and unfortunate man.
I am sure to laugh.
My family is also laughable.
I was deceived by my friend.
It is the same thing that collapses in the middle is nothing from the beginning.
Oh, well, I do not care.
This may be my determined fate.
Please forgive me, Selinuntiusus.
You believed me anytime.
I did not deceive you either.
We were truly a friend with a good friend and a friend.

And finally on May 31, Meros finished.


You have overcome my heart. Faith was never empty delusion. Would you please put me in the company, too? Please listen to my wish and make it one of your friends. "

A cheers came amongst the crowd.


"Banzai, the king is a million years old."

A girl dedicated her scarlet cloak to Melos.
Meros got marred.
Yoshinomi taught me with an emphasis.


"Meros, you are not bad, so please wear that cloak as soon as possible.This cute girl is irresistibly regretful that everyone can see the nude body of Melos."

The brave blushed badly.


(From ancient legends, from the poems of Silire.)

The creator of Bun Gow Mail is a web director & developerBrushingMr. Even those who say "I have not read books other than work recently" can read the masterpiece that they know the name but did not read by taking the time of 1 to 3 minutes a day if you are a vongoo mail It will be like.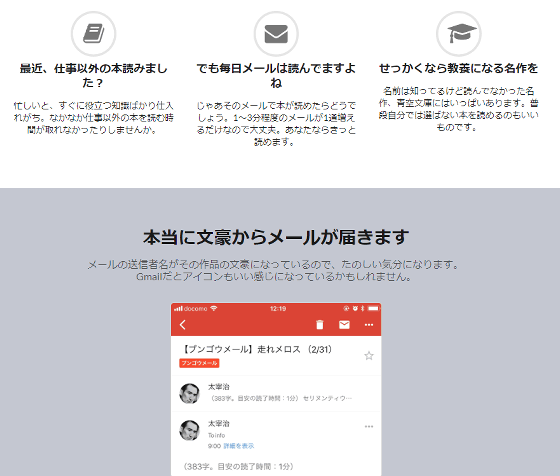 What is being delivered from June, I'm looking forward to receiving it, Osamu Dazai's "Vyon's wife", Franz Kafka's"Fasting performer"Shinmei Namichi's"Fish"Are cited as examples of" works that can be read in one year simply by continuing to read e-mails of three minutes a day ".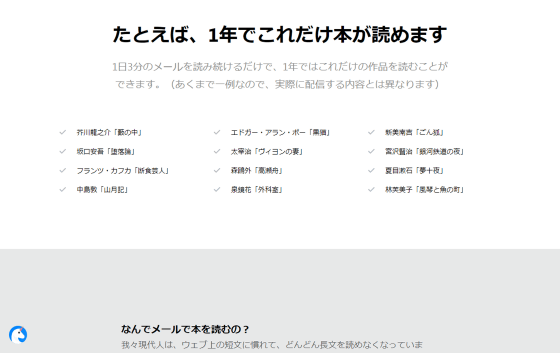 Running on May 31th, Meros is completed, and distribution of new works will start from June 1st. From June, the operation will change slightly with the following three points. If it is delivered at 9 o'clock in the morning, school and work has begun, missed the timing to read mail, and e-mails that can not be read quickly accumulate .... However, if it is seven in the morning that problem It is likely to solve.


· Delivery time will be earlier and will arrive around 7 o'clock in the morning
· The work will be completed one day earlier than the last day of the month
· The amount of sentences everyday becomes a bit longer

Please note that the delivery of Meros running in Mayfrom hereIt is possible to check. On Tweet 's Twitter, a chronology which organized Meros' 3 days was also posted.

# Bungou E MailFinally delivery of the first month's meros! So I have sorted Meros 3 days by chronological table. Please turn to reflect on this month.
Delivery will start from tomorrow, so if you are not yet registered please join us now!https://t.co/mYYSUGEl37pic.twitter.com/MP50W44afZ

- Honkoshi @ Bungou Mail (@ kame_f_ no 7)May 31, 2018